Kate McKinnon's Dr. Anthony Fauci Urges Americans to Super Bowl Responsibly on SNL
Kate McKinnon returned as Dr. Anthony Fauci on Saturday Night Live to warn Americans to enjoy the Super Bowl responsibly on Sunday.
The public service announcement came at the end of a sketch that saw a group of friends gathering for a Super Bowl party, despite the coronavirus pandemic.
A guest played by Schitt's Creek co-creator and star Dan Levy, who hosted Saturday night's episode, asked the group: "Is this OK? Like, should we be doing this?"
After determining that the group has been "super safe", they decide to take their masks off.
"We're doing everything right," the guests told each other repeatedly, before sharing details of how they had been living.
One guest, portrayed by Beck Bennett, explained how he had not spent time with anyone outside of his social pod in almost a year—before revealing it includes his wife, his brother, his brother's wife, his brother's neighbor, his grandparents and their nursing home.
Another guest, played by Chris Redd, explained that he had only been leaving home to go to the grocery store, the laundromat and his wrestling club.
"But that's just a group of 20, 30 really nice guys?" Beckett asked.
"Wrestling a few nice guys? Dude, you're good," added Kyle Mooney.
Mooney later told his friends that Zoom dating was "too awkward" for him, so he had been having sex with strangers in the park.
"Outside, with air? You're fine," Heidi Gardner told him.
"For me, it's just been Netflix, Netflix and more Netflix," Levy offered.
Asked what he had been watching, he clarified: "Oh no, for meetings. I'm flying all over like LA, London, Brazil."
When Mooney asks if he had taken the vaccine, Levy pulls out the bottle to show it to his friends.
"Are you gonna take it?" Gardner asks.
"Yeah, I mean, I take it everywhere I go," Levy responds.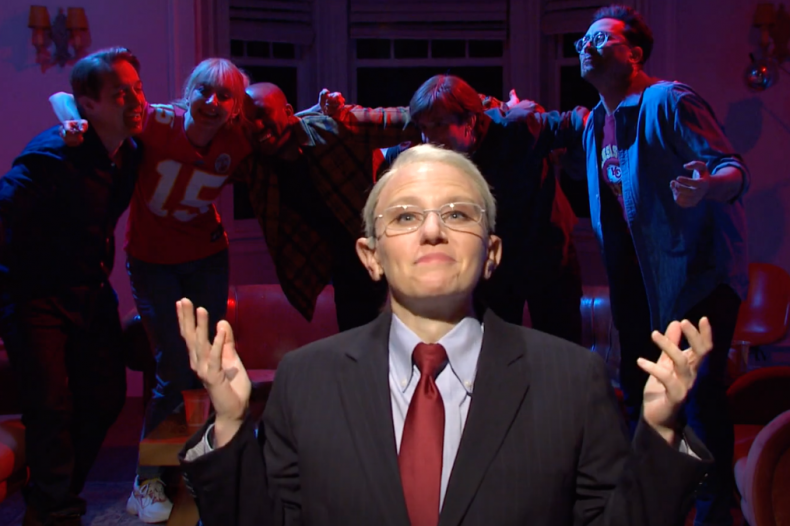 The friends once again agree that they're "doing everything right," as Beckett brings out a pot of his homemade chilli.
After using hand sanitizer, the friends proceed to eat chilli with their hands. Some note they can't smell or taste the dish and wonder if they may have contracted the coronavirus.
"No, dude, we've been doing everything right!" Mooney insists.
Moments later, McKinnon's Dr. Fauci appears to share a message with viewers.
"Right now, you're probably feeling like most Americans... bored, horny and borderline nuts. I know I am. But what you just saw is the wrong way to Super Bowl," McKinnon's Fauci explained.
She then urges Americans to enjoy the Super Bowl responsibly: "At home, in a mask, lights off, no friends."