Kate Middleton's Best Dresses From 2021
Kate Middleton has looked dazzling in her outings since Britain's COVID restrictions ended in the summer, appearing in a series of stunning outfits on the red carpet, at the Wimbledon tennis championships and as she launched her own children's center.
The Duchess of Cambridge has made great use of her wardrobe during a busy summer and fall, including helping British government efforts at the G7 summit in Cornwall.
October: The Earthshot Prize
Kate supported husband Prince William's climate change awards the Earthshot Prize during its first star-studded ceremony at Alexandra Palace, in North London, on October 17.
Guests were asked to wear only recycled or upcycled clothing and the duchess opted for a Grecian-style Alexander McQueen gown.
The outfit held a subtle message about the big news of the night—that next year's Earthshot Prize will be held in America, which is now Prince Harry and Meghan Markle's stomping ground.
Kate first wore the dress during a tour of America in 2011, when they visited Los Angeles and stopped by the Santa Barbara Polo and Racquet Club, just a stone's throw from where the Sussexes live now.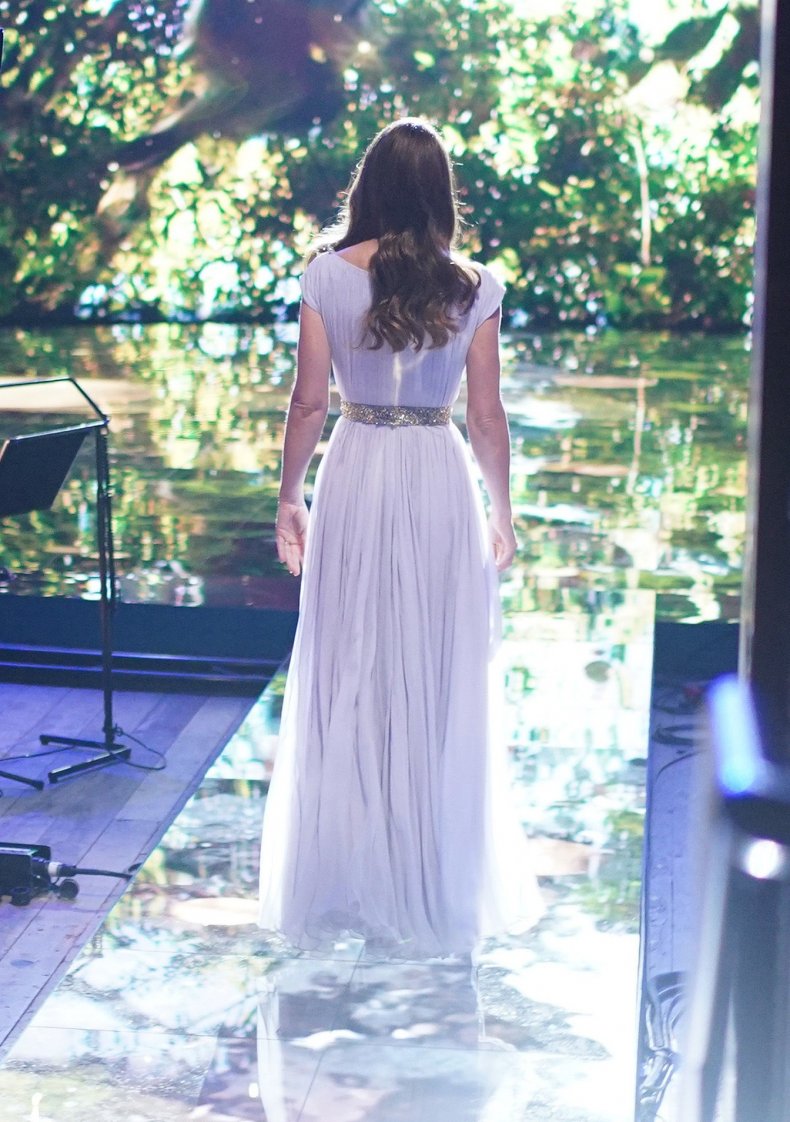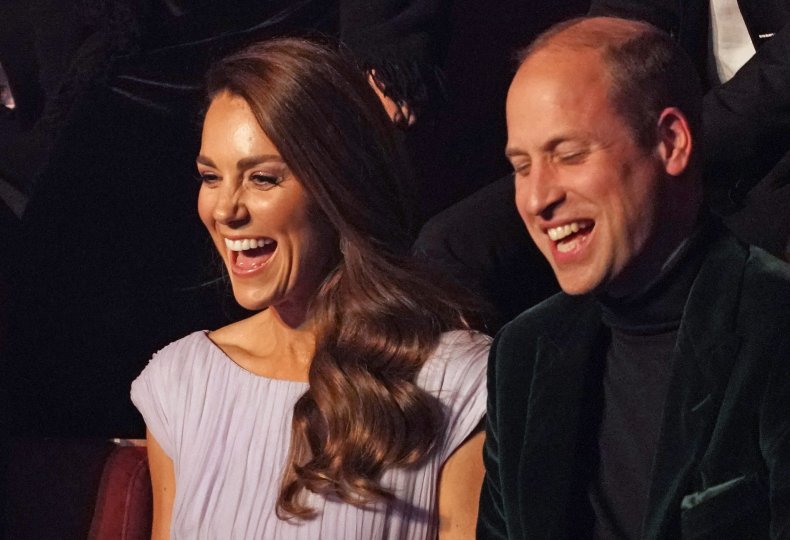 September: James Bond and the Woman With the Golden Gown
Kate Middleton wore perhaps her boldest look to the James Bond premiere at London's Royal Albert Hall on September 28.
Her golden, caped Jenny Packham gown lit up the red carpet and earned the royal couple their biggest day of mainstream and online media mentions in September, as Newsweek and Zignal Labs revealed.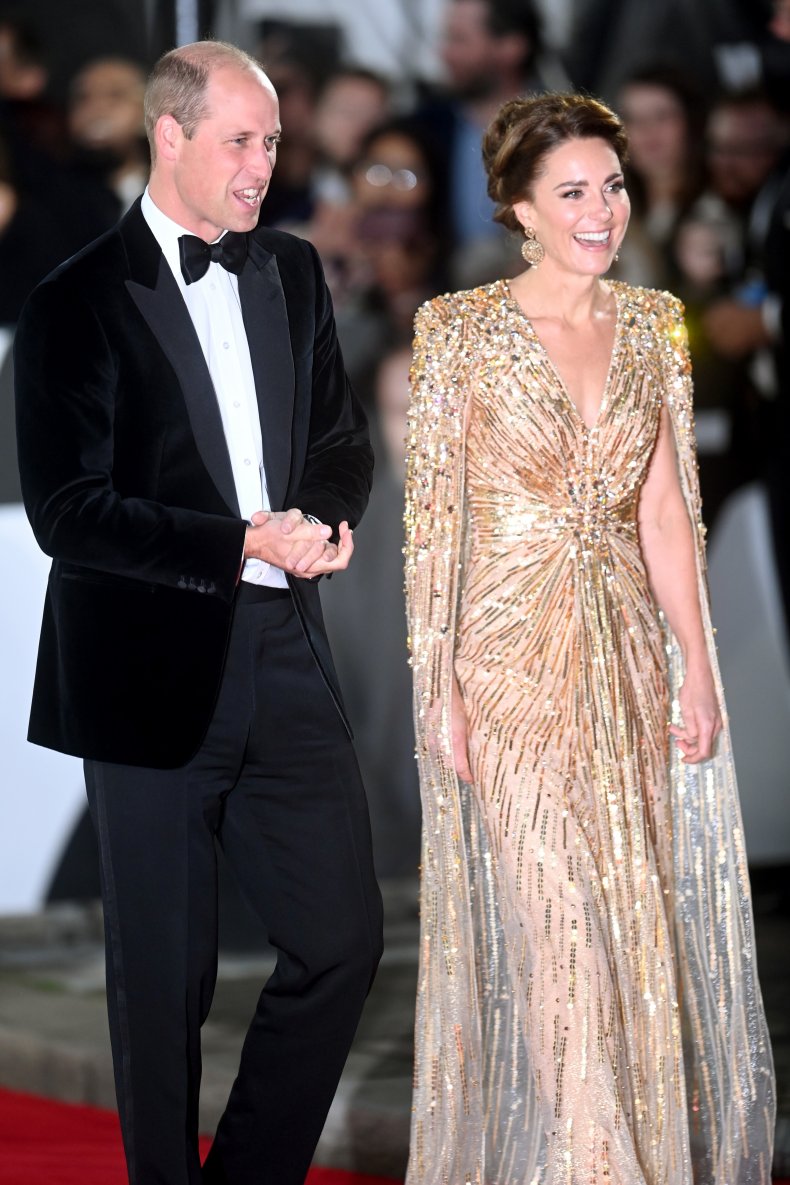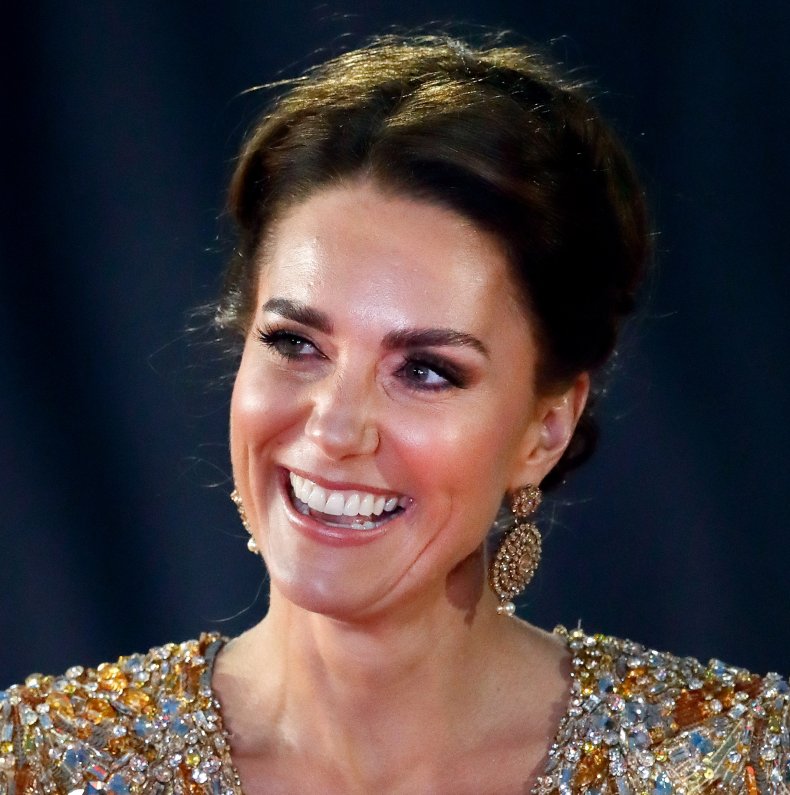 July: Kate Middleton's Tennis Finals Look
The duchess was photographed wearing a belted pastel pink Beulah London dress when she took her father, Michael Middleton, to the men's Wimbledon tennis finals in July.
Kate is patron of the All England Tennis Club, where the prestigious tournament is held, and a keen tennis fan herself.
Later in the year, she took to the court for a low key match with Britain's rising star Emma Raducanu, who went on to win the U.S. Open.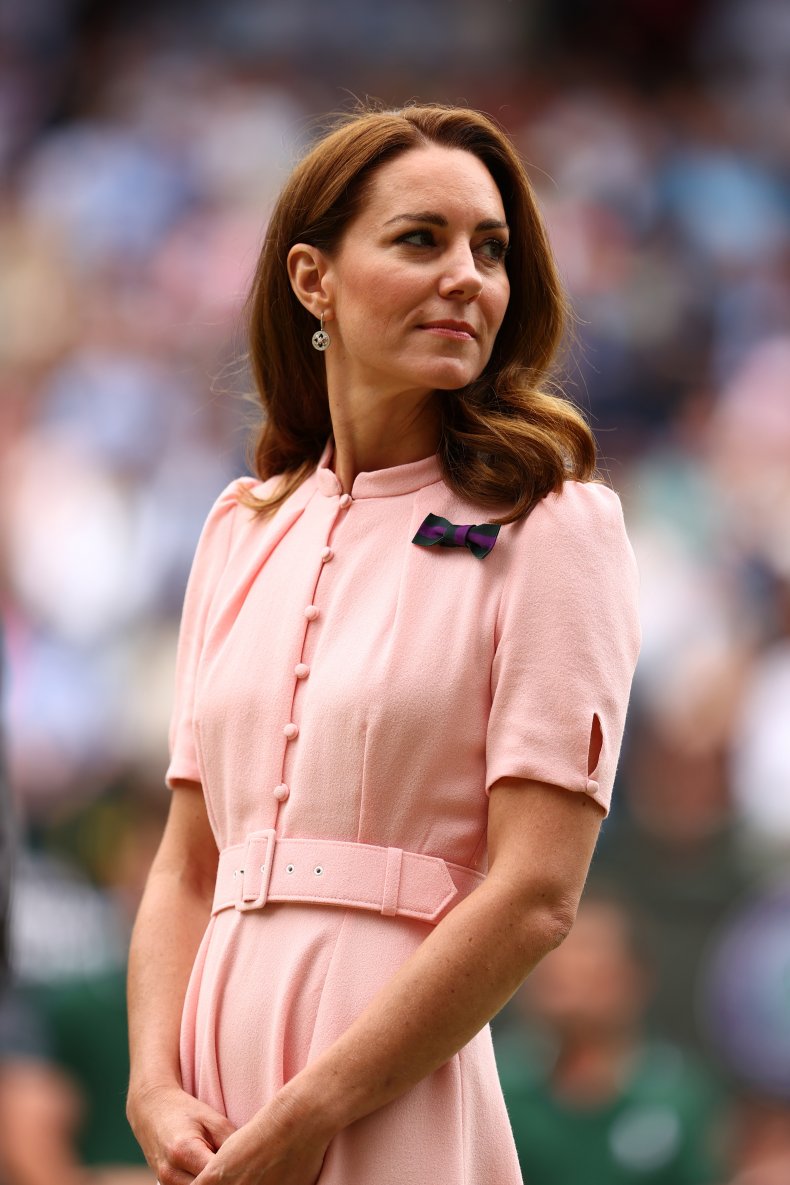 June: Kate Middleton Launches Early Childhood Center
The Duchess of Cambridge launched The Royal Foundation Centre for Early Childhood, to fuel research into early years development.
The event marked a major date in Kate's calendar as it is run through her own charity—and she impressed in a bargain $350 pale blue shift dress from LK Bennett.
Quoted by The Independent, Kate said: "I wanted to understand what more we could do to help provide some of today's toughest social challenges and what more we could do to help with the rising rates of poor mental health."
She added: "What has become clear is that the best investment for our future health and happiness is in the first five years of life."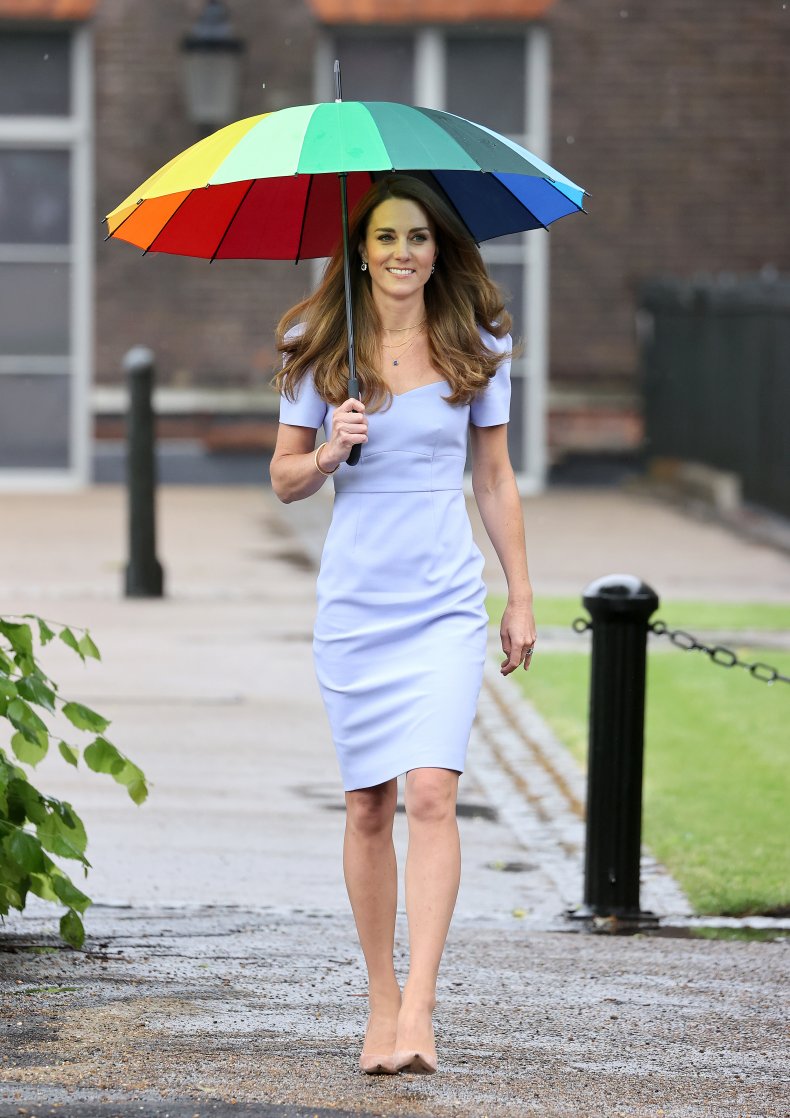 June: Kate Middleton at the G7 in Cornwall
Kate wore a white Alexander McQueen coat dress for a visit to The Eden Project where world leaders including President Joe Biden gathered in June.
The royals were out in force for the key talks between the seven most powerful nations on the planet hosted by Britain, in Cornwall, in southwest England.
Kate was pictured alongside Queen Elizabeth II, who also met the president and first lady Jill Biden that day.
After the summit, the Bidens were welcomed at Windsor Castle for tea with the monarch, 95.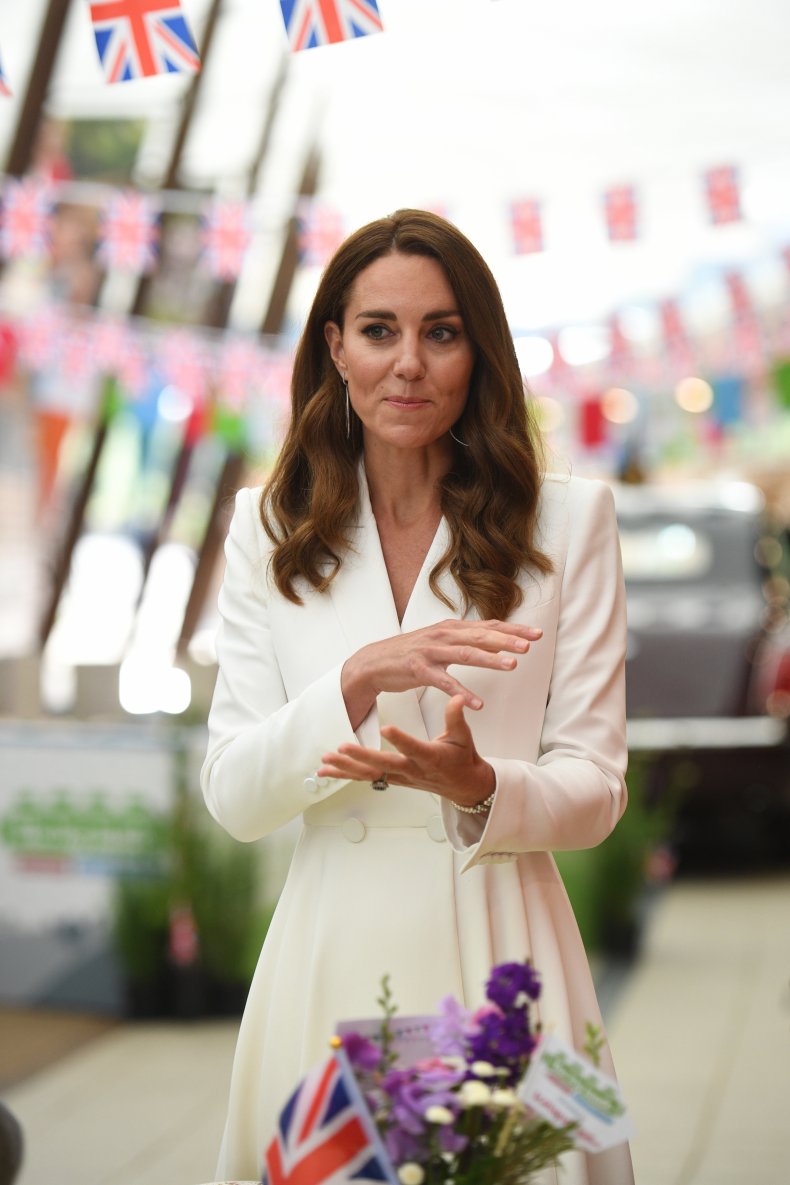 May: Kate Middleton's Houndstooth Coat at The V&A Museum
Princess Diana famously wore a red and white houndstooth jacket with a black and white houndstooth skirt but Kate opted for a slightly different take on the classic design as she visited The V&A museum on May 19.
The duchess wore a red and black Alessandra Rich houndstooth maxi dress as she visited exhibition Alice: Curiouser and Curiouser, exploring 300 different takes on the Alice in Wonderland story.