Kate Middleton Finally Has Big Project—But There's an Elephant in the Room
Kate Middleton has an important message for the world: "We all need to know the critical importance of our early childhood."
The Princess of Wales says her Royal Foundation Center for Early Childhood will "launch a major new awareness-raising campaign" to demonstrate the point but there is one slight issue.
Kate has said very little to indicate what specifically the United Kingdom is currently doing wrong or how it should change and does not acknowledge how much work has already been done on early years care. By contrast, some campaigners appear to have adopted a very clear message—and therein lies the elephant in the room.
Much of the wider public debate in Britain about supporting families through early childhood focus on government funding cuts to public services, an issue Kate simply cannot touch as a member of the royal family.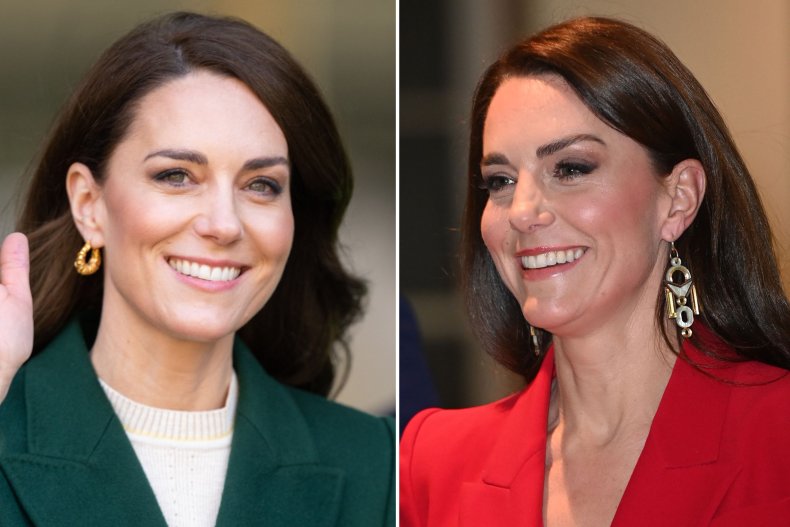 Specifically, Kate's project has reminded some of a government plan from the Tony Blair era called Sure Start, which was aimed at preventing social exclusion. The centers offered health, parenting, childcare and early education support all in one building in some of the most deprived areas of the country.
There is evidence to back up the perspective though, as research by the Institute of Fiscal Studies suggested the program led to 13,150 fewer hospitalizations a year among 11- to 15-year-olds who had benefitted from Sure Start in early childhood.
And, perhaps dauntingly for Kate, the former Labour government committed significant resources to Sure Start, £1.8 billion ($2.2 billion) at its peak in 2009-10.
There were 3,600 Sure Start centers across Britain at that time before the Conservative Government cut the scheme's spending by around two-thirds, which led to the closure of 1,000, The Guardian reported.
As long ago as 2011, Frank Field, then a Labour MP was quoted in The Guardian as saying: "It is inconceivable that we can make the foundation years effective if Sure Start all over the place are being slaughtered."
Not remarks that a royal could ever make. So, what can the Princess of Wales do that could rival Sure Start?
Naomi Eisenstadt, the former director of the British government's Social Exclusion Task Force and the first director of the Sure Start Unit in 1999, told Newsweek that Kate was saying many of the right things, though ultimately Sure Start was still the right solution to the problem and the princess might struggle to make an impact without straying into politics.
"I think what she's trying to do is something slightly different," Eisenstadt, who was at Kate's launch event at BAFTA on January 30, said. "Sure Start to begin with was explicitly aimed at families in poverty. It became universal because everybody wanted it, which was great.
"She's trying to do something slightly different which is to say that there are some things all parents can do, should be doing, which are good for children. That's right and you can't argue with that.
"What's missing from the campaign is the political side of it. Everyone can be a good parent but there are circumstances that make it much harder for parents in poverty," she said.
Eisenstadt did think, however, that there was a possibility that Kate's campaign could indirectly impact public policy by changing the views of voters.
"I'd like to think it could make a difference in raising generic public awareness of the importance of early years, which it's trying to do," she said. "But it's very different from the government spending millions of pounds on public services to make it easier for poor parents.
"It is really for the government to do and the royal family can't say that. In a constitutional monarchy, it would make me very nervous if they started saying things.
"What they're trying to do is create an environment where everyone thinks it's important. The consequence of that might be that politicians begin to think it's important because their voters think it is. That's as close as you can get to a political position."
There are, however, also some background risks that come with a focus on the early years, which can be a pressured time for both working-class and middle-class parents.
"The emphasis on early years makes middle-class parents neurotic and makes working-class parents feel guilty. So nobody's happy. Hopefully, the children are," Eisenstadt said.
Kate wrote in an open letter: "[The early years] is a time where we lay the foundations and building blocks for life. It is when we learn to understand ourselves, understand others and understand the world in which we live.
"But as a society, we currently spend much more of our time and energy on later life."
The statement, if taken literally, is an odd one as a person can scarcely choose to spend more time experiencing the first five years of their life and many parents spend less time with their children once they start school. It would make a lot more sense, however, if Kate were to trade the words "time and energy" for the words "public money." But a royal could never do that.
Do you have a question about King Charles III, William and Kate, Meghan and Harry, or their family that you would like our experienced royal correspondents to answer? Email royals@newsweek.com. We'd love to hear from you.