Kate Middleton: The Commoner Who Could Save the Royal Family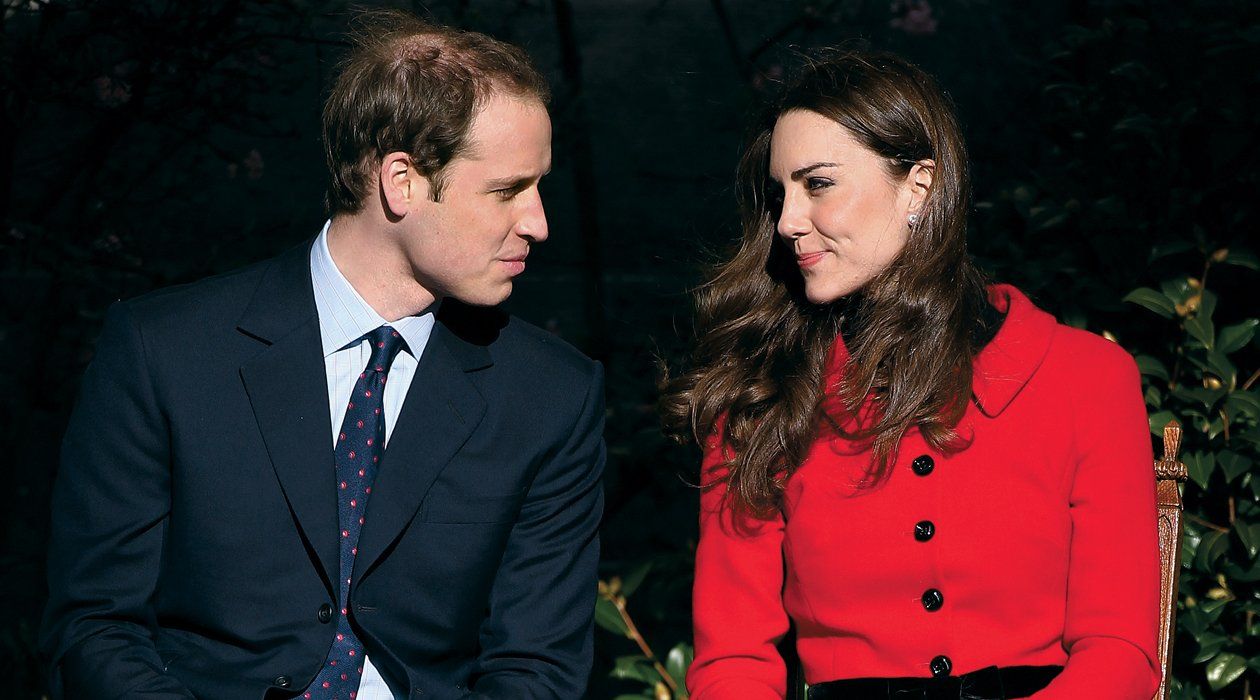 When Catherine Elizabeth Middleton marries William Arthur Philip Louis Windsor, a prince of the royal blood, in Westminster Abbey on April 29, she will be scoring a number of firsts. Kate will be the first royal bride to have a university education, the first to live with her husband before marriage, the first to have a mother who used to be a flight attendant. Most impressively of all, Catherine will one day be the first queen of the realm to have fallen over at a roller disco in a pair of yellow hot pants.
Over eight long years as William's girlfriend, that roller-rink tumble is one of the very few times she put a foot wrong. Whatever snobs may say about the suitability of the match, far from lowering the tone of the monarchy, the middle-class girl who endured the longest job interview in history could well save it. "William loves Kate, but he's also very fond of the Middleton family and spends a lot of time with them," says one of their circle. The close-knit Middletons represent "the ordinary domestic happiness William would like to achieve in his own life. It's definitely something he aspires to—settled, contented domesticity." After the appalling, headline-grabbing dysfunction of his parents' marriage and divorce, it might also be just what the royal family needs to revive its popularity.
Kate was 19 years old when, in the fall of 2001, she turned bright red and scuttled shyly away after meeting a fellow student known as William Wales during their first term at the University of St. Andrews in Scotland. They became friends, but it wasn't until eight months later—after William watched Kate take part in a fashion show, modeling a garment that can best be described as a spider's web crossed with a bikini—that the prince decided the sweet girl who shared her lecture notes with him was definitely hot. Fast-forward eight years, and Kate is two months away from her 29th birthday when, slender as a wand and smiling for England in a royal-blue Issa dress, she walks with William into an electrical storm of cameras at St. James's Palace to announce their engagement to the world.
Over the course of those eight years, the quiet, sporty brunette, famous at school for her record-breaking high jump and tenacious character, earned the humiliating nickname of Waity Katie. Why didn't the art-history graduate find herself a proper job, the British press demanded. Kate's failure to get a ring on her finger became a national joke. She was accused of being dull, even a doormat. But, as a friend of the couple points out, Kate couldn't risk accepting any job that made her look as if she was cashing in on her boyfriend's name. She was stuck between a hard place and a rock. And not just any rock—it was the priceless engagement ring that had belonged to William's adored late mother.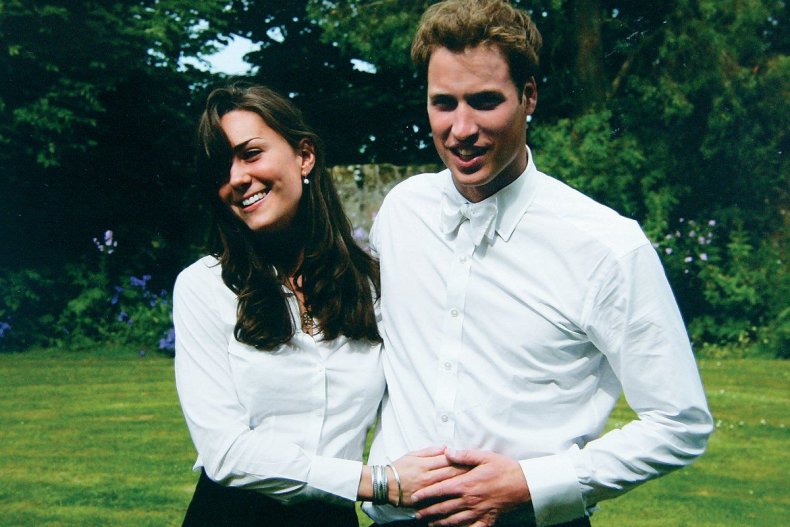 "Kate's bright, very artistic, and a hard worker," says the friend, and her academic record supports that claim: she got a top grade on her math A levels and wrote her master's dissertation on Lewis Carroll's photographic interpretation of childhood—a murky, sexually charged subject. "If she hadn't met William, she would have had a conventional career," this friend maintains, "but she's been driven by a desperate desire not to do anything that's tricky for him."
Here was a modern young woman, who, like Princess Diana, was known for her kind heart and love of dancing, wore £40 polka-dot dresses from Topshop, and suddenly found herself auditioning for a role in a cantankerous ancient institution where people change their clothes five times a day and which still runs according to rules that would make Queen Victoria feel at ease. "The Windsors are a deeply weird bunch," says Jennie Bond, the veteran BBC court correspondent. As an unmarried woman, Kate has never been invited to the family Christmas, and her parents won't be presented to the queen until the wedding reception. Even Kate can see her future grandmother-in-law only by appointment, arranged by a private secretary who announces visitors by title. You don't drop in on the monarch.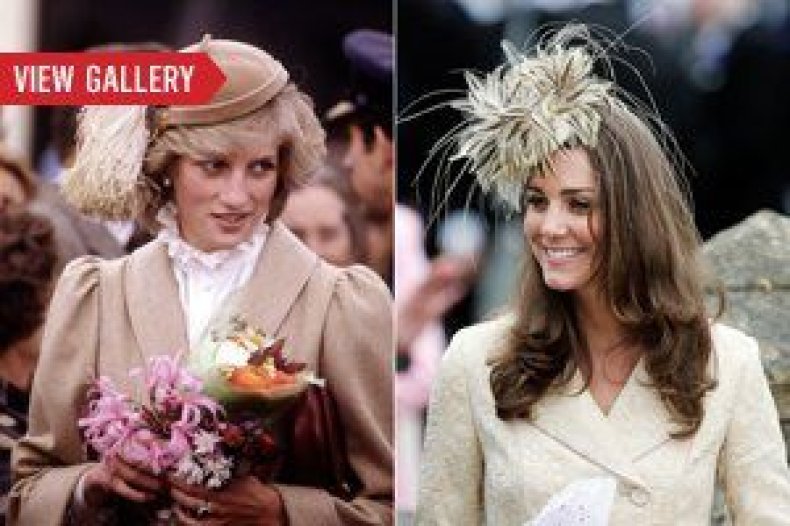 To be considered a suitable candidate for the not-very-merry-wives-of-Windsor club, you need to combine the aura of a silent-movie star with the personal discipline of a Cistercian nun. Only Jane Austen would have guessed that the perfect person for the role would turn out to be a Miss Catherine Middleton of Bucklebury, Berkshire.
"Kate's not interested in [social] position," insists another royal insider. "Her attitude is more like 'William's my man.' There's this incredible possessiveness, and she was damned if she was going to lose him to another girl who loved him less than she does."
As second in line to the throne, William was expected to pick his princess from a select group of well-bred young fillies such as Davina Duckworth-Chad or one Isabella Amaryllis Charlotte Anstruther-Gough-Calthorpe. You might think all those hyphens would make plain Kate Middleton feel a little inadequate. Except that, when a friend at St. Andrews told her how lucky she was to be going out with Prince William, a smiling Kate replied: "He's lucky to be going out with me."
Catherine Middleton is the eldest of three children born to Michael, 61, and Carole, 56, a former British Airways officer and flight attendant, who made their fortune when the driven, immaculately groomed Carole set up a mail-order business called Party Pieces, which sells tableware, party bags, and costumes. Michael—called Mike or even Dad by Prince William—is descended from staunchly middle-class legal stock. A gentle, handsome figure, he has the twinkly, resigned look of a man living in a house run by strong women with plans. Carole, by contrast, is from a poor working-class background. Her parents, Ronald and Dorothy Goldsmith, a builder and sales assistant, began married life living with Ronald's mother in a condemned flat in Southall, a dingy part of west London.
Every family that enjoys a remarkable jump in status has an engine. For the Middletons, it was Kate's tiny, birdlike granny. A coal miner's granddaughter, she was known as Lady Dorothy to relatives because she was a snob who "wanted to be the top brick in the chimney." Dorothy, who died in 2006, was fanatical about keeping up appearances and raising her two children, Carole and Gary, for a better life.
Carole Middleton has clearly inherited her mother's ferocious desire to get on in the world. She made an excellent marriage to Michael, and all but two of her own relatives seem to have been considered unsuitable to attend her wedding. Amazingly, Carole has allowed her brother, Kate's uncle Gary, to be invited to the royal nuptials, though not the reception. The family's cast-iron silence was broken when Gary, a millionaire recruitment consultant, was caught boasting about his royal connections to undercover reporters and offering drugs and call girls at his Ibiza home, the splendidly named Maison de Bang Bang. A rumor circulated that Uncle Gary has "nouveau riche" tattooed across his shoulders—a rumor we can only hope Prince Harry decides to check out during the festivities.
Even before the family business made the Middletons comfortably wealthy, they elected to send Kate, sister Pippa, and brother James to the most aristocratic schools in the land. In September 1995 Kate arrived at Downe House, an elite girls' boarding school where the flat-chested, gangly 13-year-old was badly bullied. "Kate wasn't academic enough; you need to be straight A's for Downe House, and ultracool, and into boys," recalls one observer. "It was very cliquey, and she was terribly unhappy." (Significantly, in lieu of wedding gifts, Kate has asked for donations to an anti-bullying charity, among others.) The Middletons moved their daughter to the coed but equally grand Marlborough College. When she arrived, she was still pale and shy. A friend, Jessica Hay, recalls that the school's older boys had a habit of publicly ranking new girls on a scale of one to 10, writing the figures on a napkin at dinner. Kate received only ones and twos. I trust that, in due course, Queen Catherine will have the miserable varlets beheaded.
With the help of her mother's fierce encouragement and fashion tips, Kate eventually blossomed into a poised creature who never puts a limb wrong. Jewelry designer Claudia Bradby, who worked with her when she was employed as a part-time buyer for the Jigsaw clothing store, says: "Kate is straightforward, really nice, composed, feminine, and very British. Discreet and quiet, but with a strong sense of herself. She's a really classy girl."
Yet when it became clear that a nice, middle-class girl might land the Big One, the Middletons were mocked for their origins and aspirations. The prince's friends reportedly said, sniggering, "Doors to manual," in Kate's presence, a jibe at her mother's former career. Meanwhile, Kate and Pippa were dubbed the Wisteria Sisters because, as one wag put it: "They're highly decorative, terribly fragrant, and have a ferocious ability to climb."
Certainly the rise of the Middleton women has been so rapid they needed breathing apparatus. To go from Dorothy's dingy flat to Buckingham Palace in two generations makes Elizabeth Bennet's bagging of Mr. Darcy look like a doddle. At Edinburgh University, the vivacious Pippa ended up sharing a flat with the sons of two different dukes. Friends say Pippa, who will be her sister's maid of honor, has made no secret of wanting to "marry up." The bar has been set pretty high by Kate. A delighted Carole Middleton has her future son-in-law as a screen saver on her cell phone.
In the couple's charming engagement interview with ITV, Kate denied the widespread rumor that she'd had a Prince William poster on her dormitory wall. "He wishes," she teased. "In fact, it was the Levi's guy." Actually, as a friend at Marlborough has confirmed, there was indeed a poster of William on the young Miss Middleton's wall. She used to sigh and say, "I bet he's really kind … You can tell just by looking at him." But we must forgive her faulty memory. A key hint in the How to Be Queen Handbook is: don't spook your prince by looking like a stalker.
"Kate has played a brilliant waiting game," says one royal source. "Even when William dumped her in 2007 and she was terribly hurt, she acted with great dignity, kept her mouth shut, and didn't go bleating to the media." No, indeed. She did what any resourceful Austen heroine would do. She wore a spray-on miniskirt, got an edible caramel self-tan, and went out on the town looking like Cindy Crawford's sexier kid sister, confident that she could provoke a jealous William to see what he was missing, come back, and grab it.
"William is very stubborn by nature, but Kate has this incredible ability to read him and predict how he's feeling," says a close observer of the couple. "So if they have people over and he's tired, she knows when to wind the party up, she knows when he's feeling claustrophobic or pressurized. That was demonstrated on the two occasions when they split up—neither of which were what Kate wanted, but she knew he needed that space and time. She stepped back and she gave it to him. So she is intuitive, she gets William in a way no one else does"—or perhaps only a mother would.
While William serves as a search-and-rescue helicopter pilot, he and Kate have been living in a remote, five-room, whitewashed farmhouse on the Isle of Anglesey, lashed by a causeway to the wild westerly tip of Wales. They prefer to get by without any domestic staff, a sacrifice that would be unimaginable to William's father. Prince Charles has a designated flunky to squeeze toothpaste onto his toothbrush. William prefers to see himself as a regular guy. Kate is the bossier of the two around the house, but it balances out because she has to defer to him in public. Friends say the couple are eager to snatch as much real life as they can before they enter the goldfish bowl for good. Kate cooks dinner most nights, buys groceries in the local store, and when William was training, she even had a bath run by the time he came home.
"I think it's good that Kate seems to lack ambition," says one member of the royal circle. "She's a strong girl, definitely not a pushover, but her job is to be two steps behind him. If you've got someone who likes being in the spotlight herself—well, that's when all the trouble started with Charles and Diana. The best royal marriages are when the consort keeps her head down."
That said, society interior designer Nicholas Haslam, a cousin of Prince William, firmly believes Kate will make the monarchy less custom-bound. She already has. Instead of a traditional wedding breakfast, they're having a buffet—frightfully middle class, darling! The request for charity donations in lieu of wedding presents has caused some heart attacks among the old guard. And it's hard to imagine Kate, raised in such a warm family, tolerating the cold formality of the Windsors. Much will change when the queen dies.
The couple's plans after the wedding may also buck convention. William's "driving ambition is to stay in the military for as long as he conceivably can and not get sucked into full-time royal stuff," says a friend. "I think there's been quite a battle about that, and I wouldn't bet against him succeeding." Being king and queen is far away because they're not next in line, though as the couple's popularity grows it will only add to public pressure for William to leapfrog his father. "He's always been keen to live life his own way, and that's been very evident in the way he's taken so long about making this decision," says a friend. "They're very determined not to make their domestic happiness a casualty of royal life. They've built up a strong friendship, obviously a strong physical relationship, and they love each other a lot."
Over time, Kate would be wise to take as her role model the late Queen Mother, who pulled off the trick of being immensely popular and entirely unknowable and was the real power behind her stammering king.
What everyone does know, but no one is saying out loud, is that this is one royal marriage that simply has to work. Jennie Bond goes so far as to suggest that the breakup of Prince William and Princess Catherine could herald the end of the monarchy itself.
"They took so long getting engaged because they are aware that they can't ever get a divorce," confirms someone who has talked to William a lot. "They know the monarchy would be in a very bad place if they divorced … so the question was not, will we be married forever? The question was, will we be happy? Not only do they have to consider how they're going to get along, but they have to do it with all the exceptional and unusual pressures that are going to be placed on them. They spent a long time dwelling on that."
To understand how the prince finally came to believe that a quintessential Home Counties girl was the woman for the top job, you have to grasp that trust and loyalty are such huge issues for William that he actually tells untrue stories to friends to see if they turn up in the papers. Even before the deafeningly painful death of his mother, Princess Diana, William was a damaged and angry young man, acutely aware he was a prisoner of fate. He and his younger brother, Harry—only 15 and 12, respectively, when they had to make the longest journey of their lives behind Diana's coffin to the Abbey—were the innocent casualties in the War of the Waleses. Most teenagers firmly believe they have the most embarrassing parents in the world. The difference was that, for a while, William and Harry actually did.
The lowest point came when William's housemaster at Eton gave the boy special permission to watch his mother's BBC interview with Martin Bashir. Diana had promised him he had nothing to worry about, but, as Katie Nicholl reports in her definitive book, The Making of a Royal Romance, when Diana talked about Camilla Parker Bowles and there being "three of us" in her marriage, William's "eyes filled with tears of fury and frustration. He simply could not believe that his mother had invited the television cameras into the home he had grown up in and loved, to betray his father and their family in such a public way." He wouldn't speak to her. She cried. He forgave her, but he could never forgive her. And then she died.
"It was spectacularly awful for the kids," confirms a friend. "William does not want any more chaos and drama in his life, that's for sure."
All those years when William seemed unable to commit to Kate had nothing to do with his love for her and everything to do with his fears for her. He believes Diana was hounded to her death, and friends claim the single biggest driving force in his life is protectiveness. "He's spent a lot of time thinking about how he's going to protect Kate," says one. "Part of the reason he delayed so long in marrying her was being sure she's going to be able to cope with it and that marrying him wouldn't ruin her life."
Until the day of their engagement, Lady Diana Spencer had to call Charles "Sir." On the eve of her wedding, she was left alone in Clarence House with supper on a tray. Diana said that walking down the aisle, she felt like "a lamb to the slaughter." William is determined that Kate will not be hurt as Diana was hurt. Kate has already been taken under the wing of Camilla, the Duchess of Cornwall, who is a comforting source of advice and jokes about "the firm" she is joining. Camilla was somewhat amused, however, when Carole and Mike looked over Bolehyde Manor, her old house, as prospective buyers, and reportedly commented that the Middletons "are trying too hard." But on the whole, the royal family "can see Kate is obviously a better match for William than one of those flaky aristos would be," says a member of their circle. Still, Charles and Camilla are reportedly "not relishing the thought that they might have to be great friends with [the Middletons] … It's a bit awkward, frankly." William, by contrast, enjoys spending time with his future in-laws, where, according to a friend, "it's all cozy dinners on a tray in front of the TV, going to pick up the papers, and eating Carole's Sunday roast around the kitchen table followed by muddy walks with Mike."
When William finally presented Kate with his mother's sapphire-and-diamond engagement ring, by the side of a sapphire-blue lake in Kenya, it was both a declaration of love and a statement of defiance. The royals tried to disappear Diana by taking away the title Her Royal Highness. William vowed that, once he became king, Mummy would get her title back. "It is my mother's engagement ring, so I thought it was quite nice because obviously she's not going to be around to share any of the fun and excitement of it all," he told ITV's Tom Bradby. "This is my way of keeping her close to it all."
Although Kate is, in so many ways, the anti-Diana—wiser, calmer, educated, a woman rather than a child—only a Windsor male who had been raised by Diana's rebellious, loving spirit could possibly have chosen Miss Catherine Middleton of Bucklebury, Berkshire, to be his mate.
When Kate walks down the aisle of Westminster Abbey and into history, the ghosts of two remarkable women will be with her. The doomed, beautiful mother-in-law she will never know, who taught her son how to protect and love his future wife, and her grandmother Dorothy, who strove ferociously to be "the top brick in the chimney."
Kate—who now prefers the more regal Catherine—was right all those years ago in St. Andrews. She knew it was worth waiting for. William is lucky to have her. And so is England.
Pearson is a staff writer at the London Daily Telegraph. She is the bestselling author of I Don't Know How She Does It, which will be released as a movie starring Sarah Jessica Parker. Her new novel is I Think I Love You.