Kate Less Famous Among U.K. Millennials as 28 Percent Have Not Heard of Her
Kate Middleton's royal wedding to Prince William was watched by around half of Britain 11 years ago, but today, more than a quarter of millennials now say they haven't heard of her.
Senior royals are among the most famous people in Britain, with more than 90 percent of people consistently saying they have heard of them, according to data from pollster YouGov.
The Duchess of Cambridge is no different as far as Gen X and baby boomers are concerned, with 99 percent of people falling within the two age brackets saying they had heard of her in surveys through the first quarter of 2022.
However, Kate appears to be less famous among millennials, with 72 percent saying they had heard of her and 28 percent who had not. The figures were not based solely on any single poll but were a product of rolling research throughout the three-month period.
Nothing in the data explains why the responses were so different generationally, though YouGov does describe her online and in its spreadsheet of results as Catherine, Duchess of Cambridge, rather than Kate Middleton, as she is referred to in the media.
The lower figures among younger audiences drag down her overall fame score by the pollster to 87 percent, below the likes of Prince Edward (89 percent) as well as Princess Beatrice (89 percent) and Princess Eugenie (91 percent).
By contrast, 100 percent of those surveyed said they had heard of Prince Charles, 97 percent for Queen Elizabeth II, 96 percent for Prince William and 97 percent for Camilla, Duchess of Cornwall.
The BBC broadcast of William and Kate's wedding was watched by 34.7 million people, according to The Guardian, around half the U.K. population of 63.7 million at the time.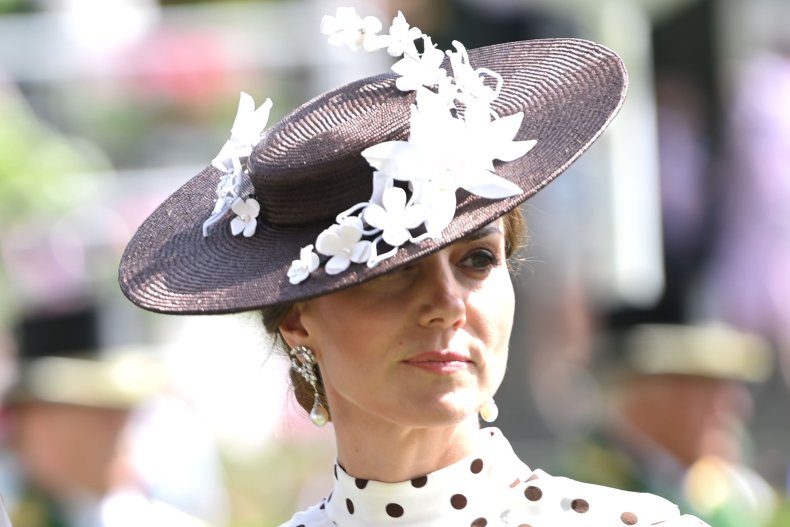 Prince Harry and Meghan Markle were also recorded as being more well known, at 98 percent and 95 percent respectively.
Needless to say, while some may have said they had not heard of Kate, few disliked her.
The duchess was viewed positively by 60 percent and negatively by five percent, giving her a net approval rating of +55.
In fact, Kate was viewed negatively by fewer people than any other royal, including the queen, who generally tops the most popular list.
Queen Elizabeth II was seen positively by 75 percent of people and negatively by nine percent, giving her a net approval rating of +66.
While the monarch, 96, was liked by more people than Kate, she was disliked by more people too.
Prince Andrew is the least popular member of the royal family, liked by 12 percent of adult Brits and disliked by 70 percent, giving him a net figure of -58.
Meghan is the second least popular royal, liked by 24 percent but disliked by 49 percent in the first quarter YouGov survey.
The Duchess of Sussex is most popular among millennials but most famous among baby boomers, who also had the lowest opinion of her.
Among boomers, 100 percent had heard of her but 14 percent liked her, according to the YouGov data.
She was viewed positively by 31 percent of millennials while 91 percent had heard of her within the younger age group.
For more royal news and commentary check out Newsweek's The Royal Report podcast: