Kate Middleton Showcases Nautical Style for Commonwealth Sailing Race
Kate Middleton dressed in a nautical-inspired ensemble as she undertook a day of sailing related engagements in Plymouth, England, on Sunday.
The duchess is the royal patron of the 1851 Trust, a charity that provides science-based experiences for young people through sport, science and technology, including sailing.
On Sunday, the royal joined a group of children taking part in the charity's climate and environmental program titled Protect Our Future. For the engagement, she wore a nautical outfit of a navy and white breton-striped sweater from favorite brand Erdem and a pair of white tailored high-waisted shorts from the brand Holland Cooper.
Kate has been a long-time fan of the brand Erdem with many of the evening dresses worn throughout the early years of her marriage coming from the British/Canadian designer Erdem Moralioglu.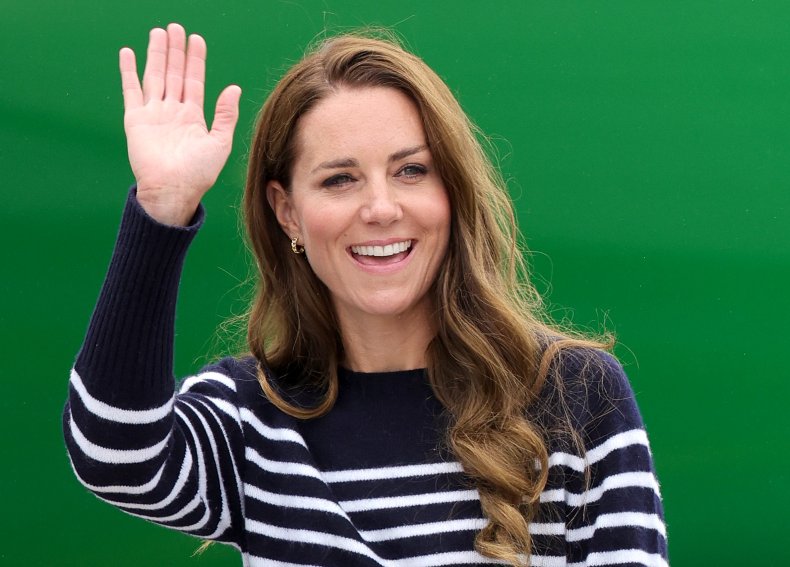 Accessorizing the look, Kate wore a pair of plain white plimsoll trainers and delicate gold hoop earrings.
After spending time with the Protect Our Future project learning about marine biology and seagrass, Kate then took part in a friendly Commonwealth sailing race between Great Britain and New Zealand.
The GB team was headed by Olympian Sir Ben Ainslie, who is also a patron of the 1851 Trust and with whom Kate has worked for a number of years.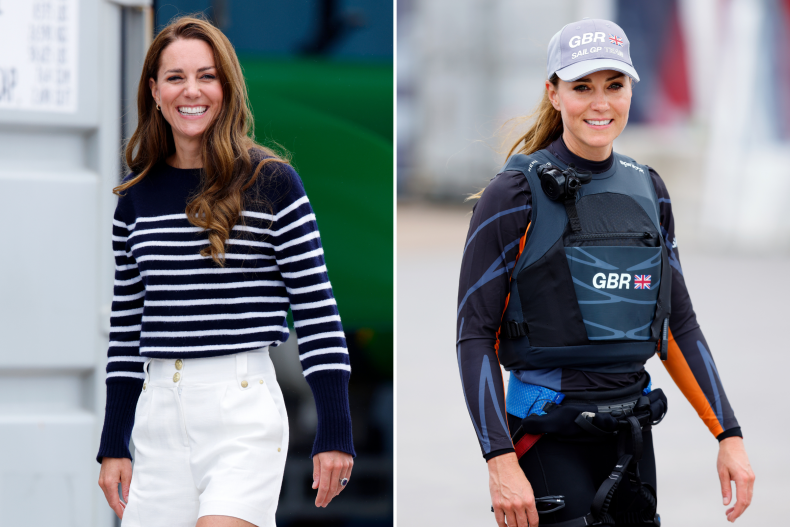 The royal changed into a wetsuit and personalized life vest for the race on the British teams F50 foiling catamaran though she took special care to protect the heirloom sapphire and diamond engagement ring that had once belonged to Princess Diana by removing it, just wearing her wedding ring for the event.
Kate has been a passionate sailor for a number of years and most recently went head to head with Prince William in a regatta during their tour of the Caribbean in March. William took the victory on that occasion but with Ainslie and team GB alongside her on Sunday, Kate and the crew secured the win against New Zealand.
Speaking about his royal crewmate before the race, Ainslie said, per the BBC: "She's a really good sailor in her own right, she has sailed with me on foiling boats as well and we're expecting a little bit of extra help."
Alongside Prince William, Kate launched the inaugural King's Cup sailing regatta in 2019. The couple raced one another in a group of yachts sponsored in honor of their numerous charities. William's crew beat out Kate's who were disqualified in the second race after a false start but neither royal won the overall trophy that was secured by television survivalist Bear Grylls.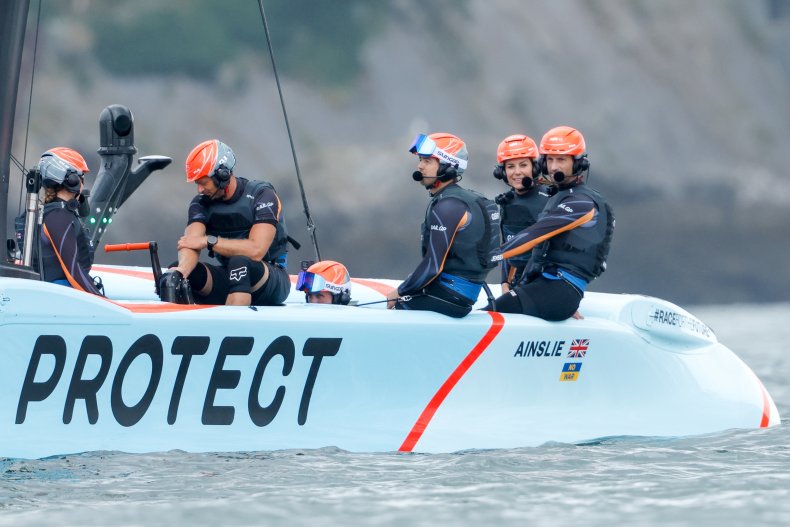 Kate has become a regular fixture at British sporting events with 2022 being particularly busy with visits to the Six Nations rugby match between England and Wales, as well as appearances at the Royal Ascot and Wimbledon.
The royal's outfits of choice for many of these appearances have featured one strong link, the pattern of polka dots. In June and July, Kate wore three Alessandra Rich polka-dot designs to sports events, in a move that cemented Rich as a new favorite among the duchess' roster of designers.
Sunday was a busy day for royals and sports with William and Princess Charlotte showing their support for the England women's soccer team as they took part in the UEFA Women's Euros Championship game against Germany, eventually securing a 2-1 win.
Charlotte sent a video message of good luck to the team nicknamed the "Lionesses" and William attended the match in his capacity as president of the Football Association.
The prince presented the team with their medals and gave team captain Leah Williamson a spontaneous hug before sending a post-match tweet reading:
"Sensational. An incredible win @lionesses and the whole nation couldn't be prouder of you all. Wonderful to see history in the making tonight at Wembley, congratulations! W"
Both William and Kate are scheduled to attend the Commonwealth Games on August 2, which are currently being held in the U.K. city of Birmingham with over 72 countries being represented by 4,500 athletes. The Games began on July 28 and are scheduled to end on August 8.