Kate Middleton Enrages Critics by Re-Wearing $17,000 Bauble
Kate Middleton, the new Princess of Wales, attended a state banquet held in London to honor President Cyril Ramaphosa of South Africa on Tuesday, re-wearing an expensive new brooch that has provoked criticism online during a period of economic hardship in Britain.
The princess debuted the art deco diamond-set brooch on Remembrance Sunday in November. Kate used it to hold in place the three poppies traditionally worn by female members of the royal family to honor the members of the army, navy and air force who lost their lives in the line of duty.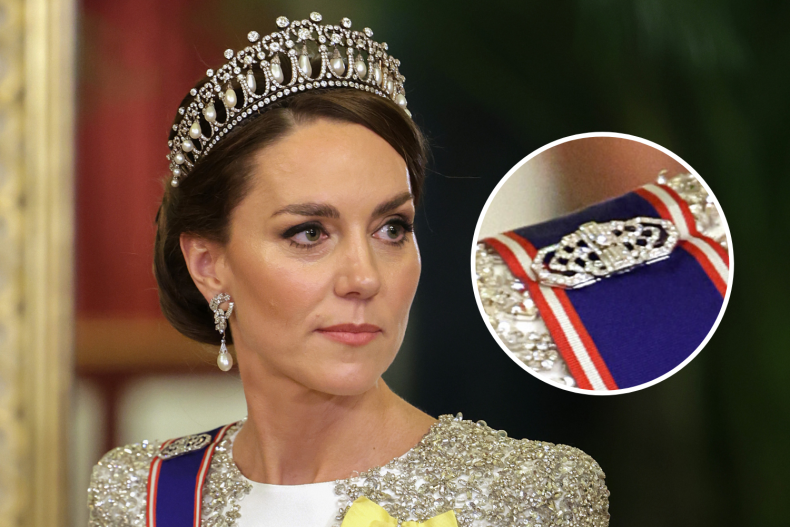 Graham Smith, chief executive of British republican pressure group Republic, told Newsweek that the extravagant display by the royals at the state banquet during the current cost-of-living crisis was "no surprise," adding, "perhaps they could reflect on that before going out flaunting jewels that cost as much as a lot of people's annual salary."
Royal watchers quickly identified the brooch as having formed part of the stock of London-based jewelers Bentley & Skinner, awarded a royal warrant by King Charles when he was still the Prince of Wales.
An archived webpage showcasing the brooch from January 2022, lists the price as £14,500 ($17,229).
That the webpage should have been taken down and the brooch listed as sold sometime after January has led some to suggest that the jewel was a possible birthday present for Kate, who marked her 40th birthday on January 9.
However, it is also possible that the princess purchased the piece herself—though the price displayed may not be the one paid as members of the royal family are known to receive discretionary discounts from some retailers.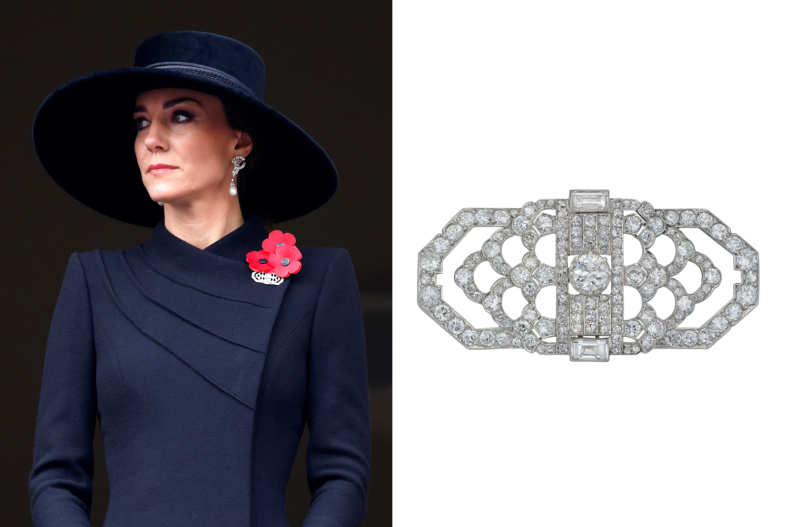 Despite the royal's appearance at the state banquet on Tuesday, when she wore a custom Jenny Packham evening gown, the inclusion of the diamond brooch reignited online debate about whether it was appropriate given the cost-of-living crisis in the U.K.
In October, inflation in Britain reached 11 percent, the highest in four decades, compounding economic stresses facing the public.
On November 13, when Kate first debuted her new brooch, it caused some to question the royal's better judgement, given the climate.
"Instead of buying a £14,000 brooch while pretending to portray herself as 'one of the people', she could have donated that to a homeless veterans charity," wrote one Twitter user.
"Yes, that's about right - buy yourself and show off an expensive brooch while your people starve and struggle to heat their homes," posted another, with one writing: "I think it's not a good image to publicly display such expensive jewellery in these times when all cameras are on her. Paid from the public purse in part, it's not right at this time."
Following the state banquet, this discourse continued.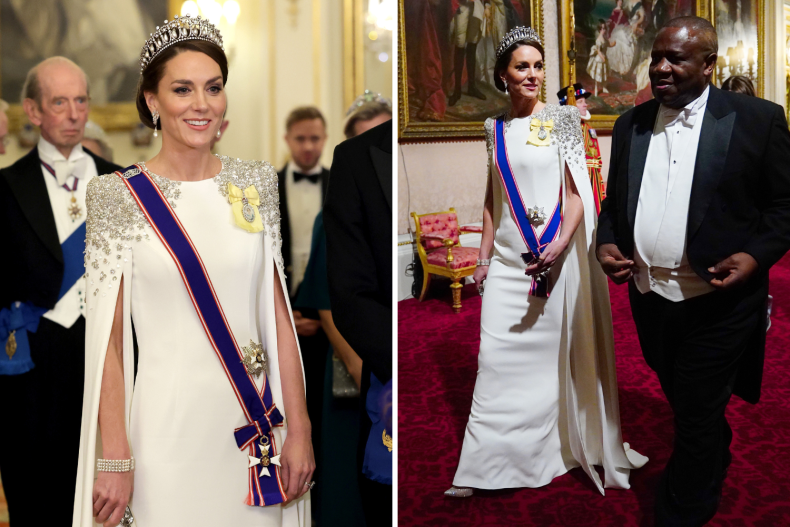 On their website, Bentley & Skinner described Kate's brooch as an "Art Deco diamond set brooch, of rectangular shape with corners cut away, with an openwork pattern comprising of a central, round brilliant-cut diamond with an estimated weight of 0.35 carat."
The total estimated diamond weight of the brooch is 4.5 carats, mounted in platinum and dated to around 1920.
"This brooch is of a classically Art Deco design, with geometric shapes and fine openwork platinum set throughout with lively diamonds," the Bentley & Skinner website said. "This beautiful piece was made in around 1920 and captures the glamour and elegance of the Jazz Age. It would look dazzling pinned to a silk scarf or the lapel of a jacket."
When contacted by Newsweek, Bentley & Skinner declined to comment.
The controversy over Kate's new brooch is not the first time that the royals have come under fire for their style choices during periods of economic hardship.
In 2018, when Meghan Markle wore a couture Ralph and Russo evening gown for her engagement photoshoot with Prince Harry, a garment that was reported by U.K. newspaper the Daily Mail to have cost £56,000 ($66,579), there was backlash and claims of extravagance.
These criticisms would also be applied Meghan's working royal wardrobes for official engagements and tours.
In 2018, Kensington Palace confirmed to the media that the engagement photoshoot dress was "privately purchased."
The state banquet held at Buckingham Palace on Tuesday is the first to have taken place in the new reign of King Charles III.
For the occasion, the jewelry vault of the late Queen Elizabeth II—who died in September at the age of 96—was opened, with the new Queen Consort Camilla wearing the diamond-and-sapphire tiara bought by Elizabeth in the 1960s, along with other heritage royal jewels.
Together with her new brooch, Kate wore the Queen Mary Lover's Knot tiara and pearl earrings formerly worn by Princess Diana, as well as a pearl-and-diamond bracelet belonging to the late queen.
Newsweek has contacted Kensington Palace for comment.
Do you have a question about King Charles III, William and Kate, Meghan and Harry or their family that you would like our experienced royal correspondents to answer? Email royals@newsweek.com. We'd love to hear from you.