Kate Middleton's Brooch Once Ignited Princess Diana, Camilla Backlash
Kate Middleton, the Princess of Wales, debuted a new heirloom brooch that has links to both Princess Diana and Queen Camilla during the state visit of South Africa's President Cyril Ramaphosa to London.
The brooch, which features the Prince of Wales feathers comprised of diamonds with a cabochon emerald drop, was pinned to Kate's custom plum-colored Emilia Wickstead coat dress when she greeted the president at his hotel on Tuesday morning.
Dating back to 1863, the brooch was originally a present given to Princess Alexandra of Denmark by a contingent of ladies from Wales upon her marriage to Prince Albert Edward, the eldest son of Queen Victoria.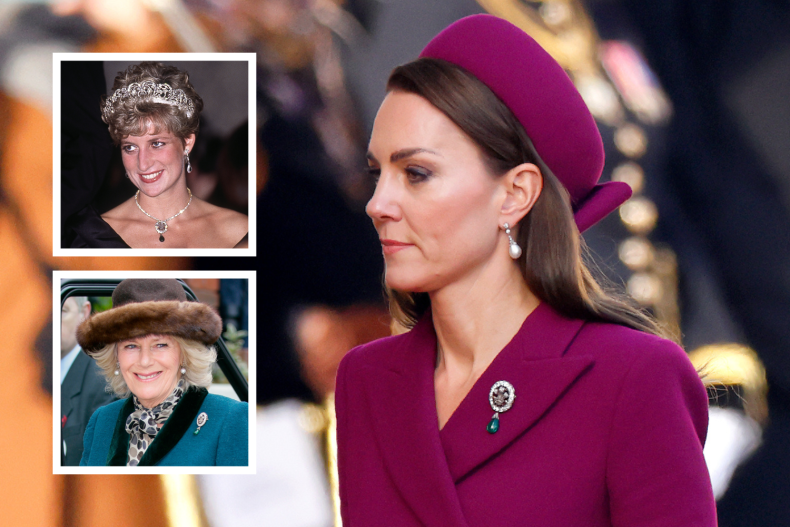 Joe Kendrick, royal jewelry expert behind the Instagram page @britishroyaljewels, told Newsweek: "When Princess Alexandra of Denmark married The Prince of Wales she was given gifts from all around the United Kingdom. Fittingly, the Ladies of North Wales formed a committee to contribute a grand gift for their new Princess.
"The gift took the form of three jewels all made with Welsh gold from Merionethshire by Garrard, the crown jeweler," he continued.
"The first jewel is a diamond and emerald brooch designed as a leek, with 15 diamonds representing the 15 tribes of Wales at the top and the words 'To our own Princess' in Welsh, with an emerald drop. The second is a pair of cabochon emerald drops set in diamonds. The third is a brooch designed as the Prince of Wales feathers plume in diamonds, rubies, emeralds and sapphires with a ribbon in blue enamel spelling 'Ich Dien' (the Prince of Wales' motto, meaning 'I serve') in a frame of diamonds and emeralds, suspending a cabochon emerald drop."
It was this third gift that appeared being worn by Kate for the first time on Tuesday.
Traditionally the Prince of Wales feathers symbol is worn only by the incumbent prince and his spouse, who takes the courtesy title of Princess of Wales.
The current Prince and Princess of Wales are Prince William and Kate, having had the title bestowed upon them by King Charles in one of his first moves as monarch in September.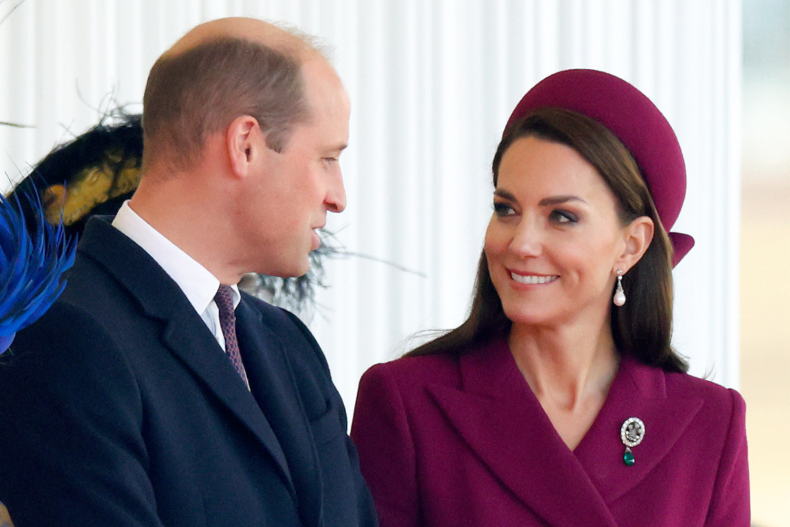 There are no photographs of Princess Alexandra wearing the brooch, but after her death it is presumed to have entered into the royal jewelry vaults of the reigning monarch.
The first member of the royal family to have been photographed wearing the piece was Princess Diana, who held the title of Princess of Wales from her marriage in 1981 until her untimely death at the age of 36 in a 1997 Paris car crash.
"The Prince of Wales feather brooch was first photographed worn by Diana, Princess of Wales, shortly after her marriage," Kendrick told Newsweek. "She rarely wore brooches and preferred to wear it as a pendant from a diamond necklace."
As a pendant, Diana wore the brooch with and without the emerald drop, and was last photographed wearing the piece in April 1996, shortly before her divorce from Charles was finalized.
The necklace was recreated as a prop by Netflix in 2020 for the fourth season of their hit royal drama The Crown, worn by actress Emma Corrin.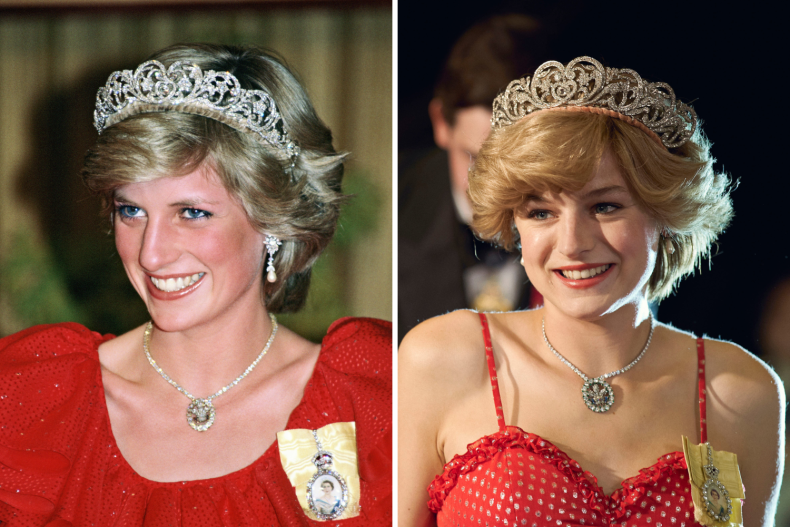 The brooch was not seen again until 2006, when it appeared on Prince Charles' second wife, Camilla Parker Bowles (now Queen Camilla).
After her marriage to Charles in 2005, the new royal chose to be called the Duchess of Cornwall, after her husband's secondary title, and avoided Princess of Wales out of respect for Diana.
However, Kendrick said: "The jewels seem to be passed to each Princess of Wales and it was worn by The Queen Consort throughout her marriage."
This did not come without controversy. On its first outing, many criticized the duchess for wearing a jewel that had once belonged to Diana, given that the princess spoke openly of her unhappiness caused by her husband's extra-marital relationship with Camilla.
Camilla wore the brooch again in 2012 during a visit to the horse races at Cheltenham. It is one of the only royal heirlooms that both Camilla and Diana have worn and has now been passed to Kate.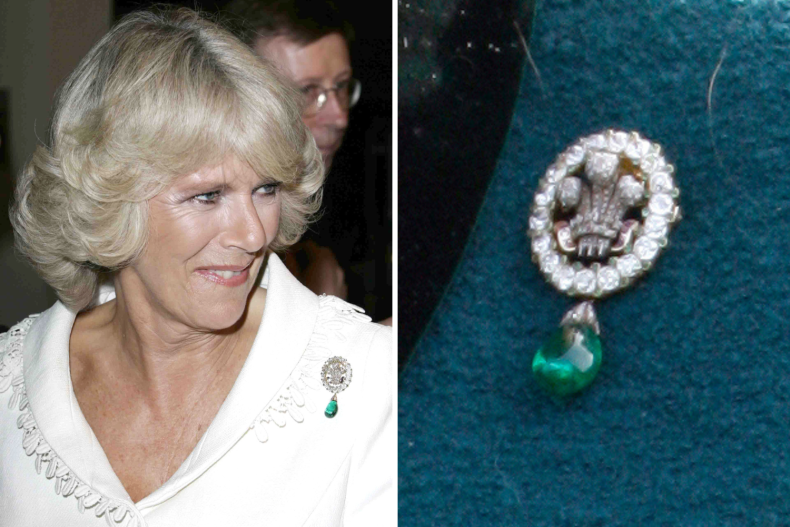 It was not the only piece of royal jewel worn by Kate Middleton on Tuesday. At the state banquet held in the evening she appeared wearing the glittering Queen Mary Lover's Knot tiara with pearl and diamond earrings from Diana's collection.
Kate has increasingly worn jewels with historical significance to pay tributes or respect, most notably in September where she attended the state funeral of Queen Elizabeth wearing jewels that had been loaned to her by the monarch.
"When Catherine first married into the royal family she wore very modest new jewels," Kendrick assessed.
"As she's grown into her role as a member of the royal family we've seen her wear more important, historical pieces. She saves them for special occasions which makes me think she appreciates the history behind them and their significance in her collections.
"She seems to be more confident wearing grand pieces and as she takes on a larger role in the family, and in support of The King, I think we'll see her wear more pieces that reflect that role."
Do you have a question about King Charles III, William and Kate, Meghan and Harry or their family that you would like our experienced royal correspondents to answer? Email royals@newsweek.com. We'd love to hear from you.