Animal Charity Calls Out Kate and Prince William Over Reindeer Welfare
Kate Middleton's Christmas carol service has been criticized by an animal welfare charity for using live reindeer.
The Duchess of Cambridge hosted the Together at Christmas charity concert on December 8 at Westminster Abbey, the church where she married Prince William in 2011.
However, Animal Aid said bringing reindeer to such public events was cruel to the "sensitive wild animals."
The charity posted on Twitter: "We're sad to see #reindeer on display at an event attended by @KensingtonRoyal.
"The @RSPCA_official has also voiced concerns for the welfare of reindeer used in festive events.
"We hope organisers will choose more kindly in the future—and that Will & Kate share our concern."
The charity's website explains: "Reindeer are sensitive wild animals who are adapted to live in a cold climate, roaming great distances each day, foraging for lichen, herbs and other plants.
"They do not cope well with the stress of captivity or to being transported up and down the country to different events.
"These shy animals can be on display for hours on end, exposed to bright lights and noisy crowds, with nowhere to hide.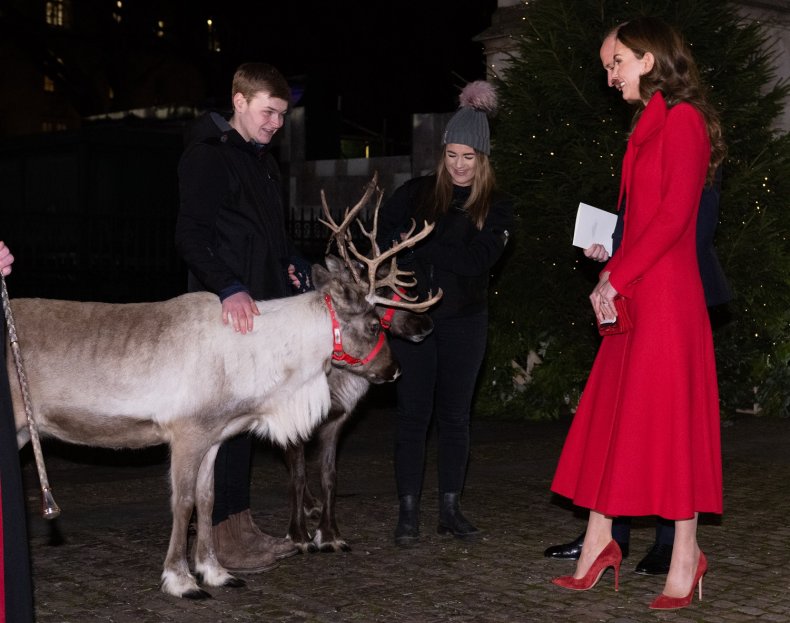 "These conditions can be hugely stressful and can have severe impacts on the health and welfare of these gentle creatures."
Kate and William were photographed being introduced to the animals outside the abbey.
The duchess wore a red Catherine Walker dress to host the concert, due to be screened by British network ITV on Christmas Eve.
The performers included Ellie Goulding, who sang "Have Yourself a Merry Little Christmas," and Leona Lewis, who gave a rendition of "O Holy Night."
Members of the royal family joined Kate's mother Carole and sister Pippa for the carols.
Princess Beatrice and Princess Eugenie, Prince Andrew's daughters, were among the royals to attend.
A Kensington Palace press release ahead of the event read: "Combining traditional elements with a modern and inclusive feel to encompass people of all faiths and none, the service will feature carols sung by the world-renowned Westminster Abbey choir alongside musical performances by Leona Lewis and Ellie Goulding.
"It will also incorporate a performance of To The Day, a poignant composition created for the service by poet and writer Lemn Sissay, and readings delivered by speakers including the Duke of Cambridge, British Paralympian and junior doctor Kim Daybell and Kate Garraway.
"The event will be broadcast as part of Royal Carols: Together At Christmas, a special programme which will be aired by ITV at 7:30pm on Christmas Eve. The broadcast will feature additional content including an introduction from the Duchess of Cambridge."
Newsweek has contacted Kensington Palace and the Royal Society for the Prevention of Cruelty to Animals for comment.