Kate Middleton and Prince William Share 'Sweet' Tour Moment in Viral Video
Kate Middleton and Prince William's intimate moment of reassurance during their royal tour of the Caribbean in 2022 has gone viral after fans posted a clip from a military engagement to social media.
The royal couple, who will celebrate their 12th wedding anniversary in April, have seen a number of their public displays of affection widely shared on social media in recent months. Most recent were their "look of love" during the Commonwealth Day service at Westminster Abbey, London, and playful butt tap at the BAFTA awards ceremony in the English capital.
The latest video, which has been viewed almost 1 million times, shows Kate appearing to ask William if he was "OK" before they shared a smile. The couple were attending the commissioning parade for military personnel graduating from the Caribbean Military Academy's Officer Training Programme in Jamaica on March 24, 2022.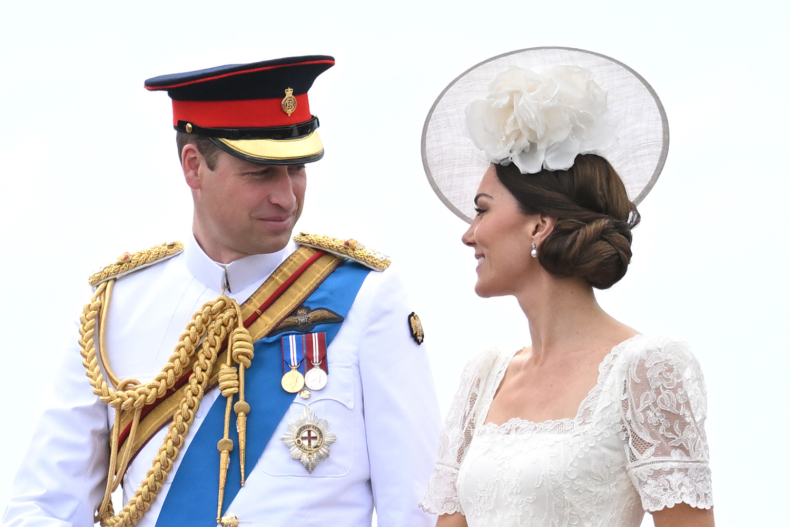 Uploaded to TikTok by user, _sia_71, with the caption "It's the 'Are okay for me,'" the clip has received more than 20,000 likes and 200 comments.
A number of social-media users have praised the couple and noted their apparent closeness in comments on the edited clip.
"They're a strong team!" wrote one TikTok user. "They're adorable," posted another, with a third comment reading: "If it's not this, I don't want it."
The couple's tour of the Caribbean did not pass without issue. William and Kate were met with protesters at each of their stops in Belize, Jamaica and the Bahamas. The calls were for the British monarchy to atone for its role in the slave trade and to discuss the subject of reparations.
The couple also faced what were seen as a number of public-relations blunders. There had been anti-racist criticism launched at the royal family after Meghan Markle and Prince Harry's television interview with Oprah Winfrey in 2021.
At an engagement in Trench Town, Jamaica, William and Kate were photographed shaking hands with community members behind a chain-link fence, which was openly criticized over poor or misjudged optics.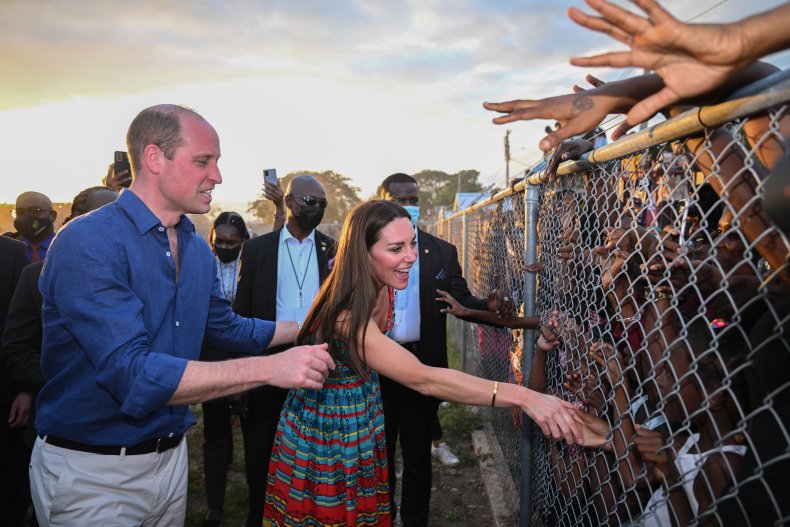 At the end of the week-long tour, William appeared to have taken note of the level of criticism directed at the couple during their visits. The prince seemed to acknowledge that a time may come where he may not become head of the Commonwealth.
"Catherine and I are committed to service. For us, that's not telling people what to do. It is about serving and supporting them in whatever way they think best, by using the platform we are lucky to have," William said at a final reception in the Bahamas.
"It is why tours such as this reaffirm our desire to serve the people of the Commonwealth and to listen to communities around the world. Who the Commonwealth chooses to lead its family in the future isn't what is on my mind," William added.
"What matters to us is the potential the Commonwealth family has to create a better future for the people who form it, and our commitment to serve and support as best we can."
Despite the more challenging events during their Caribbean tour, royal fans were eager to highlight the more light-hearted moments enjoyed by the couple, especially a number of affectionate moments.
These included some hand-holding and a competitive sailing race in the Bahamas; a fun meeting with the bobsledding team in Jamaica; and a dance at a traditional Garifuna festival in Belize.
James Crawford-Smith is Newsweek's royal reporter based in London. You can find him on Twitter at @jrcrawfordsmith and read his stories on Newsweek's The Royals Facebook page.
Do you have a question about King Charles III, William and Kate, Meghan and Harry or their family that you would like our experienced royal correspondents to answer? Email royals@newsweek.com. We'd love to hear from you.