Kate Middleton's 'Princess Costume' Promise to Little Girl Goes Viral—Clip
Kate Middleton's promise to a 5-year-old leukemia patient made during the COVID-19 pandemic has gone viral after a video clip showing the royal fulfilling it was uploaded to social media platform TikTok.
The archive footage of Kate with 5-year-old Mila Sneddon, filmed during a private meeting in 2021, has been widely shared, gaining more than 700,000 views since it was posted by a fan account on Sunday.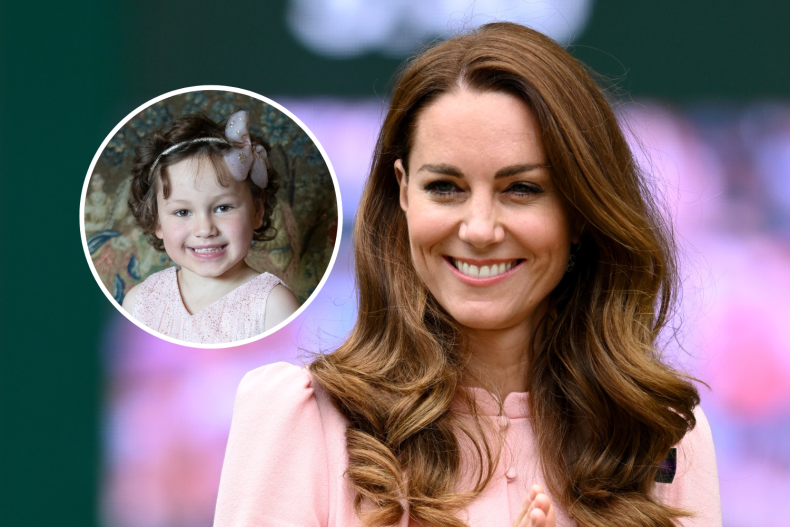 Kate was first introduced to Mila over the phone in the fall of 2020, while Britain was locked down owing to the COVID-19 pandemic. Earlier in the year, Mila's family had taken the decision to isolate separately to protect her, as she was just four months into chemotherapy treatment for acute lymphoblastic leukemia.
Each day during the separation, Mila's father and sister would visit her (and her mom who was caring for her), communicating through the closed windows of their home so as not to risk transmitting COVID. Mila's mom, Lynda Sneddon, photographed her daughter during one of these visits and submitted it to Kate's "Hold Still" pandemic photography project—documenting the ways in which Brits were living and coping in lockdown.
The photo was chosen to be included in a book published to raise money for charity, and also for inclusion into a special London exhibition. To congratulate the family, Kate called the Sneddons and had a brief chat with Mila.
"We love your photograph," the princess said, before Mila asked the royal a question.
"Do you have a costume?" she said.
"I'm not wearing a princess costume right now I'm afraid Mila," Kate responded. When then told that Mila's favorite color is "pink," the princess made the little girl a promise.
"Pink?" she said. "OK, well I'll have to make sure I go and try and find myself a pink dress so that hopefully one day, hopefully Mila we get to meet and then I'll remember to wear my pink dress for you!"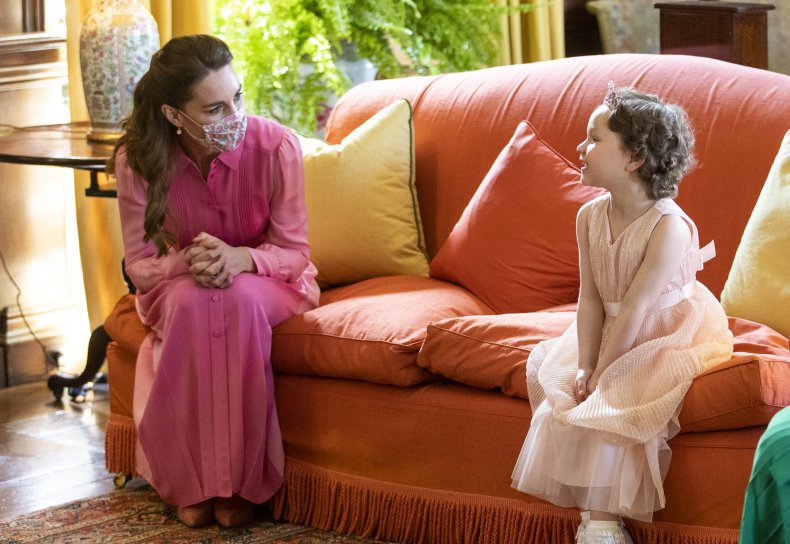 The viral video, uploaded by TikTok user l0velycatherine, plays this clip from the phone call which then shows Kate and Mila finally meeting in May 2021, for which she wore a special pink dress.
The meeting took place at the Scottish Palace of Holyroodhouse in Edinburgh during Kate's tour of the country with Prince William, though, owing to the pandemic restrictions in place, was a socially distanced affair.
For the occasion Mila too twinned with the princess, wearing her own pink dress, accessorized with a toy tiara.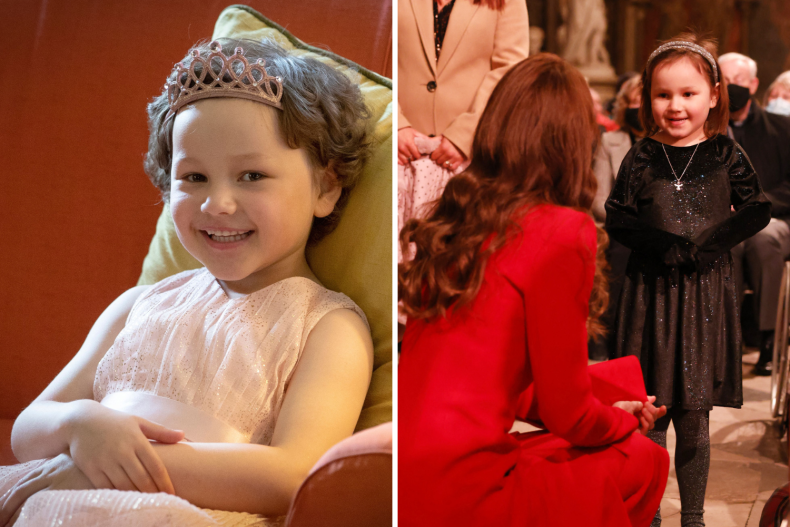 Speaking after the meeting, Mila commented: "It was so good—I've never met a real princess in my life before."
In March 2022, it was announced that Mila, now 6, was cancer free.
A number of commenters on the viral video have praised both Kate and Mila for the "precious" interaction, with the post receiving in excess of 128,000 likes.
"She actually is A REAL PRINCESS," wrote one fan.
"That is the absolute cutest thing oh my goodness," wrote another, with a further user adding: "Awwww Kate is so amazing, she sure made Milas day."
The princess was reunited with Mila in December 2021, where she invited her and her family to take part in the "Together at Christmas" carol service at Westminster Abbey.
James Crawford-Smith is Newsweek's royal reporter based in London. You can find him on Twitter at @jrcrawfordsmith and read his stories on Newsweek's The Royals Facebook page.
Do you have a question about King Charles III, William and Kate, Meghan and Harry, or their family that you would like our experienced royal correspondents to answer? Email royals@newsweek.com. We'd love to hear from you.