Kate Middleton Wears Scottish Blue for Jubilee Visit to 'Empathy Session'
Kate Middleton paid a sartorial nod to the Saltire, Scotland's national flag, to begin her visit to the country with Prince William on Wednesday.
Kate—the Duchess of Cambridge—is visiting Scotland alongside William in Queen Elizabeth II's Platinum Jubilee year, marking her 70 years on the throne, though the queen's daughter, Princess Anne will be making the official jubilee visit to the country on behalf of the monarch during a central weekend of celebrations in June.
William and Kate both have a special affinity for Scotland having met while studying at the University of St Andrews during the early 2000s.
Prince William spoke last year of the importance Scotland holds for him as it was also the place he found out his mother had died when he was on holiday with the queen aged just 15. In a speech to the General Assembly of the Church of Scotland in May 2021, he said:
"I was in Balmoral when I was told that my mother had died. Still in shock, I found sanctuary in the service at Crathie Kirk that very morning. And in the dark days of grief that followed, I found comfort and solace in the Scottish outdoors. As a result, the connection I feel to Scotland will forever run deep."
The royal couple began their tour with a visit to St John's Primary School in Glasgow where they took part in a special "Roots of Empathy" session which is an early intervention program created to help children aged 5-13 build and develop empathy.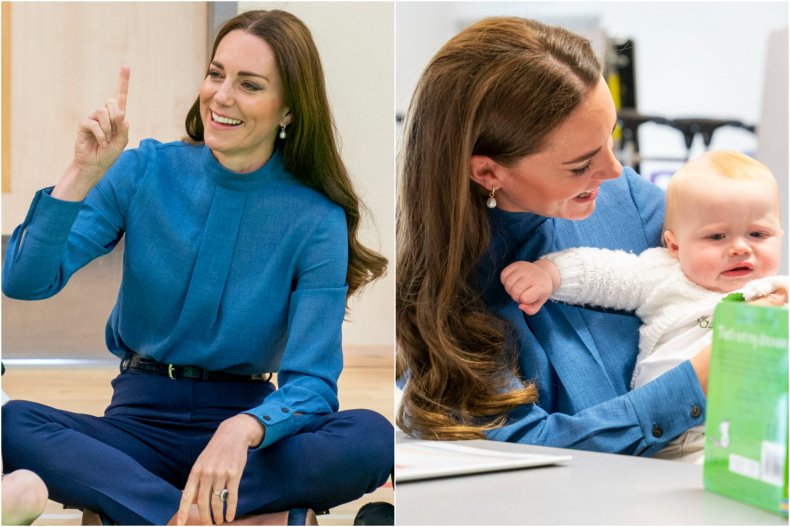 Kate is particularly interested in early childhood development having launched the Royal Foundation Centre for Early Childhood in 2021 which aims to raise awareness of the importance of early life experiences.
The "Roots of Empathy" programme was developed in Canada and has been in operation in Scottish schools for a decade. The methods of teaching involve school children interacting with a mother and baby as they learn about the development of a baby's needs and emotions.
For the event Kate wore a "Riley Funnel Neck" blouse from the brand Cefinn in the "cornflower blue" shade which is closely allied with the color of the Scottish flag.
The Cefinn brand was founded by Samantha Cameron, the wife of former Prime Minister David Cameron, in 2017, to provide stylish and accessible work wear for women.
This is the first time that the duchess has worn a Cefinn piece for a public event though she has previously been seen sporting one of the brand's printed day dresses while collecting Prince George, 8, and Princess Charlotte, 7, from school in London.
The duchess paired her outfit with a pair of cropped blue slacks and a black leather belt with gold hardware. The royal finished the outfit with a pair of her favorite blue suede high heel pumps and pearl earrings.
Later in the day Kate added a longline blue tailored coat to her look as the royal couple moved onto a second engagement at the Wheatley Homes Glasgow site in Kennishead where they spoke with residents and staff members about the challenges of homelessness in Scotland.
Prince William has been involved with homelessness charities since he first began royal duties. He was introduced to the cause by his mother, Princess Diana, who was a strong supporter of Britain's homelessness charities in the 1990s.
As part of their visit, William and Kate met with families who had received support packages from the Wheatley Foundation which has partnered with Dolly Parton's Imagination Library initiative to provide children with free books. For the year 2020-21 over 5,500 books were delivered to Wheatley Homes residents through the Imagination Library partnership.
The couple's tour comes just weeks before the queen's central weekend of Platinum Jubilee celebrations in early June, during which a special series of visits are being made by senior royals to the nations making up the United Kingdom.
Princess Anne will visit Scotland, the queen's youngest son Prince Edward will visit Northern Ireland and William and Kate are scheduled to tour Wales.