How Kate Middleton's Statement Skirt Suit Echoed Style Princess Diana Loved
Kate Middleton delivered a bold fashion statement on Monday when she made her annual appearance at the Westminster Abbey Commonwealth Day service wearing a new sharply tailored skirt suit from trusted fashion label Erdem.
Kate's suit formed part of Erdem's pre-fall 2023 collection and featured an exaggerated peplum jacket and fluted skirt in a navy and white floral print pattern. The bold, angular style is in keeping with the royal's more serious aesthetic that has been adopted since she became Princess of Wales in September 2022.
Kate has only rarely worn skirt suits before, opting instead more often for the classicly tailored coat dresses that she has become so closely associated with, usually designed by the house of Alexander McQueen or a label frequently patronized by her mother-in-law, Princess Diana, Catherine Walker & Co.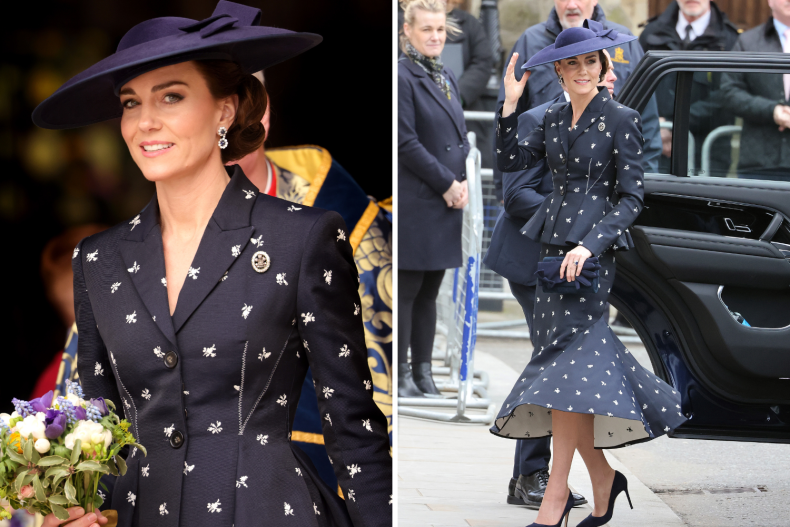 Towards the end of her life, which was cut short at the age of 36 in a 1997 Paris car crash, Diana was increasingly seen in chic tailored skirt suits for daytime events and off-duty meetings, an almost streamlined uniform in keeping with the 1990s drive for simplicity.
After her official separation from King Charles (then Prince of Wales) in 1992 and final divorce in 1996, Diana began increasingly to patronize fashion designers outside of the U.K. One of her favorites, who also became a close friend, was Gianni Versace.
Versace created for Diana a number of elegant skirt suits and in 1995 they became the foundation of a special collection inspired by the princess.
After the deaths of both Versace and Diana, the designer's sister, Donatella, described to author Georgina Howell what made the royal's style so different.
"In 1995, my brother dedicated a collection to the princess, calling it 'Conservative Chic,'" she said.
"The look was epitomized by the slim knee-length shift dress in a pastel color that the princess likes to wear as she changed into a modern, independent, stylish woman. Those dresses emphasized her silhouette and slim figure. She was a woman who moved with the times and understood what suited her."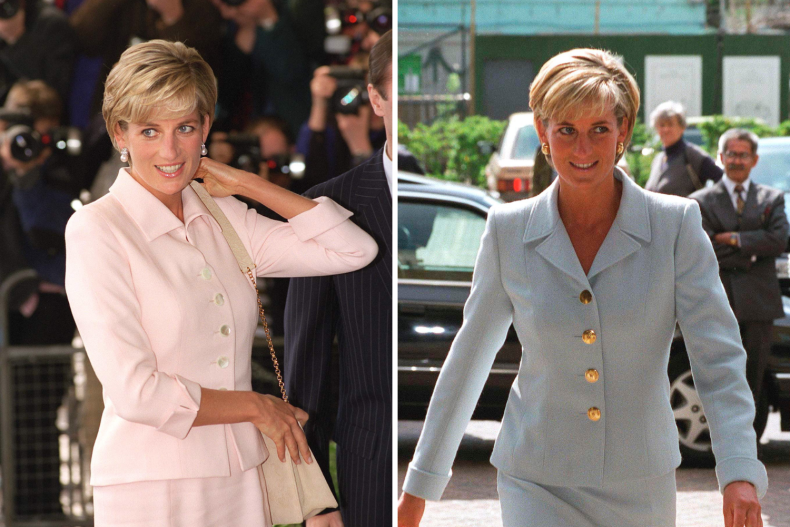 The "Conservative Chic" Spring 1995 Versace runway show opened with a white skirt suit that was later worn by Diana on a visit to Argentina. The collection featured nine separate skirt suits in monochrome and pastel shades.
Along with Versace, Diana also owned skirt suits from the design houses of Catherine Walker, Chanel, Moschino, Louis Feraud, Tomasz Starzewski, Amanda Wakeley and David Sassoon.
Here, Newsweek rounds up some of Princess Diana's most stylish skirt suit moments.
Moschino, October 1991
Princess Diana wore a striking skirt suit in a contrasting red and black oversized houndstooth pattern for her arrival in Toronto, as part of a visit she was making to Canada with Prince Charles.
The suit was a favorite for the princess, having first worn for the royal family's Christmas Day celebrations in 1990. She would wear it for a third time publicly in 1992 for a visit to The National Hospital For Neurology And Neurosurgery in London.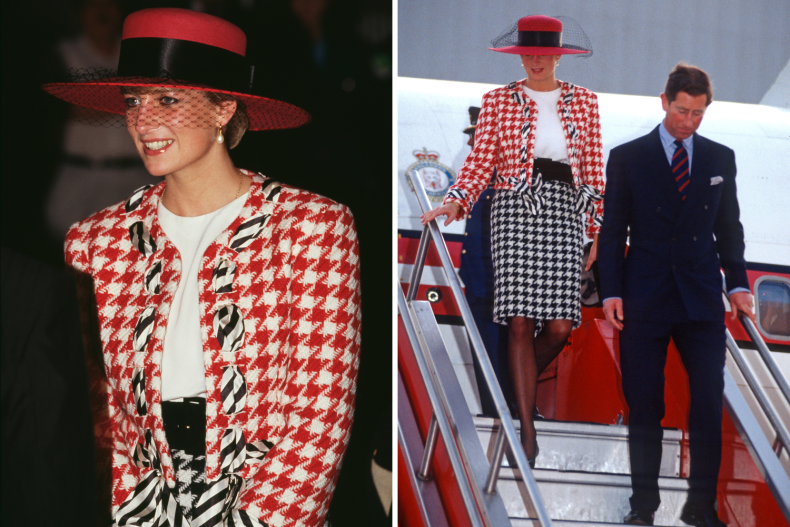 Versace, May 1995
Selected from Versace's "Conservative Chic" collection, Diana wore a pale pink structured skirt suit to visit The Princess of Wales regiment in Canterbury in May 1995.
For the occasion, the princess wore the suit with a Jackie Kennedy-style pillbox hat. She would wear the suit again that year for a visit to Argentina.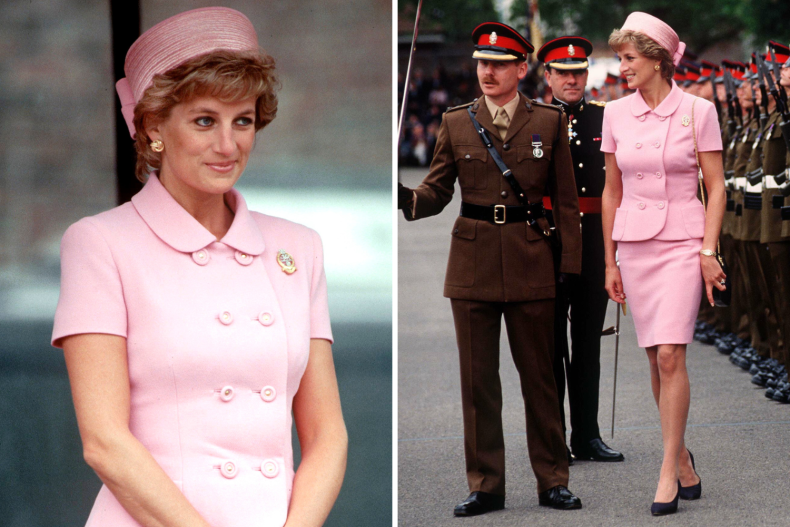 Versace, November 1995
For a visit to Liverpool in November 1995, Princess Diana opted for a statement egg-yolk yellow skirt suit with peplum waist cinched with a black belt.
The suit has inspired a number of recreations over the years, one was worn by Kate Middleton on an early royal engagement after her engagement to Prince William, this time in red.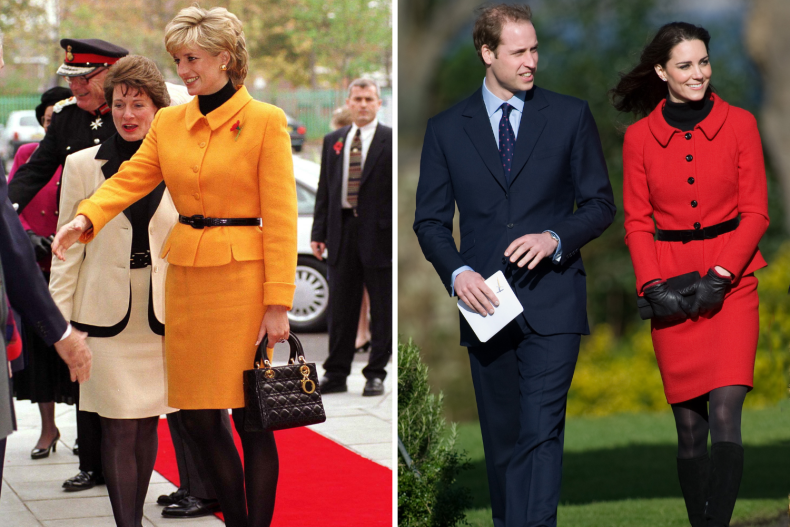 Chanel, February 1997
Princess Diana was a frequent buyer of the Paris fashion house Chanel's ready-to-wear suits, and for an official visit opening the new renal unit at Great Ormond Street Hospital in London in 1997, she opted for a pale pistachio green model with statement gold buttons.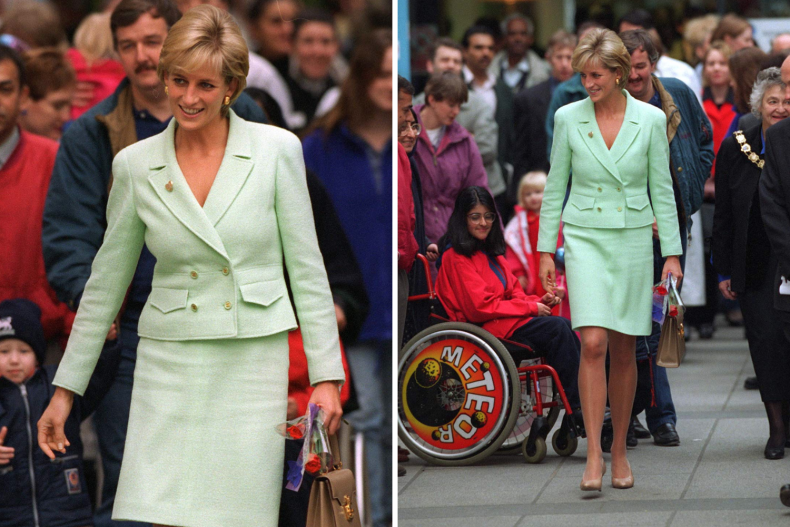 Chanel, April 1997
One of Princess Diana's most famous Chanel outfits was worn in the last year of her life and was a signature tweed ensemble that was made famous by the house in the 1950s.
The blue and white flecked suit was worn by Diana on a number of occasions, most notably to the confirmation service for Prince William at Windsor Castle.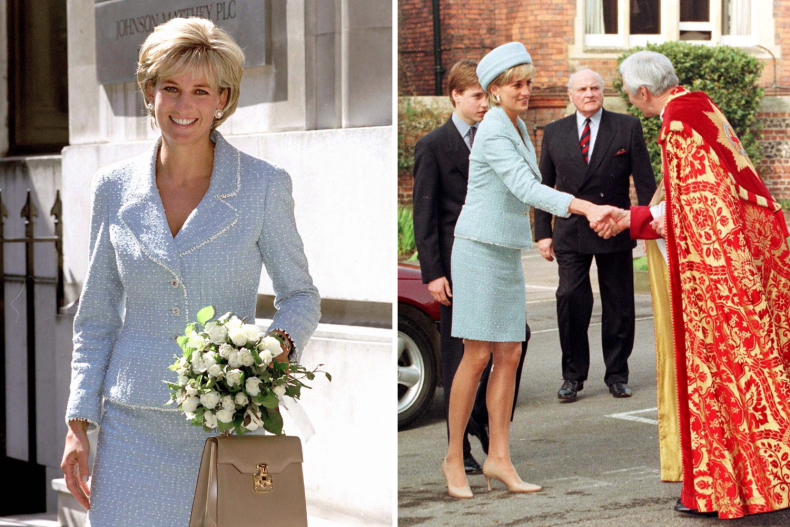 Versace, June 1997
Princess Diana's last working tour abroad took place in June 1997 when she traveled to the U.S. to promote her campaign to ban the use and production of anti-personnel landmines.
For a Red Cross speech in Washington D.C. the princess wore a lavender purple suit with matching belt which contrasted her suntan and golden hair.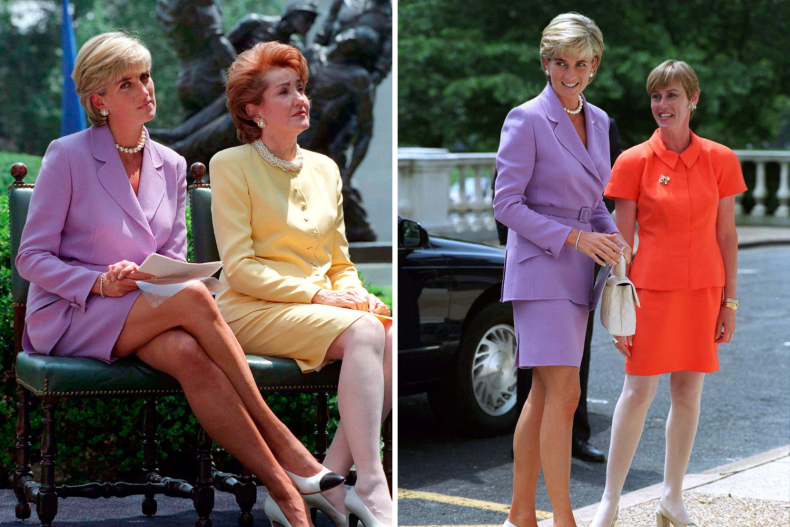 James Crawford-Smith is Newsweek's royal reporter based in London. You can find him on Twitter at @jrcrawfordsmith and read his stories on Newsweek's The Royals Facebook page.
Do you have a question about King Charles III, William and Kate, Meghan and Harry or their family that you would like our experienced royal correspondents to answer? Email royals@newsweek.com. We'd love to hear from you.