Kate Middleton Subject of Parenting Criticism on Twitter Over Jubilee
Kate Middleton was the subject of criticism for her parenting of Prince Louis during the Platinum Jubilee weekend—but some commentators have defended the duchess.
Four-year-old Louis, the third child of Kate and Prince William, won hearts as he made faces and covered his ears during Trooping the Colour, Queen Elizabeth II's birthday parade, which opened the Platinum Jubilee celebrations on June 2.
And he was seen putting a hand over his mother's mouth during another cheeky display at the Jubilee Pageant, which brought the weekend to a close on Sunday, June 5.
At least one Twitter user found the exchange between the prince and his mother funny.
However, others were not as amused at Louis' behavior towards his mother and place the blame on Kate.
Hostile Comments Aimed at Kate Middleton
Muhammad Butt, the chief writer at sports website Squawka, wrote: "Louis is being a brat but for the most part kids only do s*** like this when they've not been taught any discipline. this is on the parents."
Another wrote: "Kids are smart, understand, and Know when they are acting the Nut. Queen Elizabeth, when she was this age, Never acted like this. Kate better get it together as a parent."
The queen turned four in 1930 when cameras were not routine at royal events, her coronation was the first to be broadcast on TV some 23 years later in 1953.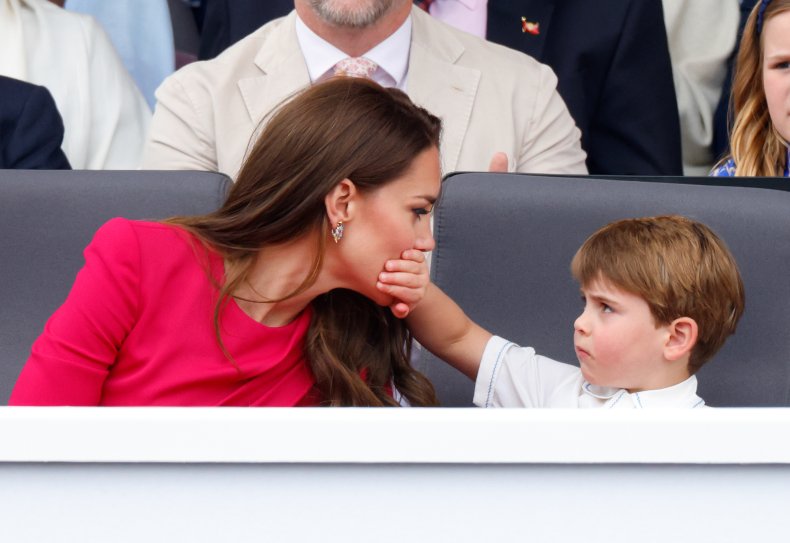 Another Twitter user wrote: "So much anger aimed at a kid acting out. He's probably not getting any discipline at home."
And one wrote: "At what point do we go from 'wow, what a relatable toddler moment' to 'wow, you have no control of your children?'"
Prince Louis Provokes 'Profound Empathy' Among Parents
William and Kate made a subtle reference to the attention Louis attracted in a Twitter thread signing off the jubilee.
Using their @KensingtonRoyal account, they wrote: "We all had an incredible time, especially Louis... "
The post was signed off "W & C," meaning "William and Catherine."
Royal author and commentator Victoria Arbiter wrote on Twitter: "In signing off personally William and Kate have masterfully diffused the ridiculous negative comments surrounding Louis' readily apparent enthusiasm!"
Kerri Sackville, a columnist for the Sydney Morning Herald, posted: "Never did I imagine I would feel sorry for a royal, particularly not Kate Middleton, Duchess of Cambridge. Married to the 'good' prince, in line to be Queen, she lives a life of privilege and improbably good hair.
"Still, after her grandmother-in-law's Platinum Jubilee celebrations over the weekend, I have revised my position. Footage went viral of Kate's youngest child, Prince Louis, acting out, and I felt profound empathy. As the headlines screamed, 'Kate cannot control her children!', I remembered the days I could not control mine."
"Now, there are two types of people who judge others for their parenting: the child-free person who is quite sure their future hypothetical kids would never do whatever this actual human child is doing, and the lucky parent whose child responds beautifully to whatever discipline/parenting regime/wooden spoon they are dishing out," Sackville continued. "You know who doesn't judge others for their parenting? Those of us who know how hard it is."
Newsweek reached out to Kensington Palace for comment.
For more royal news and commentary check out Newsweek's The Royal Report podcast: