Kate Middleton Plays Volleyball in Heels Months After George's Birth—Clip
Kate Middleton was praised by TikTok fans for "playing volleyball 3 months after giving birth to Prince George."
The Princess of Wales joined a match put on by charity SportsAid, which she is a patron of, in the Copper Box Arena at London's Queen Elizabeth Olympic Park on October 18, 2013.
Kate had given birth to George three months earlier, on July 22, 2013, and was already back out doing royal engagements covered by the world's media.
Not only that, she threw herself, quite literally, into the volleyball game, jumping into the air to try to bat the ball over the net, despite wearing a pair of Stuart Weitzman "Corkswoon" wedges.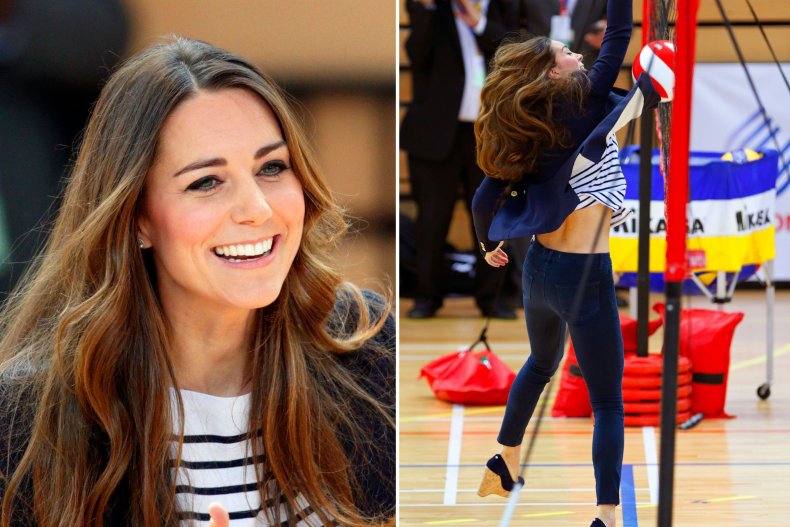 A clip of the event resurfaced on TikTok, where it went viral after being liked 59,000 times and viewed 427,000 times. It was uploaded with a message: "Kate playing volleyball 3 months after giving birth to Prince George."
One comment, which was liked 1,211 times, read: "And in heels!!!! Respect. Girl is a total champ."
At the time, the Daily Mail suggested that Kate had recovered quickly after childbirth and said: "In one volleyball shot, the royal tummy was fully on display in all its svelte glory."
The newspaper added that she missed an easy shot after "she wasn't able to jump up high enough in the five inch heels."
The event was Kate's first public engagement by herself after George's birth, which was 89 days earlier.
If that seems like a short break before returning to the glare of international media attention, she had even less recovery time between Prince Louis' birth, on April 23, 2018, and Prince Harry and Meghan Markle's wedding, on May 19, 2018.
Kate wore a primrose yellow Alexander McQueen coat dress to the Windsor Castle wedding, 26 days after giving birth. But there were some tensions along the way, and Harry recounted a dispute over bridesmaid dresses in his recent book, Spare.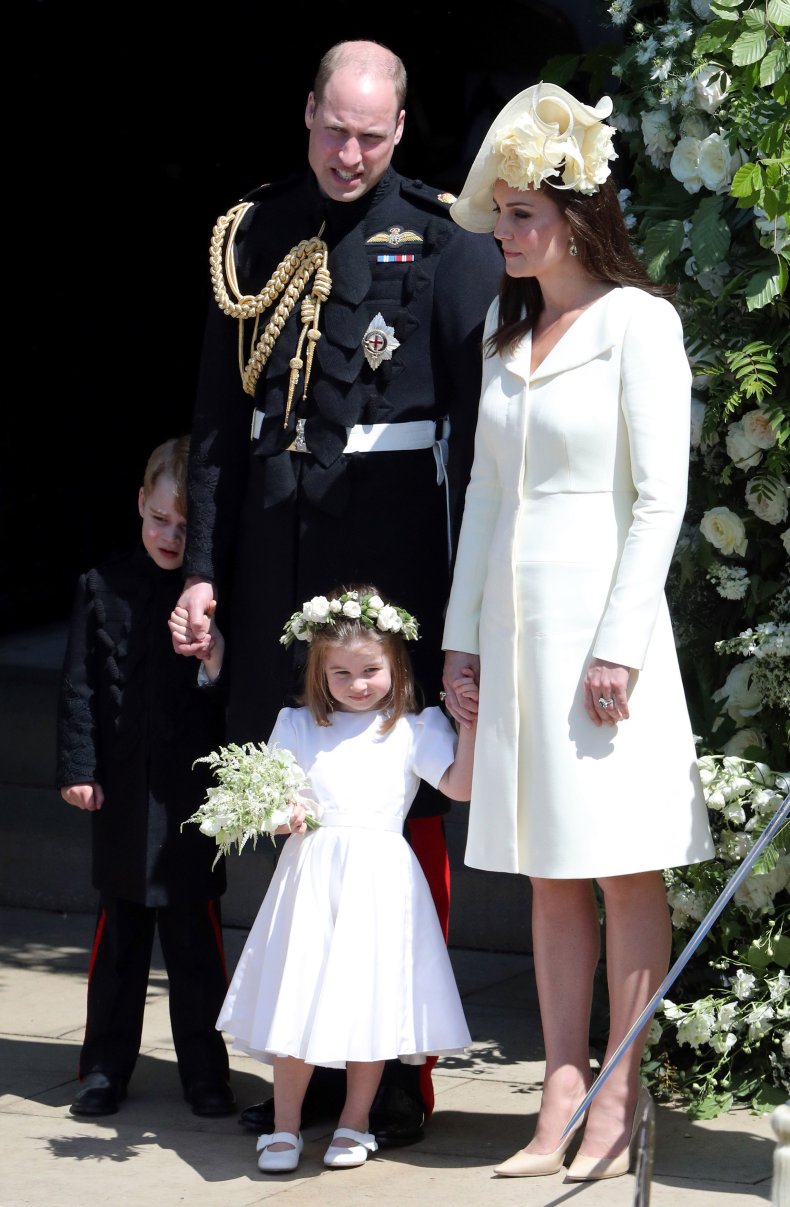 The book describes how Kate and Meghan "set up a time to speak" about the matter days before the ceremony. Harry quoted Kate as saying: "[Princess] Charlotte's dress is too big, too long, too baggy. She cried when she tried it on at home."
Meghan replied: "Right, and I told you the tailor has been standing by since eight a.m. Here. At KP. Can you take Charlotte to have it altered, as the other moms are doing?"
Spare continues: "'No, all the dresses need to be remade.' Her own wedding dress designer agreed, Kate added. Meg asked if Kate was aware of what was going on right now. With her father. Kate said she was well aware, but the dresses."
Jack Royston is the chief royal correspondent at Newsweek, based in London. You can find him on Twitter at @jack_royston and read his stories on Newsweek's The Royals Facebook page.
Do you have a question about King Charles III, William and Kate, Meghan and Harry, or their family that you would like our experienced royal correspondents to answer? Email royals@newsweek.com. We'd love to hear from you.