Kate Middleton's Team Accuses Magazine of 'Inaccuracies and False Misrepresentations' Over Claims About Meghan Markle
Kate Middleton's staff denied "a swathe of inaccuracies" in a magazine cover story alleging ill feelings towards Meghan Markle.
Britain's Tatler dedicated its front page to celebrating "Catherine the Great" while the story inside makes claims of an argument with Meghan Markle over whether bridesmaids would wear tights at the 2018 royal wedding.
Kate is said by friends to be "working as hard as a top CEO" since Prince Harry and Meghan stepped back as senior royals to pursue a new life in California. And the article claims the duchess is "furious" that her extra workload has had an impact on family time.
But a Kensington Palace spokesperson said: "This story contains a swathe of inaccuracies and false misrepresentations which were not put to Kensington Palace prior to publication."
Insiders told Newsweek that lawyers have been called in over the story, which was based on anonymous interviews said to be with Kate's inner circle.
The coverage has not only stirred up long-standing claims of a rivalry between the two royal women but also between their supporters.
Friends of the Duke and Duchess of Sussex privately admitted to Newsweek they found it "depressing" that the coverage sought to knock Meghan down in order to build Kate up.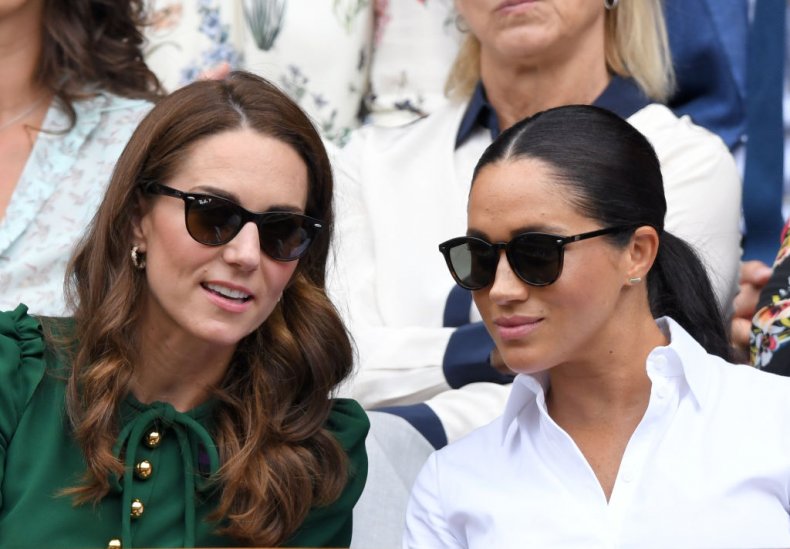 Many of the allegations contained in the report touch on issues already discussed in the media but give greater detail.
The existence of an argument between Meghan and Kate in the run-up to the wedding has already been extensively reported in the British media.
It has long been claimed the rift between Prince William and Prince Harry dated back to before the wedding.
Broadcaster Tom Bradby, a friend of both couples, wrote an article for the Sunday Times in January about the breakdown in the relationship.
He wrote: "The fallout began at the time of the wedding in 2018. Really damaging things were said and done. The atmosphere soured hard and early, but few meaningful attempts were made by anyone to heal the wounds."
Tatler's coverage also revisited claims that courtiers found Meghan difficult to work for, allegations which saw her nicknamed "Duchess Difficult" by the British press.
Other sections of the article were less inflammatory, detailing how Prince William was fond of Kate's parents Carole and Michael.
A spokesperson for Conde Nast, publisher of the magazine, said: "Tatler's Editor-in-Chief Richard Dennen stands behind the reporting of Anna Pasternak and her sources.
"Kensington Palace knew we were running the 'Catherine the Great' cover months ago and we asked them to work together on it. So the fact they are denying they knew is categorically false."
A spokesperson for the Duke and Duchess of Sussex declined to comment.