Kate Moss Appears to Wink at Drug Scandal: 'I've Always Loved Coke'
Kate Moss appeared to jokingly refer to her drug scandal while hosting an event for Diet Coke this week.
The legendary supermodel has been named as the U.K.'s creative director for the soft drink brand, following in the footsteps of fellow fashion icon, Karl Lagerfeld.
The 48-year-old hosted an event in London this week, where she launched her collaboration and partied the night away with Drag Race star Bimini Bon Boulash.
Moss unveiled four new limited-edition Diet Coke designs, inspired by her most iconic looks at the launch party.
Footage from the event, shared to TikTok by user Zak Maoui, showed Moss taking part in an interview on stage discussing the collaboration.
At one point she quips to the crowd and says with a smile: "I've always loved coke."
The joke led to an eruption of laughter from the crowd at the event. The pun appeared to be a reference to the drug scandal she was at the center of back in 2005.
At the time, photos of Moss allegedly snorting cocaine with her then-partner Pete Doherty were published in a British tabloid, which led to her being dropped from Chanel, Burberry and H&M campaigns.
Moss reportedly lost around $4 million in earnings because of the scandal.
She was cleared of any drug-related charges in 2006 and resumed her modeling career, but the situation sparked a huge media frenzy at the time and saw the tabloids give her the nickname "Cocaine Kate."
The clip from this week's Diet Coke event also prompted a few laughs on TikTok, with one comment reading: "Iconic."
While another added: "Oh my god! Fantastic!"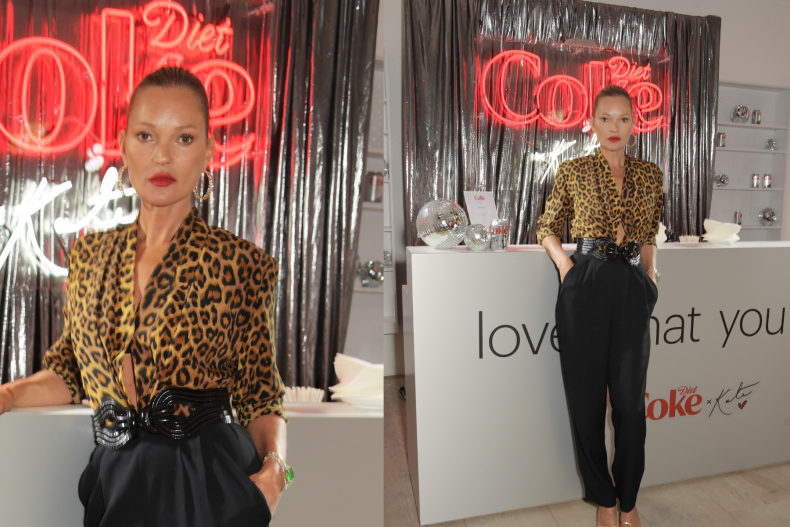 Moss made headlines earlier this summer when she appeared as a witness during the trial of Johnny Depp v. Amber Heard.
Moss was called to testify by Depp's legal team to debunk the rumor that Depp once threw her down the stairs. She appeared for just four minutes, "but she slayed during all of them," wrote one Twitter user, as the praise for the British model came rolling in.
Speaking from Gloucestershire, England, via a live video link, Moss confirmed to the court that she had a romantic relationship with Depp from 1994 to 1998. She was asked about a specific holiday the couple took in Jamaica during that time. Moss testified that as she left their room, she slid on some wet stairs.
"I screamed because I didn't know what happened to me and I was in pain, and he came running back to help me and carried me to my room and brought me medical attention," Moss testified.