Kate Spade's Signature Fashion In Photos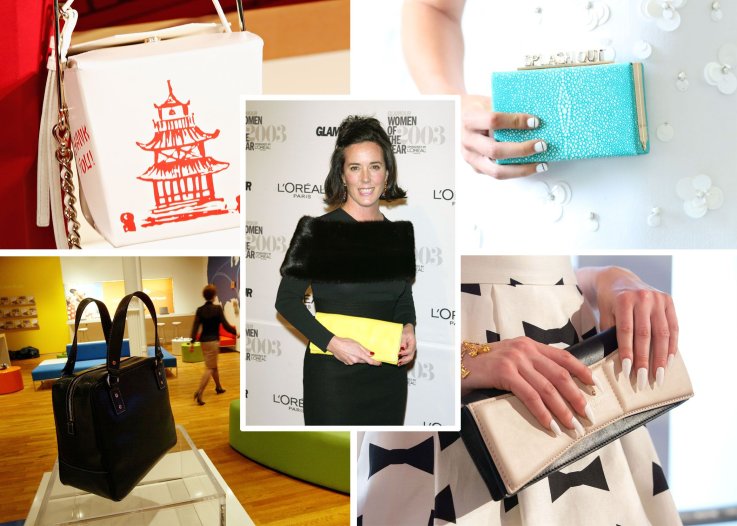 Designer Kate Spade was found dead of an apartment suicide in her New York City home, WCBS-TV reported Tuesday. She was 55 years old.
Her brand, Kate Spade New York, started in 1993 with a line of handbags. It has since grown to include clothing, jewelry and home goods. The company later launched Jack Spade, a partner brand focusing on men's fashion. In May 2017, Coach, Inc. purchased the company for a reported $2.5 billion.
Spade's bags have a modern look with a nostalgic feel.
"I don't think you need to neglect the style of something that's functional," the designer told Time magazine in 2005.
Spade was born December 24, 1962 in Kansas City, Missouri. She married businessman Andy Spade—brother of actor David Spade—in 1994. The couple had one child in 2005, after which Spade stepped back from work to focus on raising their child.
In 2016 Spade launched Frances Valentine, a new brand focusing on high-end footwear, bags, and accessories.
Spade received many prestigious awards, including the Council of Fashion Designers of America award for "America's New Fashion Talent in Accessories" in 2006.
Her legacy is her work—and she provided timeless pieces for consumers. Let's look back at her work, and the influence she had on the fashion industry.
If you have thoughts of suicide, confidential help is available for free at the National Suicide Prevention Lifeline. Call 1-800-273-8255. The line is available 24 hours, every day.
Read a note from Newsweek's editor in chief about covering suicide.