Why Did Kate Spade Change Her Name To Valentine?
Fashion designer Kate Spade was found dead from an apparent suicide in her Manhattan home Tuesday. She was 55 years old. Before her ultimately death, Spade changed her last name to Valentine, but it wasn't because she was having problems with her husband, Andy Spade.
The New York fashion designer wanted to separate her personal life from the brand, Kate Spade, which she created with her husband in 1993. She and Andy wed the following year. At the time, she went by her maiden name, Brosnahan, but she wanted to combine her name with Andy's last.
She was ready to separate herself from the company when it was purchased in 2006 from Neiman Marcus Group for $124 million by Liz Claiborne, Inc. The name of the fashion company was then changed to Kate Spade & Co.
Kate Valentine née Spade took a break from the fashion world and then chose to take on the family name. "It really was to distinguish the name, and separate the two worlds," she told Business of Fashion in January 2016. "Obviously we're super proud of Kate Spade and we want to be [respectfu]l of both."
At the time, she hoped the name change would separate her from her past and help her focus on her future. "It kind of makes [me] sound kind of cool, like a rap star or something," she said with a laugh. "But we're not trying to be cheeky or coy."
Even though she had gotten away from the fashion world, she launched an accessories line, Frances Valentine, named after her daughter, Frances Beatrix Spade.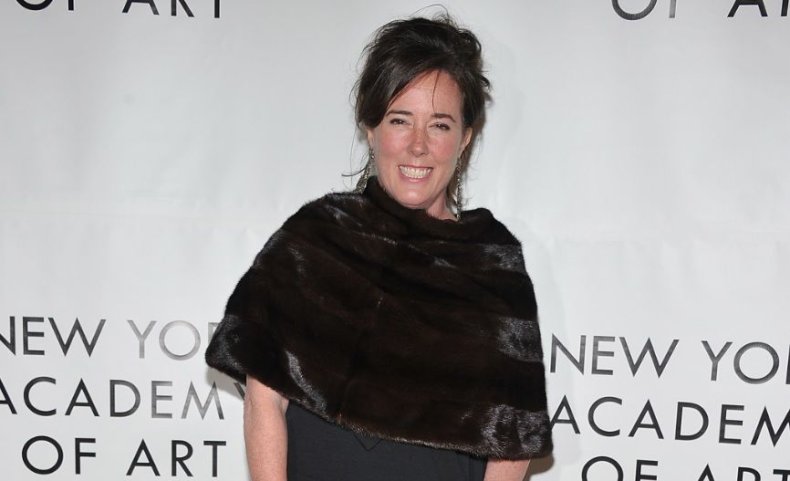 Valentine née Spade said her design process was "scrappy." "We're drawing and sketching on little pieces of paper," she said about working with husband Andy. "We start with design ideas. We don't really have a merchandising plan, but that didn't hurt us the first time around so hopefully, it won't hurt us this time. I don't want the collection to look like a flea market, but when I go into a store, I can feel if it's too tightly merchandised."
Her husband didn't immediately issue a statement on her death.
If you have thoughts of suicide, confidential help is available for free at the National Suicide Prevention Lifeline. Call 1-800-273-8255. Their line is available 24 hours, every day.
Read a note from Newsweek's editor in chief about covering suicide.