Katherine Johnson, Whose Calculations Launched NASA Astronauts Into Space, Turns 100
Katherine Johnson and a highly-skilled team of female African-American mathematicians are credited with crunching the numbers by hand that allowed NASA to launch the first U.S. astronauts into space. On Sunday, Johnson turns 100.
Johnson, who has been dubbed the "human computer" and was featured in in the 2016 movie Hidden Figures , told The Virginian Pilot that she feels fortunate to have lived so long.
"I'm just lucky – the Lord likes me," she said. "And I like him," she added, after pausing to reflect.
Congratulating the legendary mathematician, who worked at the Langley Research Center located in Hampton, Virginia, NASA shared several special birthday tweets, highlighting her accomplishments.
"Today, retired @NASA_Langley mathematician Katherine Johnson makes her 100th trip around the Sun as she celebrates her birthday!" the space agency wrote in one post. "Send her birthday wishes using #Happy100Katherine & learn about her calculations that launched @NASA_Astronauts to space"
The achievements of Johnson and the women of her team, who overcame not only gender but also major racial divides in the 1950s and 1960s, by working with NASA, were not widely known until a couple years ago when author Margot Lee Shetterly published her book – Hidden Figures – which told their story.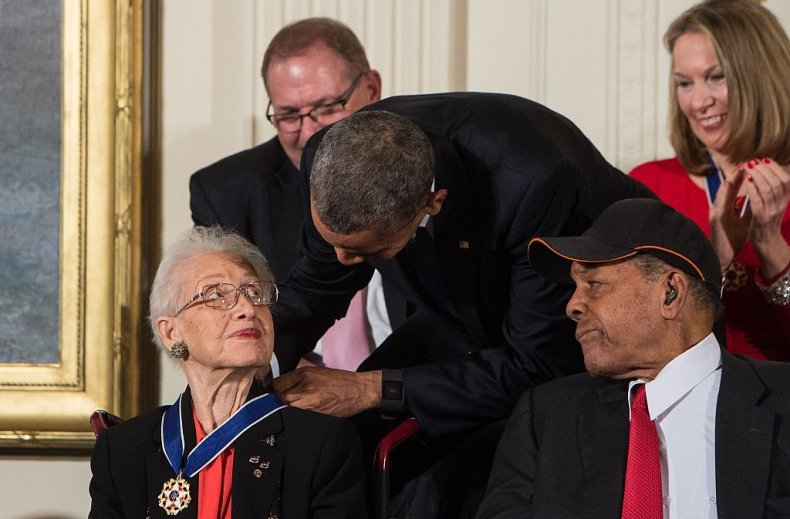 "[Johnson] is the first person to remind us that all of the work she did was as part of a team," Shetterly told The Virginian Pilot . "and that one of her greatest joys was rolling up her sleeves and working side by side with other brilliant people. It's a sign of her belief in her own gifts that she's the first to call attention to the work of others."
The other women of her team are all now dead.
On Saturday, just ahead of Johnson's birthday, her alma mater West Virginia State University officially unveiled a statue honoring the mathematician. In a tweet, the university explained that it "will serve as a source of inspiration to current and future students of all that is possible through dedication, hard work and perseverance."
Yvonne Cagle, life sciences directorate at the Johnson Space Center said that the "extraordinary" thing about Dr. Johnson "is she not only prevailed while segregation failed" but "has continued to persevere and thrive with the gracious poise and clarity that defies mere words of explanation," the Charleston Gazette-Mail reported.
Johnson is credited with pushing her way into briefings that were traditionally male dominated, securing a position within the inner circle of the American Space Program, CNN reported.
Her calculations were used for Alan Shepard's Mercury flight, which was the first manned U.S. spaceflight. She also double-checked the output for John Glenn's spaceflight. With the aid of her work, NASA was able to map the moon's surface in preparation for the 1969 landing. She also played a role in the return of the Apollo 13 astronauts, after they faced serious technical problems.
She retired in 1989 and received the National Medal of Freedom for her contributions in 2015.