Kathleen Zellner's Most High-Profile Overturned Wrongful Convictions Before 'Making A Murderer'
Since the release of Making A Murderer Part 2, wrongful convictions attorney Kathleen Zellner has been highly celebrated by viewers across the country. The coveted lawyer took on the case of Steven Avery, a man sentenced to life behind bars for a murder he claims he didn't commit. Zellner is confident is Avery innocent, which she details in the documentary. She aims to have him released by collapsing evidence presented by the prosecution in Avery's original trial.
Though Zellner is just now becoming a household name for some, she's been a successful attorney for years. Some of her other cases align closely with what she'll argue for Avery: that he was framed. Here are the seven most publicized wins of Zellner's career, according to her website.
Joseph Burrows
Burrows was convicted of murdering William Dulin in Kankakee, Illinois, in 1988. Burrows was falsely accused by a woman, Gayle Potter, who cashed a check in the victim's name. Her blood was found at the scene, and she owned the murder weapon, according to the National Registry of Exonerations. Zellner and team discovered a letter written by Potter, which asked another friend to testify against Burrows. When Potter knew the letter was found, she confessed to killing Dulin alone. Burrows was exonerated in 1996.
Get your unlimited Newsweek trial >
Omar Saunders, Larry Ollins and Calvin Ollins
DNA evidence was used to free the three men after they, and a fourth man who was in prison for another crime, were convicted of killing Chicago medical student Lori Roscetti in 1986, according to a 2001 New York Times article. The evidence, presented by Zellner and team, proved semen found at the scene did not belong to any of the convicted men. They were freed in 2001.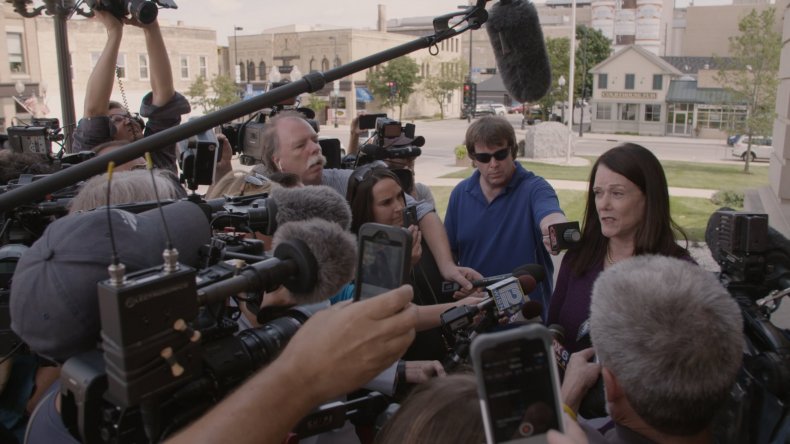 Kevin Fox
Get your unlimited Newsweek trial >
Fox was convicted of killing his 3-year-old-daughter, Riley, who was bound and sexually assaulted. The prosecution quickly denied the idea of a sexual predator and Fox was convicted in 2004. He was released from prison in 2005 after DNA evidence showed he was not the murderer. Zellner argued that Fox was framed and won his family $8 million in damages in 2010, the Chicago Tribune reported.
Jerry Hobbs
Zellner sued Lake County for Hobbs, who was wrongfully accused of murdering his daughter and her friend. Hobbs was in prison for five years until DNA evidence proved sperm found was from someone else, who was a convicted rapist, formerly accused of murder, The New York Times reported. Because of Zellner, Hobbs was granted a $7.75 million settlement.
Billy Wardell
Wardell was wrongfully accused of a sexual assault and robbery, which were conducted by a group of three men in Chicago in 1986. Wardell went to prison in 1988 and was exonerated in 1997 after Zellner argued testing on DNA samples that had previously been denied. When tested, the DNA found in semen proved it could not have come from Wardell, according to the National Registry of Exonerations.
Kathleen Zellner's Most High-Profile Overturned Wrongful Convictions Before 'Making A Murderer' | Culture