Kathryn Bigelow Talks About "The Hurt Locker"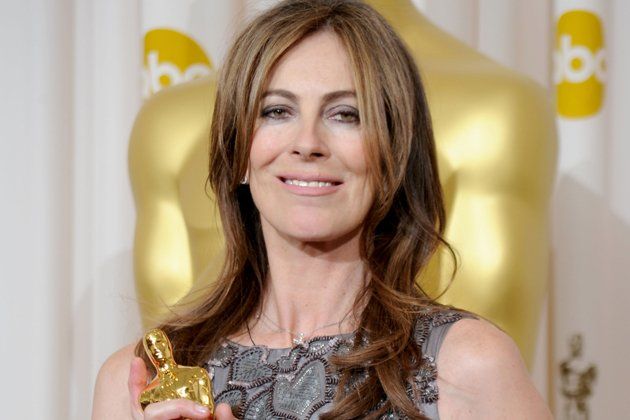 Just before dawn one July morning, Kathryn Bigelow was setting up a shot for The Hurt Locker in the Jordanian desert. The movie follows an Explosive Ordnance Disposal bomb technician, one of the hundred or so soldiers in Iraq who dismantle roadside IEDs planted by insurgents. For the scene, the tech and two of his co--workers would detonate a bomb in the middle of the desert, and Bigelow wanted to shoot them from atop a high sand dune. This meant that the crew had to tote all their gear to the top of a hill in the brutal summer heat. "There were a lot of macho guys on the set, British SAS, not to mention all these young, studly actors, and all those guys were falling by the wayside," says Mark Boal, who wrote and co-produced The Hurt Locker. "I'm not walking this hill, no way in hell. I drive past one of the crew who's literally puking on the side of the road. People are dying on this hill. I drive up, and Kathryn is already at the top. She's beaten everyone up there." (Story continued below...)
Bigelow—who, at 57, has the regal beauty and presence of a Hepburn—laughs off the story when Boal tells it over dinner in Los Angeles. As we eat, Boal does most of the talking, while Bigelow worries about noise from another table and making sure everyone likes their food. The director, who is probably best known for 1991's surf/heist film Point Break or 1995's futuristic action film Strange Days, says she prefers observing to participating—when she auditions actors, she watches them talking to someone else—and her gracious but reserved manner makes it hard to imagine her commanding a crew of sweaty faux soldiers in the desert heat. "You have a salad with her, she's very well spoken, but she's pretty soft," says Jeremy Renner, who plays a maverick bomb tech in the film. "In social situations she can be painfully shy."
In the desert all that reserve fell away. "I'm young and in shape, and I was exhausted," says Renner of the Hurt Locker shoot. "She's out there feeding camels apples and skipping like a schoolgirl." A schoolgirl who can beat a bunch of macho guys up a hill, that is. Not that she'd want to draw attention to that fact. At this point in her career, Bigelow is weary of the notion that being a woman affects how she works. Critics can't seem to get over the idea that a female director could devote herself to making adrenaline-charged films that owe more to Ridley Scott than Nora Ephron. They rhapsodize, in high academic prose, about the role of guns as phallic symbols in Blue Steel, a thriller about a female cop; or the homoeroticism of Point Break; or the androgynous female figures in Near Dark, a hybrid Western/vampire movie. At the same time, it's hard to believe that Bigelow would dedicate her oeuvre to genres that are typically made by, for and about men, and not have a few thoughts on the subject.
Listen to Bigelow for a while, though, and you suspect that the critics and film scholars are missing the point. She is far more interested in talking about the look of her movies: how many cameras she used on The Hurt Locker (four); the way she storyboarded each scene, translating the space from three dimensions to two in her mind; the effort she took to make sure the bomb explosions appeared authentic, and not like what she calls HMEs (industry-speak, she explains, for Hollywood movie explosions). "I've spent a fair amount of time thinking about what my aptitude is, and I really think it's to explore and push the medium," Bigelow says. "It's not about breaking gender roles or genre traditions." In The Hurt Locker, Renner's character, Sergeant James, evokes iconic images of American masculinity: in his heavily padded, helmeted bomb suit, he looks like an astronaut striding onto the moon. There's also more than a little of the cowboy about him. He's not just a soldier; he's a renegade, ignoring protocol to do things his way. Not only does he defuse bombs like he's unwrapping lollipops, he outdrinks, outfights and outshoots his squadmates. But Bigelow sees the character less as a commentary on popular images of masculinity and more as an exploration of the modern hero. While exemplary at his job, James can barely function in noncombat zones. "He's evocative of a kind of John Wayne type, but updated to accommodate the complexities of this character, who is almost attracted to the world's most dangerous job," she says. The fact that the Iraq War is being fought by a volunteer Army is one of the keys of that attraction, she believes, and one of the elements that makes The Hurt Locker different from other war films. "War's dirty little secret is that some men love it," she says. "I'm trying to unpack why, to look at what it means to be a hero in the context of 21st-century combat."
Bigelow grew up in a rural suburb of San Francisco, the only child of a librarian and the manager of a paint factory. "My dad used to draw these great cartoon figures. His dream was being a cartoonist, but he never achieved it, and it kind of broke my heart," she says. "I think part of my interest in art had to do with his yearning for something he could never have." She studied painting at CalArts, then moved to New York for a fellowship from the Whitney. Bigelow initially immersed herself in the downtown art scene, working on performance pieces with the conceptual group Art & Language, but she soon began experimenting with film. A master's in film criticism from Columbia left her in love with foreign directors such as Passolini and Fassbinder. Then one night she went to a double bill of Mean Streets and The Wild Bunch, and had an epiphany. "It took all my semiotic Lacanian deconstructivist saturation and torqued it," she says. "I realized there's a more muscular approach to filmmaking that I found very inspiring."
She first applied this approach to Near Dark, about a vampire clan in the American West. In Near Dark, as with subsequent films, Bigelow's instinct for purely visual, action-driven storytelling can be undermined by clunky dialogue and acting so campy, it works better as pantomime. (For several years a traveling theater company has been putting on Point Break Live!—a live version of the film starring an unrehearsed audience member reading Keanu Reeves's lines from cue cards.) The Hurt Locker marks a departure: Renner's performance is intensely charged without feeling stylized, and some scenes, such as when the bomb techs patrol the streets of Baghdad, have a documentary feel. "I wanted the film to have a reliance on authenticity," says Bigelow. "We were aggressively trying to stay away from all of the familiar tropes that deflate the tension. Even music, it's repetitive, so it's therefore comforting. The minute you take that away and just have sound design, you don't know what's going to happen."
Bigelow may be an expert at ratcheting up the tension onscreen, but she strives for tranquillity in her own life. As we talk in her living room, which is so large and so sparsely decorated that our voices practically echo, she apologizes for the "chaos": the refrigerator repairman needs to be paid; the phone rings; her new puppy requires tending. If this seems like chaos to Bigelow, it's hard to understand why she'd choose the sort of high-stakes filmmaking she's made as her career. Perhaps it's as simple as this: she may be a Lacanian-steeped, conceptual-art-based auteur, but she also really likes going to the middle of the desert and blowing stuff up.