Kathryn Garcia, the former New York City sanitation commissioner, took a lead over Andrew Yang and Eric Adams in a new New York City mayor poll.
The poll, which was conducted by PIX11, NewsNation and Emerson College polling, found 21 percent of respondents supporting Garcia, which was the most among all Democratic candidates.
Adams, the Brooklyn borough president, followed closely behind Garcia, as 20 percent of respondents said they'd vote for him, according to the poll.
The poll found 16 percent of respondents siding with Yang, the former Democratic presidential candidate, while 10 percent said they'd vote for New York City Comptroller Scott Stringer and 9 percent sided with Maya Wiley, former counsel to current Mayor Bill de Blasio.
The poll also found a decrease in the percent of New York City residents that say they are undecided on their choice for mayor, moving from 23 percent on May 17 to 9 percent in the most recent poll.
In response to the poll's findings, Yang's campaign told Newsweek that, "Polls go up and down, but one thing hasn't changed—Andrew's status at or near the top with less than a month to go."
In an email sent to Newsweek, Garcia wrote, "My campaign is about making our government work for everyone—by building a healthier, more affordable, and more livable New York. We are incredibly energized by the support we're seeing and intend to keep this going all the way until election day."
Garcia's statement continued, "The most important poll in this race is the one on June 22nd and my focus remains on talking to voters every day about the issues they care about most and that starts with a strong, equitable recovery for New York City."
The 21 percent of support Garcia received in the poll indicates a shakeup in the race for New York City's mayor, as Yang and Adams have continued to lead several previous polls.
In late-March and early-April, numerous polls found Yang leading the race, with Adams following closely behind.
In one poll conducted by Spectrum News 1/IPSOS from April 1 to April 15, 22 percent of respondents said Yang was their first choice, while 13 percent chose Adams. Garcia received just 6 percent of support in this poll.
Despite Yang's lead early-on in the year, Garcia and Adams have continued to gain more support as the city's June 22 Democratic mayoral primary nears closer.
In a poll released by Change Research on May 13, Adams surpassed Yang as the leading choice for the city's mayor. Adams received 19 percent of votes in this poll, while 16 percent sided with Yang. Garcia received just 7 percent of votes in the Change Research poll.
After taking the lead in the Change Research poll, Adams' campaign manager, Evan Thies told Newsweek, "Clearly Eric Adams has the momentum in this race, driven by everyday New Yorkers who agree Eric can deliver a safer, fairer, more prosperous city for all."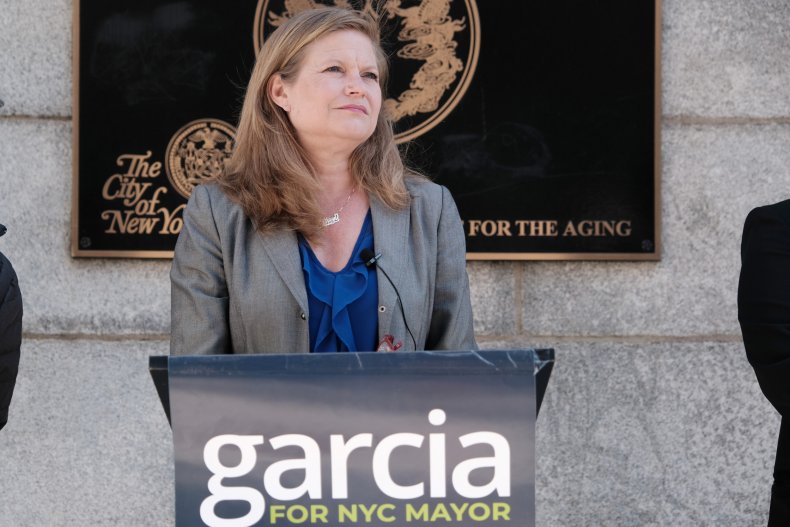 Like Adams, Garcia's support has continued to increase over the past few months. Garcia received just 5 percent of votes in a PIX11 poll from March but this number has since increased to 8 percent on May 17 and 21 percent in the most recent poll.
In addition to taking the lead in the most recent poll, Garcia has also received endorsements from the editorial boards of The New York Times and the New York Daily News.
The PIX11, NewsNation and Emerson College poll surveyed 570 likely voters from May 23 to May 24 and reported a margin of error of plus or minus 4.1 percentage points.
Newsweek reached out to Adams' campaign for comment but did not receive a response in time for publication.