Kathy Griffin Brands Marjorie Taylor Greene 'Traitor' In Twitter Spat
Kathy Griffin has branded Georgia Republican Representative Marjorie Taylor Greene a "traitor" in a Twitter spat during which the congresswoman brought one of the comedian's most controversial photos.
The back-and-forth between the two kicked off after social media personality and Blaze TV contributor Alex Stein shared video footage of himself "trolling" Vice News senior reporter Tess Owen at the recent CPAC event.
In the footage, Stein was seen mocking a seemingly uncomfortable Owen for being the "only one" at the event wearing a face mask, as he also continually quizzed her on her COVID vaccination status and loudly criticized her employers.
Reacting to the viral video, which has garnered more than 2.5 million views, Griffin commented on the clip on Monday night, calling Stein "Tucker Carlson's son. The misogyny with this crowd is just as pervasive as the racism."
"Lol Kathy....remind me why you got canceled again????" Stein responded, in an apparent reference to the backlash Griffin had faced backlash after posing with the severed head of an effigy of Trump in 2017.
After calling Stein a "stalker," Griffin soon found herself facing off against Greene, who pulled up the controversial photo of the TV personality holding the effigy of Trump.
"This is Kathy Griffin holding a severed head of the 45th President of the United States," wrote Greene. "She's calling Alex Stein misogynist & racist for simply treating a hard leftist reporter the same way they treat people on the right. Except he did it to her face with facts and no mask."
Hitting back, Suddenly Susan star Griffin slammed the politician, who is a vocal supporter of Trump, for not tagging her in the post. "Use my handle, traitor," she said.
She further mocked Greene, writing in another tweet: "Are you tweeting this while hiding in a bathroom stall at [Trump's residence] Mar-a-Lago, hunty???"
The war of words didn't end there, as Greene went on to say that the January 6 Capitol riot defendants were the victims of "real political persecution."
"Performance art is very effective," Greene tweeted. "Never forget the left's performance art. The left wanted President Trump murdered.
"The right wants you to see the two tiered justice system in America and what real political persecution looks like of J6 defendants."
Showing no signs of backing down, Griffin hit back by referring to the two years' worth of text messages sent and received by far-right conspiracy theorist Alex Jones that were turned over to the House select committee investigating the January 6 riot.
"Hi traitor! You're real nervous about the Alex Jones phone (with two years of emails and texts on it) being turned over to the DOJ, aren't you hunty?" Griffin tweeted.
Back in December, Griffin called Greene a "dumb b****" for a Twitter thread in which the congresswoman compared COVID-19 to cancer.
Greene took to Twitter to lash out at COVID safety measures, stating that hundreds of thousands of people die from cancer in the U.S. each year but the country has "never once shut down" over the disease.
Greene's tweets drew backlash online, with a number of detractors criticizing her for appearing to suggest that cancer is contagious, with Griffin—who recently battled Stage I lung cancer—counting herself among those critics.
Quoting Greene's Twitter thread to her more than 2 million followers, the comedian wrote: "Lookit this dumb b**** right here with her 'cancer is airborne' s***."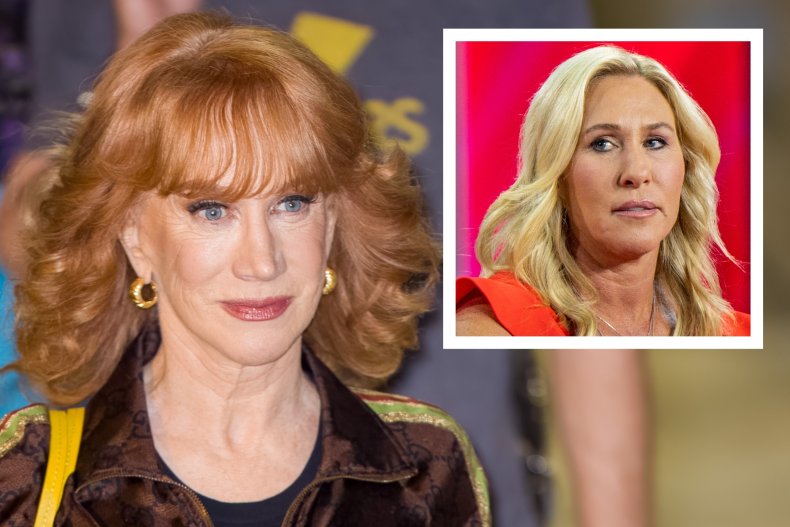 Griffin's spat with Greene comes after years of her criticism of Trump. She has said previously that her decision to pose with a severed head, styled to resemble the former president, damaged her career.
Trump himself was a prominent voice in the backlash against Griffin, writing on Twitter back in 2017: "Kathy Griffin should be ashamed of herself. My children, especially my 11-year-old son, Barron, are having a hard time with this. Sick."
The gory image, which was taken by celebrity photographer Tyler Shields, sparked a widespread outcry, leading to comedian Griffin issuing a public apology.
"I sincerely apologize," she said in a video posted to social media in May 2017. "I am just now seeing the reaction of these images... I went way too far. The image is too disturbing. I understand how it offends people. It wasn't funny. I get it."
She later retracted her apology, saying during an appearance on ABC's The View in 2018: "I take the apology back. F*** him... I'm not holding back on this family. This family is different. I've been through the mill."
Griffin went on to explain her reasons for taking back her apology, as she said: "The First Amendment is important. It's the first for a reason."
"People thought I was ISIS," she continued. "When my mother called—she watches Fox News and thinks it's real and thinks Bill O'Reilly is on vacation—that day, as crazy as it was, I was in a ball, sobbing, everything's over... I had to spend two hours convincing my mom I hadn't been recruited by Al-Qaeda."
"My mom got death threats in her retirement village, and my sister got death threats in her hospital bed, and I lost her to cancer—that's why I shaved my head," Griffin added. "That's how vicious it can be."