Kathy Griffin Scolds FBI for Riot Response, 'The DOJ Contacted Me Within Hours'
Kathy Griffin, no stranger to provocative statements, took a swipe directly at the FBI on Thursday.
On Twitter, the comedian criticized the bureau for a message it tweeted out earlier in the morning, about looking for people who committed acts of violence at the U.S. Capitol on Wednesday.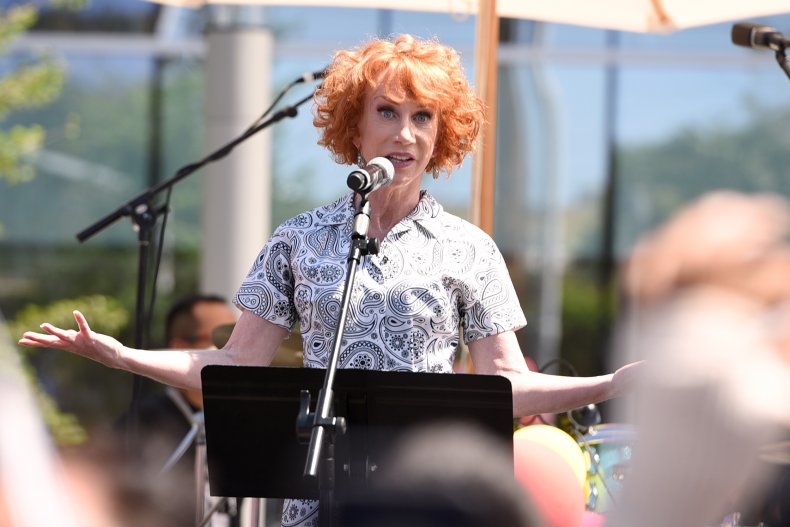 Griffin wrote: "With all due respect, you work for the Department of Justice. The DOJ contacted me within hours of posting an offensive photo of donald trump. Hours. There is ample evidence all over the Internet clearly identifying thousands of these actual terrorists."
Her message was in response to the FBI's statement that reads: "The FBI is seeking to identify individuals instigating violence in Washington, D.C. We are accepting tips and digital media depicting rioting or violence in and around the U.S. Capitol on January 6. If you have information, visit http://fbi.gov/USCapitol."
The incident Griffin is referring to about the Department of Justice visiting her was when she said agents interviewed her for posting a photo of herself holding a fake severed head made in the likeness of President Donald Trump in 2017. The photo prompted the president to lash out at her on Twitter at the time. He wrote then, in part: "Kathy Griffin should be ashamed of herself...Sick!" Trump also said that his son Barron had a "hard time" seeing the pic, while First Lady Melania Trump questioned Griffin's mental health for even posing for such a photo.
The fallout from the photo controversy led to Griffin's dismissal from hosting CNN's annual New Year's Eve Broadcast with Anderson Cooper and, according to Griffin, she also received numerous death threats because of the image. She also lost endorsement deals, comedy bookings and claimed that she was placed on the no-fly list for two months, as well as investigated by the Secret Service.
She has been complimentary of the FBI in the past, though. The Emmy- and Grammy-winning comedian has said that she was once visited by FBI agents because her name was apparently on the list of potential targets made by Cesar Sayoc, a Florida man who mailed 16 explosive divisive to prominent Democrats in late 2018.
"I will say this, I am not anti-government at all after this experience. I think the FBI saved my life," she told Jimmy Fallon during a 2019 appearance on The Tonight Show. "I was not only on the MAGA bomber's list, but... the FBI did something they call a 'no-knock' to my house, where it's such an imminent threat, they don't even call, they came right over."
She was far from the only person to lambaste the FBI on Twitter on Thursday for its morning post. Among the numerous angry responders was Patricia Arquette. The actress replied directly to the FBI's tweet by writing, "Please look on Parlier [sic] they are all posting their selfies." (Note: Arquette was presumably referring to Parler, the social media network preferred by many people with right wing views because it's said not to flag or "censor" posts, unlike Twitter or Facebook.)
Griffin posted angrily about the events at the Capitol building throughout Wednesday and on Thursday, too. Among her many posts was a call on Trump to "resign now. You lost. Its over." That message included the infamous photo of her holding the faux decapitated head.
Newsweek reached out to Griffin and the Department of Justice for comment, but did not hear back in time for publication.