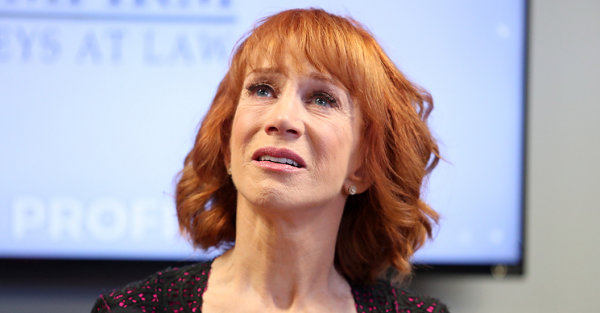 Comedian Kathy Griffin has kept a low profile since sparking a controversy in May over a photograph in which she held the severed head of President Donald Trump. She returned to the standup stage Sunday—and immediately mocked Trump.
Appearing at the annual Aid for AIDS fundraiser Best in Drag Show in Los Angeles, Griffin came on wearing a mask of the president's face, both middle fingers raised, according to The Hollywood Reporter. In video clips that have been posted by audience members on Twitter, Griffin can be seen parading around the stage before throwing the mask on the ground, twice.
Her appearance included plenty of jokes on current events—such as the sexual harassment allegations against Hollywood mogul Harvey Weinstein's termination from The Weinstein Company—as well as her own controversy. Griffin, referring to herself as a "genuine comedy fugitive," sported a blue dress with a giant pussybow, similar to the one she wore in the controversial photo. Her own mother, she said, took Fox News host Sean Hannity's side.
The extensive backlash had Griffin apologizing for the photograph at first, but she changed course in August, calling the outrage over the photo "B.S." during an interview on the Australian morning show Sunrise. "I've been through the mill," she said. "My entire tour was canceled within 24 hours because every single theater got all these death threats. These Trump fans are hardcore. They are a minority, but they know how to act like they're a majority."