Kathy Griffin Tells 'Eddie Munster' Donald Trump Jr. He's a 'Traitor and a Criminal' After He Questions Her Comedic Skills
Kathy Griffin claimed the reason Netflix wouldn't give her a comedy special was because the streaming giant "didn't need other women" since Chelsea Handler already had a show on the network. The comedian made the accusation on Twitter after discovering Norm Macdonald was given his own talk-show on Netflix on Tuesday.
Donald Trump Jr. didn't think Griffin's gender had anything to do with Netflix's decision not to work with her. According to President Donald Trump's eldest son, the reason Netflix wouldn't give Griffin a comedy special was because she wasn't funny.
"The reason you don't have a Netflix special isn't because you're a woman, it's because you're not a good comedian," Donald Trump Jr. wrote in a responding tweet on Wednesday. "It's really simple."
It didn't take long for Griffin to fire back at Donald Trump Jr.'s tweet. In a follow-up, she likened the 40-year-old to a character from the 1964 TV sitcom, The Munsters.
"You have some hubris talking Eddie Munster. You're a traitor and a criminal," Griffin wrote.
Granted Griffin, 57, spent some time off the radar after she posed with a fake bloody and severed head depicting the president, resulting in her firing from CNN and the loss of several sponsorships and jobs in 2017, the comedian has been steadily working on her comeback all year. She returned to the stand-up stage with her own special, Laugh Your Head Off, in June, which is currently touring across the United States. She also signed with APA for representation in all areas, Deadline reported Tuesday.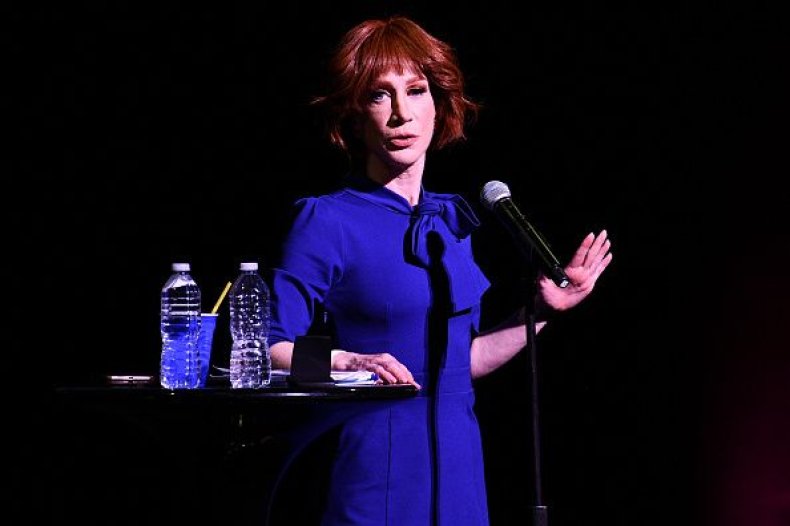 Donald Trump Jr. faces potential legal trouble over a meeting he took with a Kremlin-connected lawyer who promised "dirt" on Hillary Clinton in June 2016. Mueller is currently investigating Russia's potential involvement in the 2016 presidential election and the president's possible collusion.
In an interview on Good Morning America on Tuesday, Donald Trump Jr. said he wasn't "worried about any of that," although he did believe investigators would "try to create something" against him.
"I understand that they are trying to get my father, and they'll do anything they can to get that," he said.