Celebrities Rally Support for Kathy Griffin After Her Lung Cancer Diagnosis
Dozens of celebrities and high-profile figures from the world of comedy have rallied behind Kathy Griffin after the comedian announced she has been diagnosed with lung cancer on Monday.
"I've got to tell you guys something. I have cancer," she wrote in an emotional post shared to social media. "I'm about to go into surgery to have half of my left lung removed. Yes, I have lung cancer even though I've never smoked!
"The doctors are very optimistic as it is stage one and contained to my left lung. Hopefully no chemo or radiation after this and I should have normal function with my breathing. I should be up and running around as usual in a month or less."
She continued: "It's been a helluva 4 years, trying to get back to work, making you guys laugh and entertaining you, but I'm gonna be just fine. Of course I am fully vaccinated for Covid. The consequences for being unvaccinated would have been even more serious. Please stay up to date on your medical check ups. It'll save your life."
Following the announcement, Griffin received an outpouring of support from fans, friends and well-wishers.
"A major, scary ordeal but they will remove it and you will be just fine. In the meantime i will keep you in my prayers dear Kathy," tweeted Mia Farrow.
Fellow comedian Sarah Silverman added: "You're a fighter. Cancer doesn't have a chance!"
"Sending healing vibes. And also, how do you screen for that?" said actress Kristen Schaal.
Democratic National Committee chairman Jaime Harrison tweeted: "Sending out prayers and love Kathy!"
Actress Mo Collins posted: "Oh, Kathy!! Incredulous and hard to say out loud, isn't it? I've no doubt you'll come through even stronger. Should you need an understanding ear to ramble on it, I'm happy to oblige (having been there). Your humor will be a godsend for ya. Sending Love!!"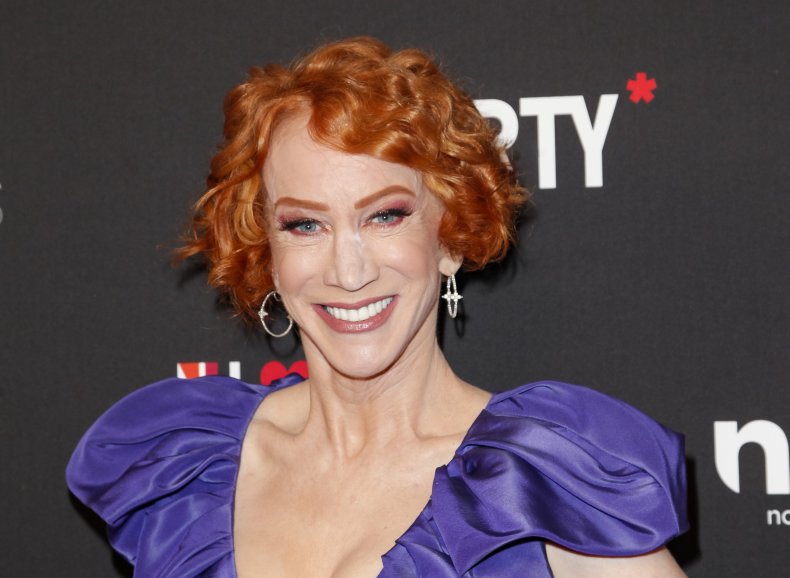 Tender Mercies star Ellen Barkin also publicly expressed her support as she commented: "Sending thoughts and prayers your way."
Actor Ian Abramson called Griffin an "inspiration" in his message of support.
He tweeted: "When I was just starting stand-up I went to a taping of a Kathy Griffin special and was blown away how something so different from what I was used to was so funny and well constructed. You're an inspiration all around Kathy!"
While TV producer Bill Prady added: "It is an honor to know @kathygriffin -- one of the strongest people I've ever met. She has faced tough battles with courage, dignity and an enviable sense of humor. Sending good thoughts as she faces this one."
Griffin will speak about her diagnosis in an interview with Juju Chang on ABC News' Nightline, which is set to air on Monday night.
"I was definitely in shock. I'm still a little bit in shock—not denial, but once a day I'll just turn to like, nobody next to me and go, 'Can you believe this s***? Is this a b**** or what?'" she says in a preview.