'F*** You Melanie': Kathy Griffin Blasts 'Complicit' Melania Trump for Family-Separating Immigration Statement
Comedian Kathy Griffin ridiculed First Lady Melania Trump over her statement that she "hates to see children separated from their families" Sunday.
Griffin, who last year was fired as CNN's New Year's Eve co-host after holding up a bloodied Trump mask, lashed out at the First Lady Sunday over a Donald Trump administration policy that has separated thousands of young children from their parents at the U.S. border. The comedian made light of a May tweet from President Trump in which he spelled his wife's name incorrectly. "F*** you, Melanie. You know damn well your husband can end this immediately...you feckless complicit piece of s***."
The comedian's use of "feckless" likely refers to Samantha Bee's comment and ensuing apology for calling Ivanka Trump a "feckless c**t" last month. In Bee's apology, she conceded that she'd "crossed a line" and regretted the comment toward the president's daughter.
Griffin was responding to a statement that FLOTUS spokeswoman Stephanie Grisham gave to CNN's Kate Bennett. Melania Trump addressed the controversial policy that Department of Homeland Security figures showed to be separating 45 kids from their parents each day. The First Lady, who was born in Slovenia before first coming to the U.S. in the mid-1990s and receiving a green card in 2001, weighed in: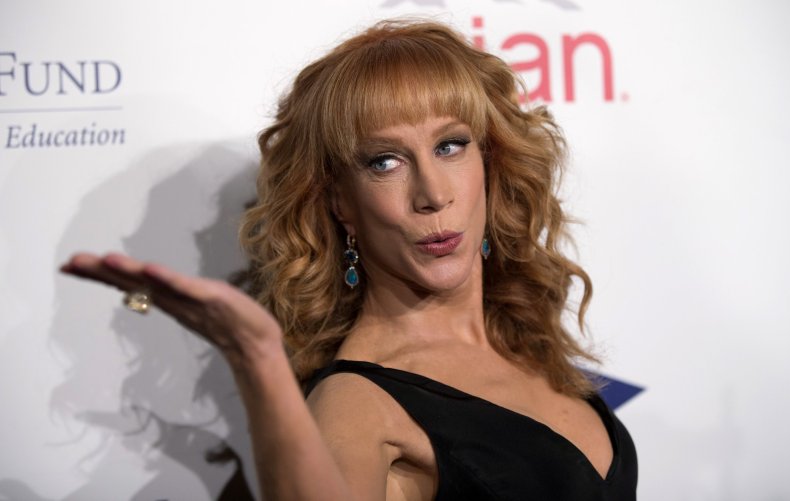 "Mrs. Trump hates to see children separated from their families and hopes both sides of the aisle can finally come together to achieve successful immigration reform. She believes we need to be a country that follows all laws, but also a country that governs with heart."
Griffin, who apologized for the severed head incident in 2017 before retracting the apology in April 2018, showed no signs of easing back on the Trump family Sunday. She followed up her Melania tweet by simply writing, "F*** TRUMP AND PENCE." Griffin later retweeted a follower who wrote, "Melanie is a useless plagiarizing birther."