Michael Cohen Sentencing: Comedian Kathy Griffin, Twitter Mocks Former Trump Lawyer for Predicting Hillary Clinton Would Go to Prison
Comedian Kathy Griffin mocked Michael Cohen after his sentencing on Wednesday, retweeting an old post in which President Donald Trump's former lawyer speculated that Hillary Clinton would go to jail.
"When you go to prison for defrauding America and perjury, your room and board will be free!" Cohen wrote about Clinton in December 2015.
Griffin reposted the tweet with the comment "36 months @MichaelCohen212...36 months," ridiculing the former Trump ally who, like many others, called for Clinton to go to jail.
Cohen was sentenced by a federal judge to three years in prison for campaign finance violations, tax evasion and lying to Congress. He also must pay almost $2 million in fines, forfeiture and restitution, according to The New York Times.
In statements at his sentencing hearing, he spoke out against Trump.
"Recently, the president tweeted a statement calling me weak, and it was correct. But for a much different reason than he was implying," he said. "It was because time and time again, I felt it was my duty to cover up his dirty deeds."
Cohen described the sentencing as liberating. "This may be hard to believe, but today is one of the most meaningful days of my life," he said, according to NPR. "Today I get my freedom back."
His lawyer also appeared to issue a warning to Trump.
"At the appropriate time, after Mr. Mueller completes his investigation and issues his final report, I look forward to assisting Michael to state publicly all he knows about Mr. Trump—and that includes any appropriate Congressional committee interested in the search for truth and the difference between facts and lies," Lanny Davis said. "Mr. Trump's repeated lies cannot contradict stubborn facts."
Cohen will begin his sentence on March 6, 2019, and Democratic Senator Mark Warner told Newsweek he wants Cohen to come to Congress to answer questions before he starts his prison term.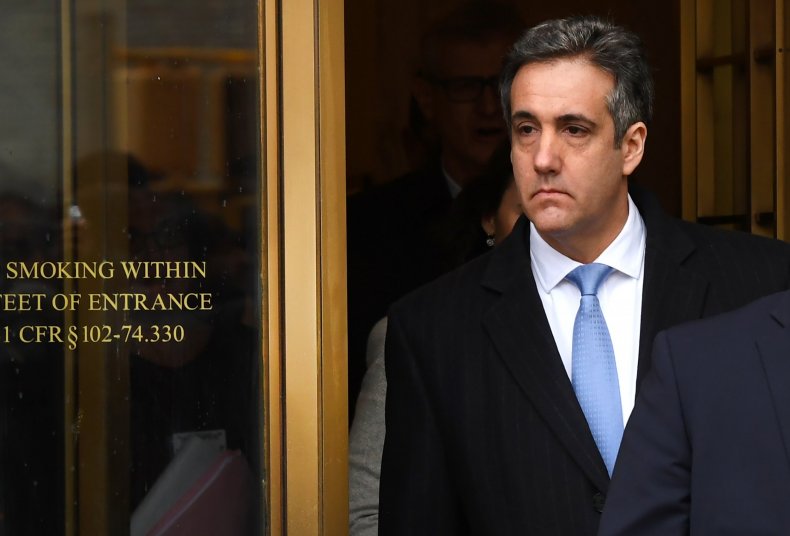 Court documents filed by federal prosecutors last week said that Trump had directed Cohen to make illegal hush payments to two women who say they previously had affairs with the president.
The president has harshly criticized his former lawyer and maintained his innocence.
"Democrats can't find a Smocking Gun tying the Trump campaign to Russia after James Comey's testimony. No Smocking Gun...No Collusion.' @FoxNews That's because there was NO COLLUSION," he wrote in two tweets on Monday. "So now the Dems go to a simple private transaction, wrongly call it a campaign contribution,.......which it was not (but even if it was, it is only a CIVIL CASE, like Obama's - but it was done correctly by a lawyer and there would not even be a fine. Lawyer's liability if he made a mistake, not me). Cohen just trying to get his sentence reduced. WITCH HUNT!"