Comedian Kathy Griffin didn't mince her words when it came to turning down an interview request from Fox's Tomi Lahren, telling the star and the network "go fuck yourself."
Griffin shared the message in a tweet on Tuesday evening, following what appeared to be a request from Lahren to appear on a show hosted by Lahren that would air on the digital streaming platform Fox Nation.
"You and your network told me my career was over and that I was irrelevant. Now you want to interview me. Not only do I not want to waste my time with you, I'm too busy selling out shows on my US tour. Go Fuck Yourself, Kathy Griffin," she said.
Griffin was famously fired from her role as co-host of CNN's New Year's Eve coverage with journalist Anderson Cooper, as well as losing a number of sponsorship deals, after she shared a picture of her holding a "severed head" of President Donald Trump in 2017.
The comedian faced an immediate backlash on social media that also had an impact on her career, telling Reuters at the time that she had received death threats over the picture and felt the president had ruined her life.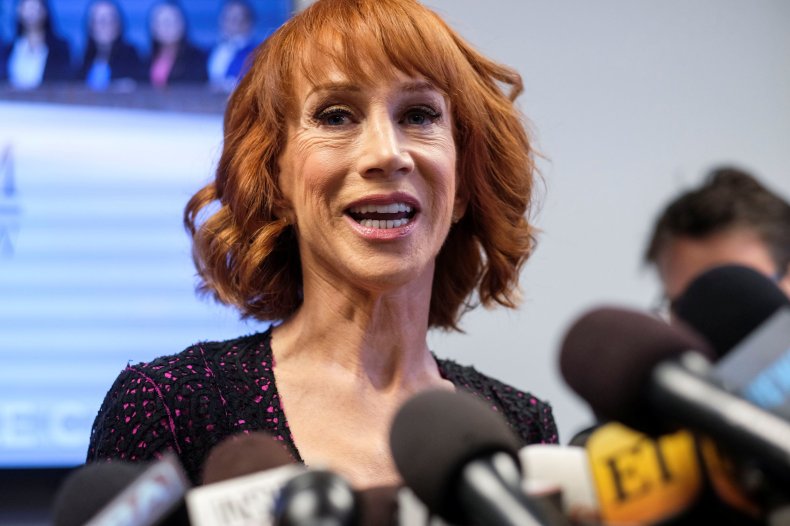 "I don't think I will have a career after this. I'm going to be honest, (Trump) broke me," Griffin said at the time.
"What's happening to me has never happened ever, in the history of this great country, which is that a sitting president of the United States and his grown children and the first lady are personally, I feel, trying to ruin my life—forever," she added.
Among those who slammed Griffin for the doctored picture, which the comedian insisted was meant to mock trump's comment about Megyn Kelly "having blood coming out of her…. Wherever" during the presidential debate, was the president himself – who said the picture had affected his children.
Responding to Griffin's abrupt message, Lahren tweeted: " Thought maybe you'd like to defend and discuss your Trump Derangement Syndrome on the most-watched cable news network. Guess not! Have a nice day. "
Griffin later retweeted Lahren's message, also responding: "Oh Tomi, you don't even know the difference between digital and broadcast...again, if I'm irrelevant, why do you want to talk to me? Go get a big glass of water...you're so thirsty."
Update: This story has been updated to include further tweets from Kathy Griffin.