Kathy Griffin Says She Was Banned From 'The Talk' for Criticizing Les Moonves
Kathy Griffin has stated that she's been banned from daytime show The Talk for speaking out on former CBS chairman and CEO Les Moonves.
Moonves, 72, was forced out of the broadcasting giant in 2018 after several women stepped forward to accuse him of sexual misconduct. The media mogul, who was not charged, denied the allegations at the time.
On Saturday, Griffin said on Twitter that "people in entertainment are still afraid of him," as she claimed that he continues to hold power in the business.
As Janet Jackson's eponymous documentary aired on A&E and Lifetime over the weekend, The Atlantic's contributing writer Jemele Hill shared a link to a 2018 Rolling Stone article headlined: "Les Moonves Reportedly Tried to Sabotage Janet Jackson's Career After Super Bowl 'Nip Slip.'"
Back in 2004, Jackson faced huge backlash when her breast was exposed during her Super Bowl halftime performance with Justin Timberlake.
Opining on the fallout from the "wardrobe malfunction," which negatively impacted Jackson's career, Hill wrote: "Justin Timberlake is an easy target, but never forget it was former CBS CEO Les Moonves who single-handedly tried to ruin Janet Jackson's career."
Responding to Hill's statement, Griffin said that people in entertainment continue to fear Moonves, saying in a follow-up tweet: "I'm not allowed on The Talk because I sent 2 dms to the wife about Les. That's what my then publicists told me. I haven't been on since then. The board members I know are very loyal to Les. They matter."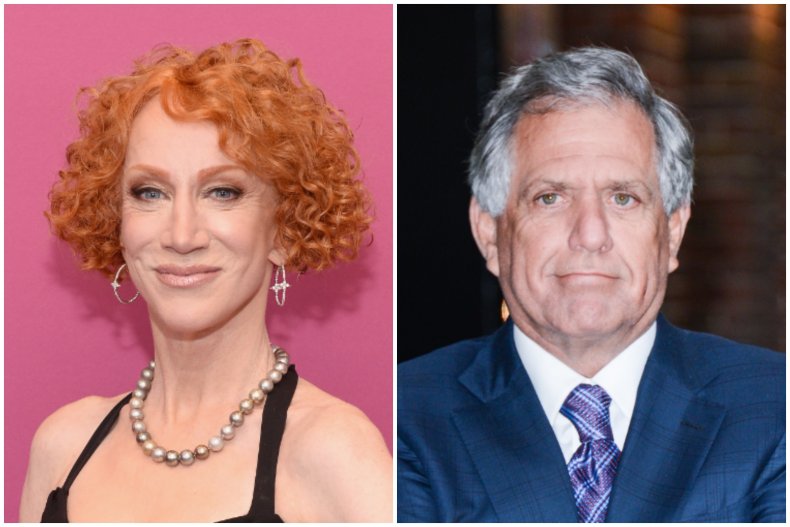 Musician Questlove, whose group The Roots serves as the house band on The Tonight Show Starring Jimmy Fallon, also chimed in on the allegations, writing: "Loyalty runs deep #DrainTheSwamp."
Moonves' wife, Julie Chen, was the moderator and co-host of CBS show The Talk from its 2010 debut until 2018, when allegations against her husband arose.
Newsweek has contacted a representative of The Talk for comment.
The CBS board ousted Moonves after several women—including actresses Cybill Shepherd and Illeana Douglas, writer Janet Jones and producer Christine Peters—accused him of retaliating after they rebuffed his sexual advances. He was also accused of other attacks and incidents of misconduct during that time.
Shepherd said in December 2018 that CBS quickly canceled her popular 1990s sitcom, Cybill, after she refused Moonves' alleged sexual advances.
The media mogul's downfall occurred at the height of the #MeToo movement, during which several other women accused Moonves of threatening to disrupt and end their careers in alleged retaliation.
An article published by The New Yorker in 2018 contained allegations going back decades that Moonves forced himself on women either seeking to launch their careers or already working within the entertainment industry.