Kathy Griffin Tells Tim Scott to 'F*** Off' Over Brown Jackson Stance
Kathy Griffin took aim at Senator Tim Scott on Monday night, after he shared a statement on why he won't be supporting Ketanji Brown Jackson's confirmation to the Supreme Court.
Jackson appears to be on course to become the first Black woman to a serve as a Supreme Court justice, after Republican senators Susan Collins, Lisa Murkowski and Mitt Romney announced that they would be backing her appointment.
However, South Carolina Republican Senator Scott revealed on Monday that he wouldn't be breaking party ranks to vote in favor of President Joe Biden's Supreme Court pick, as he criticized her "record of judicial activism."
He said: "The historic nature of Judge Jackson's nomination reinforces the progress our country has made. However, ideology must be the determining factor—not identity—when considering such an important lifetime appointment.
"It is clear that Judge Jackson's judicial philosophy and positions on the defining issues of our time make her the wrong choice for the Supreme Court. From leaving the door open on court-packing to her multiple overturned opinions, I cannot support a nominee with her record of judicial activism."
Concluding his statement, the senator added: "I remain disappointed that President Biden missed the opportunity to unite the country with a mainstream nominee that could have received resounding bipartisan support.
"For all these reasons, I will be voting no on Judge Jackson's nomination to the Supreme Court."
When Scott shared his statement on Twitter, comedian Griffin made her feelings undoubtedly clear on his stance, writing: "Oh f*** off Tim."
After it was revealed that Stephen Breyer would be retiring from the Supreme Court, Griffin tweeted back in January: "Can we please get a female [woman of color] who is the same age as Amy Coney Barrett? Thx!"
The Senate Judiciary Committee on Monday was split 11 to 11 on advancing Jackson's nomination, with all Republican members of the panel opposed.
Senate Majority Leader Chuck Schumer quickly filed a motion to bring her nomination to the full Senate, which is expected to hold a full vote later this week.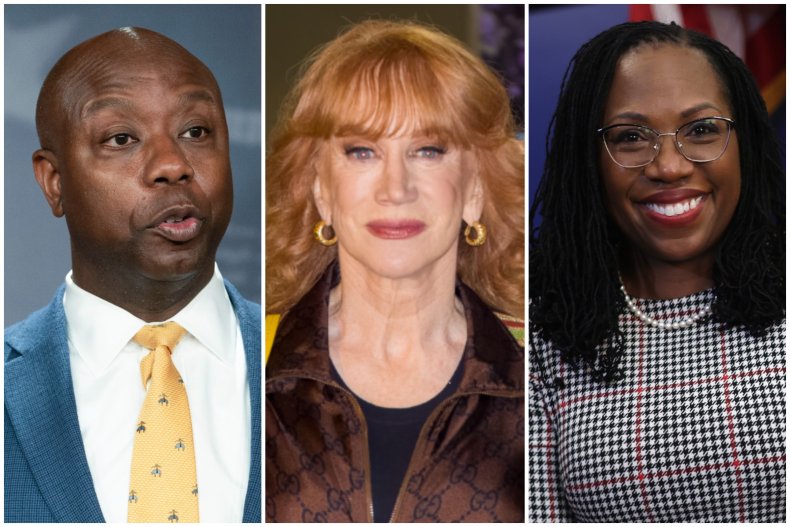 Should all of the Senate's 50 Democrats back Biden's pick for the Supreme Court, Jackson is on track to be confirmed with a slim margin of 53-47, similar to the narrow margins of all of Donald Trump's selections during his term as president.
During the latest confirmation hearing, Republican senators criticized Jackson's past work as a public defender, accusing her of being soft on child sex offenders. It was also suggested that she had an agenda to teach critical race theory in school.
Explaining why she is backing Jackson, Murkowski said her judicial independence and demeanor were influencing factors, as well as her qualifications, which include serving as a federal public defender, vice chair of the U.S. Sentencing Commission, a district court judge and currently as an appeals court judge.
"It also rests on my rejection of the corrosive politicization of the review process for Supreme Court nominees, which, on both sides of the aisle, is growing worse and more detached from reality by the year," said Murkowski, of Alaska.
"While I have not and will not agree with all of Judge Jackson's decisions and opinions, her approach to cases is carefully considered and is generally well-reasoned."
Romney described Jackson as a "person of honor," while Collins slammed her fellow Republicans' line of questioning, saying: "In my view, the role the Constitution clearly assigns to the Senate is to examine the experience, qualifications, and integrity of the nominee.
"It is not to assess whether a nominee reflects the ideology of an individual Senator or would rule exactly as an individual Senator would want."