Kathy Griffin Slams Troll Who Calls Her a 'Wasted Space D-Lister'
Kathy Griffin has hit back at a troll on Twitter after the person called her "wasted space" and a "D-lister" in response to her criticism of Florida GOP Senator Marco Rubio.
Rubio took to the microblogging platform on Monday to share photos of an injured man on a hospital stretcher, saying that he had been attacked while campaigning on behalf of Florida Governor Ron DeSantis.
"Last night one of our canvassers wearing my T-shirt and a Desantis hat was brutally attacked by 4 animals who told him Republicans weren't allowed in their neighborhood in #Hialeah #Florida," Rubio wrote. "He suffered internal bleeding, a broken jaw & will need facial reconstructive surgery."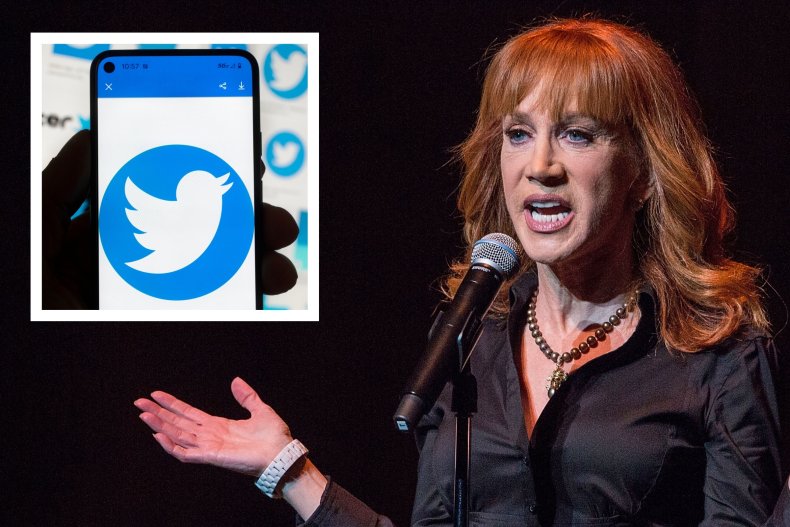 Amid the wave of responses to the post, Griffin questioned Rubio's credibility, writing, "You have lied too much over the years for us to believe you now."
A self-described supporter of former President Donald Trump shot back at the Suddenly Susan star, tweeting: "You are wasted space. That is why you will always be a D lister." The Twitter account, which was not verified by Newsweek, has the name Dina Patricia Hicks.
"And proud of it, b**ch," My Life on the D-List star Griffin, 61, responded. "Have you seen my house?"
Griffin, who regularly weighs in on political matters on Twitter, has spoken about the backlash she encountered after posing with the severed head of a Trump effigy in 2017. She said that her decision to pose with the head damaged her career.
Trump, whom Griffin has frequently criticized, was a prominent voice in the backlash against the comedian, writing on Twitter in 2017: "Kathy Griffin should be ashamed of herself. My children, especially my 11 year old son, Barron, are having a hard time with this. Sick."
The gory image, which was taken by celebrity photographer Tyler Shields, brought a widespread outcry, and Griffin issued a public apology.
"I sincerely apologize," she said in a video posted to social media in May 2017. "I am just now seeing the reaction of these images.... I went way too far. The image is too disturbing. I understand how it offends people. It wasn't funny. I get it."
But she later retracted the apology. During an appearance on The View in 2018, she said: "I take the apology back.... I'm not holding back on this family. This family is different. I've been through the mill."
Griffin went on to explain her reasons for taking back the apology, saying, "The First Amendment is important. It's the first for a reason."
She continued: "People thought I was ISIS. When my mother called—she watches Fox News and thinks it's real and thinks Bill O'Reilly is on vacation—that day, as crazy as it was, I was in a ball, sobbing: Everything's over.... I had to spend two hours convincing my mom I hadn't been recruited by Al-Qaeda."
Griffin went on: "My mom got death threats in her retirement village, and my sister got death threats in her hospital bed, and I lost her to cancer—that's why I shaved my head. That's how vicious it can be."
Amid the continuing fallout, Griffin posted a tweet in September 2020, alleging that Trump staffers had planted stories about her in the National Enquirer.
Last November, Griffin discussed the extent of the consequences she has faced for the controversial image. She compared her experience to the repercussions Arizona GOP Representative Paul Gosar faced for a 2021 video.
In Gosar's since-deleted video, which was originally shared on his Twitter account, the congressman was shown threatening President Joe Biden and killing Democratic New York Representative Alexandria Ocasio-Cortez. Gosar was later censured for the video.
Griffin tweeted that she was "fully investigated" by a U.S. attorney's office and the Secret Service and also put on no-fly and Interpol lists. She added that she lost work and had a comedy tour canceled because of threats of violence.
She said that her First Amendment rights had been "legitimately violated" by the federal government and the attorney general over the image's depiction of Trump.
Griffin also said she had been "interrogated" in connection with the image, adding that "the Feds informed me and my attorneys they were considering charging me with a crime of 'conspiracy to assassinate the president of the United States.'"