Kathy Griffin Says After Trump's Severed Head Tweet, She Faced 'Conspiracy To Assassinate The President' Probe
Comedian Kathy Griffin has spoken of how President Donald Trump's tweet criticizing an image of her with his replica severed head destroyed her American career and led to death threats.
Griffin issued a public apology for a photo shoot with celebrity photographer Tyler Shields in which she holds a bloodied prop replica of Trump's severed head, which sparked outrage among critics who said it was akin to ISIS images.
Read more: Why did Kathy Griffin and boyfriend break up?
Trump tweeted: "Kathy Griffin should be ashamed of herself. My children, especially my 11-year-old son, Barron, are having a hard time with this. Sick!"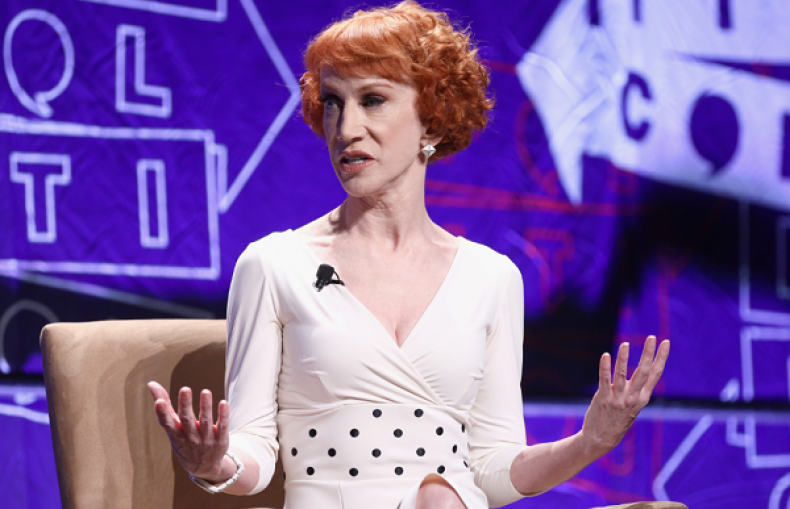 She told the Late Show host Stephen Colbert that after Trump's tweet she was put under federal investigation with a view to charging her with "conspiracy to assassinate the president of the United States."
She said that the photo "changed my life irrevocably."
"That was one thing. Because the walls caved in on me, and the 'accidental' president...tweeted against me, which made everything cancel in my life, basically.
"I was in the middle of a 50-city tour, and within 12 hours I had not one single day of work ahead of me. And, by the way, to this day, I do not have one single day of paid work ahead of me.
"So I've been digging myself out of this rabbit hole for the last year and a half."
She was forced to perform in other countries, like New Zealand and Australia and would constantly be stopped at airports because she was on an international wanted list.
"Anderson Cooper said I was disgusting, and I lost about 75% of my friends that never came back. And it was hard," she told the CBS host.
While Griffin has apologized profusely for the incident, she criticized the apology of fellow comedian Kevin Hart who stepped down from hosting the 2019 Oscars over a row about homophobic statements he had made in the past.
She told Entertainment Tonight that his explanation for the tweets he had sent was "lame."
"First of all, we haven't leveled the playing field yet. So guys are still at the top of the totem pole... I'm just throwing it out there, I thought that Tiffany Haddish and Maya Rudolph were hilarious (hosts) last year. So, if people are throwing ideas out there, I wanna throw that one out there," she said, according to ET.
Last month, she announced that she had broken up with her boyfriend Randy Brick.