Kathy Griffin Tells Trump to 'F*** Himself, Attacks Whole Family—Except Tiffany and Barron
Comedian Kathy Griffin went after President Donald Trump, his administration and his family on Monday in a series of tweets.
She first commented on a post from the president blaming Democrats for an uproar against the Trump administration policy that separates children from their parents at the border.
"Go [F***] Yourself You [F***ing] Liar," Griffin tweeted.
Later, over a post from the president saying "CHANGE THE LAWS," Griffing commented, "CHANGE PRESIDENTS."
But she didn't stop there, later targeting Vice President Mike Pence.
"Hey @VP - you say you're a man of god...what does god say about what's happening right now on the border?" she tweeted. "Don't think we don't notice you just because you're quiet and stay off camera...you're complicit."
Griffin then slammed the politically active wing of the Trump family clan and fired back at people upset with the harsh language in her tweets.
"This President, his family (except for Tiffany and Barron) and his administration, do not deserve an ounce of grace, decorum, respect, or kindness," she posted. "They are horrible people who are operating a criminal enterprise. So stop with the lectures about 'unhelpful language' - [F***] TRUMP."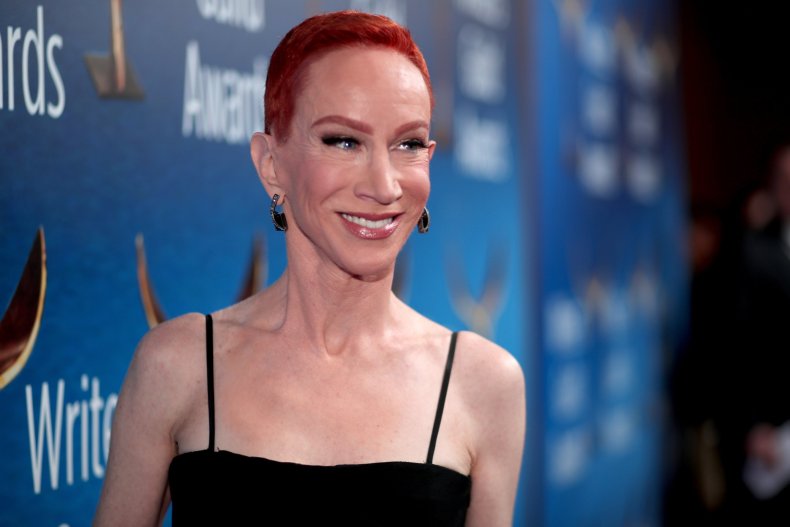 Griffin, of course, has been a longtime opponent of Trump. She famously sparked a controversy when she posed with a faux, bloody decapitated head made to look like the former reality TV star. She has ramped up her criticism of Trump in recent days.
On Sunday, she attacked First lady Melania Trump for a statement claiming she "hates to see children separated from their families." Griffin even got in a dig at the president by spelling the first lady's name "Melanie" as Trump once did in a tweet.
"[F***] you, Melanie," Griffin tweeted. "You know damn well your husband can end this immediately...you feckless complicit piece of [s***]."
There has been growing anger at Trump over his administration's policy that has resulted in the separation of children from their parents when they're detained at the border. Photos and stories of the conditions in which some of the thousands of children have been housed—crammed into makeshift chain-link cages—has caused particular outrage. Trump has falsely claimed that Democrats are to blame for the separation policy that his administration announced.
For instance, Monday he tweeted: "It is the Democrats fault for being weak and ineffective with Boarder [sic] Security and Crime. Tell them to start thinking about the people devastated by Crime coming from illegal immigration. Change the laws!"
Kathy Griffin Tells Trump to 'F*** Himself, Attacks Whole Family—Except Tiffany and Barron | U.S.