Kathy Griffin Vomited a Dozen Times in 3 Hours After Doctor 'Ghosted' Her
After being "ghosted" by her doctor, Kathy Griffin is searching for answers as to why she's been vomiting so much since having part of her lung removed.
The comedian asked Twitter users for their thoughts on Thursday evening, as she explained that she had thrown up "about a dozen times" in three hours after having dinner. This health update comes days after Griffin revealed how she'd not heard from the doctor who operated on her in 2021 in an effort to treat her lung cancer.
Griffin revealed in August 2021 that she had been diagnosed with lung cancer and that she needed to have half of her left lung removed.
"Ok, #CancerTwitter," Griffin wrote in her message. "Last night, an hour after dinner, I vomited about a dozen times over the next 3 hours. This did not happen prior to my half lung being removed last August. Why would I be having these problems for having 1/2 of my left lung removed? I had a clean endoscopy."
Griffin went on to clarify that she had only been having the "vomiting issues" since her surgery a year ago.
"I know it's really gross. But when I have these episodes, it just knocks me out the whole next day," she explained.
Twitter users came out in force and offered advice to Griffin. Actress Rosanna Arquette (Desperately Seeking Susan) suggested it could be food poisoning, but Griffin told her that it had been happening twice a month for a year now.
"I'm looking for a female G.I. at UCLA St. John's or Cedars," Griffin said.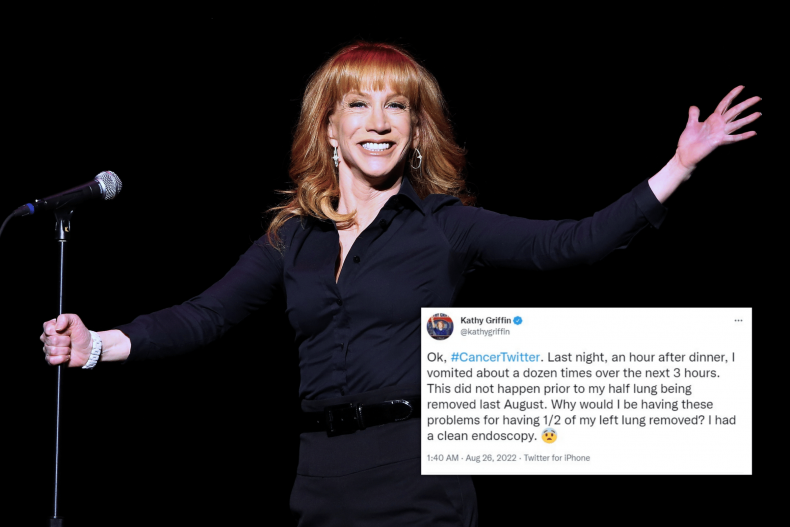 Actress Patricia Richardson (Home Improvement) also weighed in by suggesting some California-based professionals for Griffin. Mo Collins (Fear the Walking Dead) sent her sympathy and urged Griffin to go to the ER next time.
On Monday, Griffin addressed a question to the #CancerTwitter community, and revealed that the surgeon who removed half of her lung had "ghosted her."
When a Twitter user suggested seeing a specific doctor, Griffin stated that he was the same person who performed her surgery, and then explained why she lost confidence in him.
"I lost confidence in him bc the day he did my surgery in the am, he himself underwent anesthesia a couple hours later in the same hospital & had his own knee operated on. So he didn't eat or drink before he cut me."
Griffin has over 2.1 million followers on Twitter and often generates a huge reaction on the site. She recently had a spat with Marjorie Taylor Green calling the Georgia Republican Representative a "traitor," while she also swore at republican Tim Scott earlier in 2022.