Kathy Griffin Says Women Film Executives Guilty of 'Casual Misogyny'
Kathy Griffin has accused women film executives of practising "casual misogyny," saying they believe their route to success is to "act like the dude."
The comedian broached the topic as she spoke with Interview magazine, accusing those who would be regarded as liberal in their world view as being the biggest perpetrators.
"Extremely dangerous because it tends to come from the left," Griffin said of casual misogyny. "Jonathan Chait is a writer who I think would be surprised if I called him a casual misogynist. I think Chris Hayes on MSNBC is a casual misogynist."
Shifting the focus from men, she went on: "There are women who, to be super powerful, have to act like the dude. I don't know Jennifer Salke [the head of Amazon Studios], but what I hear about her is kind of scary.
"I don't know any executives that are women that don't have maybe a little casual misogyny. They can be lethal because sometimes they'll just cut you off and then quietly tell all the other guys that you're a b****."
Newsweek has contacted representatives of Salke, Chait and Hayes for comment.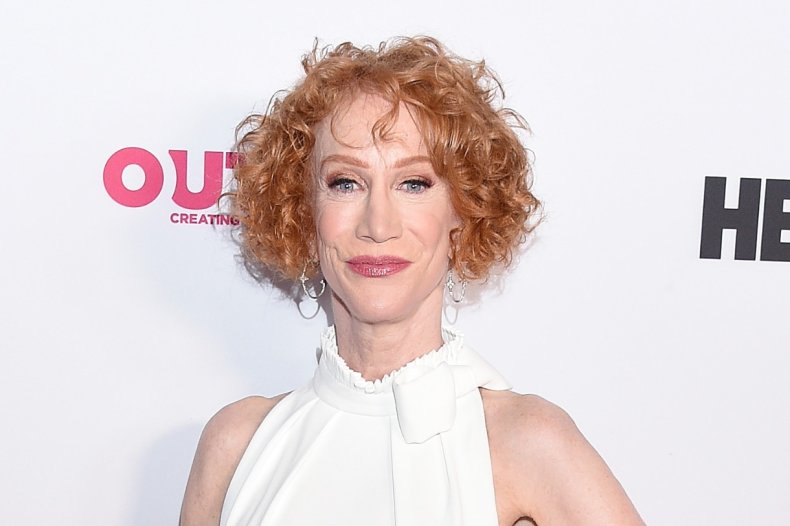 Griffin didn't specify what she had heard about former NBC Entertainment president Salke that was "scary." She was announced as the head of Amazon Studios in February 2018 replacing Roy Price. Price stepped down amid sexual harassment allegations.
Despite her assertions about women executives, Griffin told Interview that she believes CNN would benefit greatly if the network put a woman at the helm.
"I'm hopeful that the network will get better, because there's a real bro culture over there," she said of CNN. "And when I say bro culture, as a woman, I've got to include men of color, gay men, white men. If they get away from the kind of leadership that Jeff Zucker used over there, then they're only going to get better.
"If they just put a woman at the helm—and not a corporate woman that's been doing what Jeff wants—which has never happened, I think that's going to change stuff pretty quickly."
In a January interview with The New York Times, Griffin alleged that former CNN president Zucker fired her from CNN's New Year's Eve show, which she used to host with Anderson Cooper, after she attempted to negotiate higher pay.
Stating that she was "carrying more of the prep work than Cooper," she stated her belief that she should be paid more than the $80,000 she was contracted to receive in 2016.
Zucker "got very offended" by the suggestion, said Griffin, who added: "He started yelling at me and he literally said something like, 'Who do you think you are calling here demanding a raise?' And then something came over me. And I just lost it. I just started screaming. I'm Kathy [beep!] Griffin, Jeff, that's who I am."
According to Griffin, she eventually told Zucker that she would "feel a lot more comfortable showing up if I got paid what I deserve"—a statement that she said the executive took as a threat to quit the show.
Following their conversation, said Griffin, Zucker called her lawyer and fired her. Griffin said that she called Zucker and begged for her job back. While Zucker agreed, he cut her pay by 20 percent, according to Griffin.
Responding to Griffin's claims, Zucker told The New York Times that she had been "completely out of line" for asking for the pay rise just days before the event.
"It sounds like she is acknowledging that, insofar as Kathy Griffin acknowledges she has ever done anything wrong," said Zucker, who resigned from CNN in February as he acknowledged that he had not disclosed a consensual relationship with network executive Allison Gollust. He has since been replaced by Chris Licht.
Griffin would later be dropped from the New Year's Eve show, among a number of other projects, after she posed for a photo with a severed head, styled to resemble then-President Donald Trump.
CNN anchor Cooper, the comedian's co-host on the New Year's Eve shows, was among those who condemned her actions, for which she apologized at the time. In 2018, she would go on to retract her apology.
"I thought he was a real friend and I feel like a sucker," Griffin told Interview. "I guess I would say what he always says, which is, I wish him the best."