Kathy Hochul Expects New York School Mask Mandate, Won't Say if Cuomo Should Be Impeached
New York Lieutenant Governor Kathy Hochul said she believes "there'll end up being mask mandates" in schools, although she doesn't have the authority to impose them as the state's next governor, the Associated Press reported.
Speaking Thursday on the Today show, Hochul was not as clear when asked about the potential impeachment of outgoing Governor Andrew Cuomo, who will leave office on August 24 in the wake of a state attorney general's report that said he sexually harassed multiple women. "I don't believe it's my position to weigh in on that situation," she said.
However, Hochul said Wednesday at a press conference her governing style will be different, noting that "no one will ever describe my administration as a toxic work environment."
As governor, Hochul can't require masks in New York public schools, but the state's Health Department can highly recommend masking in educational institutions, the AP said. She said that she expects to follow guidance from the U.S. Centers for Disease Control and Prevention and will work with school districts, parents and teachers on any mask mandates.
"Also, we need to be talking to the school districts as well. That hasn't happened in the past, and it's the way I think it should be. To find out what's their anxiety. Why there's any objection to this," she told the Today show.
For more reporting from the Associated Press, see below: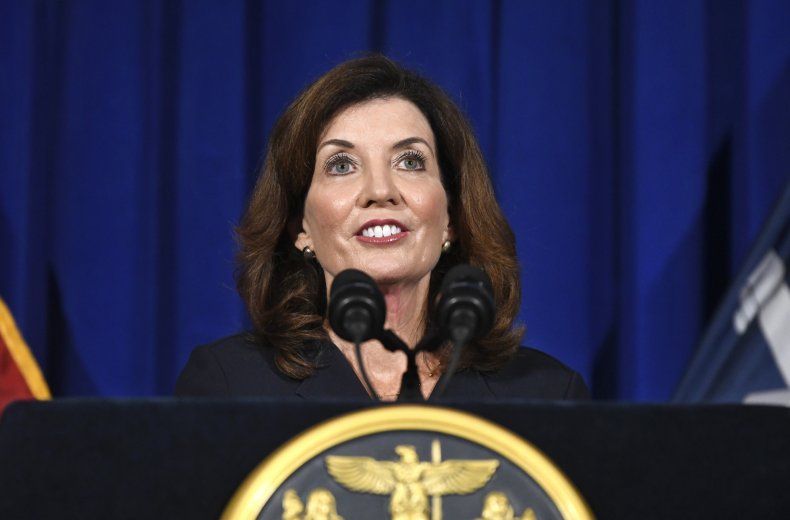 Cuomo announced Tuesday that he would resign rather than face a likely impeachment trial after Attorney General Letitia James released a report concluding he sexually harassed 11 women and describing a toxic work environment in his administration.
Cuomo, 63, denies that he touched anyone inappropriately and said his instinct was to fight back against the harassment claims. But he said it was best for him to step aside so the state's leaders could "get back to governing."
The 62-year-old Hochul, who gave her first news conference as governor in waiting on Wednesday, reiterated that she will not tolerate harassment in her administration.
"I want to make sure that there's a message that I'm tough," Hochul said Thursday. "I'm not going to put up with anything that crosses the line or even comes close to the line because this should be an environment where all people, women, members of the LGBTQ community, anyone, is free of harassment that they can come to work, work for the people of New York state, focused and get the job done."