Kathy Hochul Wants New Yorkers to 'Believe in Their Government Again' While She Is Governor
Kathy Hochul said the number one thing she hopes to accomplish as governor is to restore New Yorkers' trust in government.
Hochul was officially sworn in as the Empire State's 57th governor shortly after 10 a.m. on Tuesday at the Capitol. She is the first woman in history to become governor of New York.
"This is an emotional moment for me, but it's one that I'm prepared for," she said at the ceremony.
Her ascension to the state's top position comes after Andrew Cuomo resigned following a state attorney general's report that concluded he sexually harassed multiple women and created a toxic work environment. In his farewell address Monday, Cuomo denied the report's findings and said his resignation was the forced outcome of a "political and media stampede."
Hochul will serve out the remainder of Cuomo's term, which expires in 2023.
"I want people to believe in their government again," Hochul told reporters Tuesday when asked what she wants to achieve during her administration. "It's important to me that people have faith. Our strength comes from the faith and the confidence of the people who put us in these offices, and I take that very seriously."
Hochul will provide more details on her administration's agenda and goals in an inaugural address on Tuesday at 3 p.m. ET.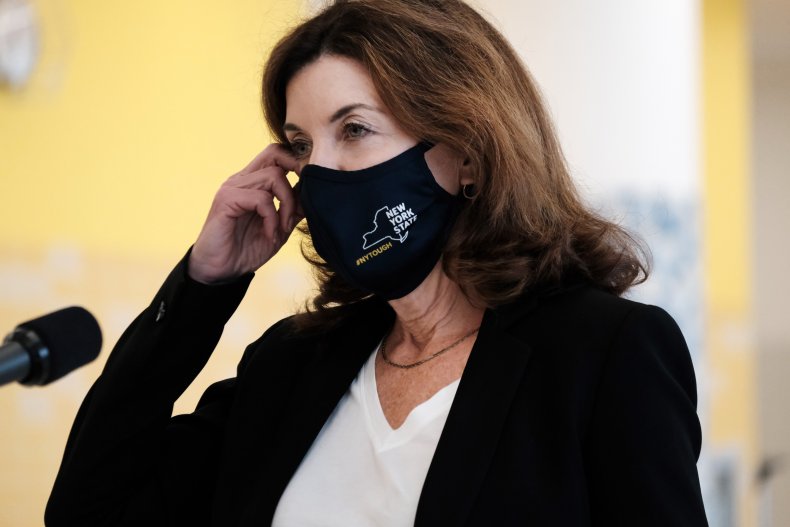 On Monday, she appointed two women to serve as top aides in her administration.
Karen Persichilli Keogh will be secretary to the governor, the highest-ranking appointed position in the state. Keogh will succeed Melissa DeRosa, who resigned from the Cuomo administration earlier this month after the sexual harassment report was released.
Hochul has tapped Elizabeth Fine to be her counsel. Fine served as executive vice president and general counsel of Empire State Development, New York's economic development agency.
"Karen Persichilli Keogh and Elizabeth Fine bring the depth of knowledge, leadership and experience that it will take to meet the challenges New Yorkers face," Hochul said in a statement. "As governor, I will assemble a strong team to turn the corner on the pandemic and serve the best interests of New York, whether it's defeating COVID, getting more people vaccinated, or strengthening our economy."
Hochul previously promised "turnover" within the governor's administration, saying she would oust Cuomo staffers who acted unethically.
"I'm going to stand right here: At the end of my term, whenever it ends, no one will ever describe my administration as a toxic work environment," Hochul said.
Update (8/24/2021, 11:15 a.m.): This story has been updated to include additional information about Governor Kathy Hochul's administration.