Kathy Hochul Will Give Doctors, Nurses 'Retention Bonuses' to Combat Staffing Crisis in NY
On Wednesday, New York Governor Kathy Hochul held her first State of the State address where she outlined a path for the state to emerge from its health care staffing crisis that has made responding to the 243 percent surge in COVID cases over the past two weeks a daunting task.
The number of nurses in New York City has declined to levels lower than that seen before the pandemic. In upstate New York, the hospital position vacancy rate stands at 13.5 percent, double what it was before the pandemic, Gary Fitzgerald, the president and CEO of Iroquois Healthcare Association, a regional healthcare trade organization, wrote in The Saratogian.
As hospitalizations in New York have jumped by 110 percent over the past two weeks with the spread of Omicron, the demand for healthcare workers has only increased. Hochul aims to address this problem by incentivizing job growth through a monetary incentive.
"We must stop the current hemorrhaging of health care workers, and we're going to do it not just by saying we owe them a debt of gratitude, but actually paying them the debt we owe," Hochul said, "starting with a retention bonus of up to $3,000 for our health and direct care workers that will help drive salaries throughout the healthcare workforce."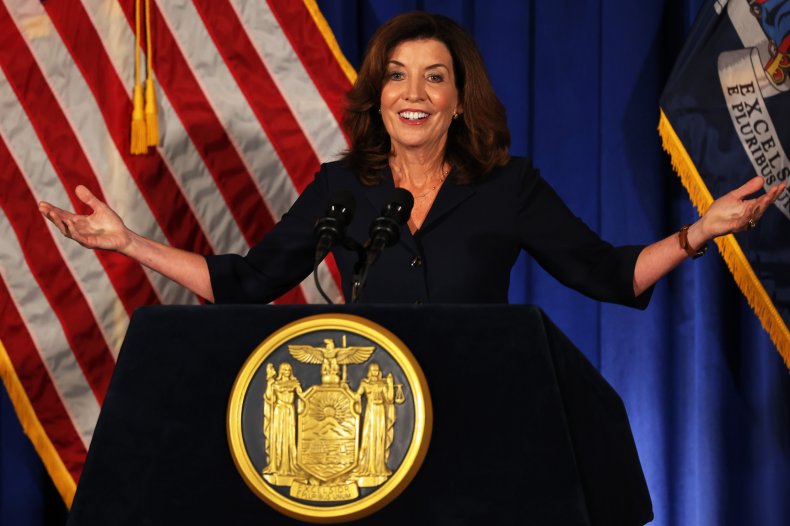 Hochul said this will ensure workers in this critical sector earn more than the minimum wage, which is often the rate given to workers who provide home care. According to a report by the City University of New York, the industry "struggle(s) to attract and retain workers" because, despite the demands of the job, home care workers only earn about $13.80 an hour.
In addition to addressing these issues with monetary incentives, Hochul also aims to solve the problem by attracting workers from other states. Hochul said that New York would further address the shortage by making it easier for doctors and nurses from other states to practice in New York with their existing licenses.
She also said she would "expand the capacity" of the state's medical institutions to increase the number of students training for health care jobs by making it possible for them to receive free tuition and stipends if they remain in New York following graduation.
"A once in a lifetime pandemic demands a once in a lifetime response," Hochul said. "And that's why I'm setting an ambitious goal to grow our healthcare workforce by 20 percent over the next five years, and we'll make the largest investment in health care in the state's history—$10 billion."