Kathy Hochul's Lt. Governor Charged With Fraud Ahead of Her Reelection Bid
New York Lieutenant Governor Brian Benjamin was arrested as part of a federal corruption investigation on Tuesday, just seven months after being named to the role.
Benjamin, who previously served as a state senator from Harlem, was arrested on charges of bribery, honest services wire fraud and falsification of records, the Associated Press reported.
Governor Kathy Hochul, who is up for reelection this November and faces a primary challenge from several other Democrats, selected him to fill the role in September. She took office after Governor Andrew Cuomo resigned over sexual harassment allegations.
In an indictment unsealed Tuesday, Benjamin was accused of participating in a scheme from 2019 to 2021 to receive campaign contributions from a real estate developer in exchange for his agreement to use his power as a state senator to get a state-funded grant for a nonprofit controlled by the developer, AP reported.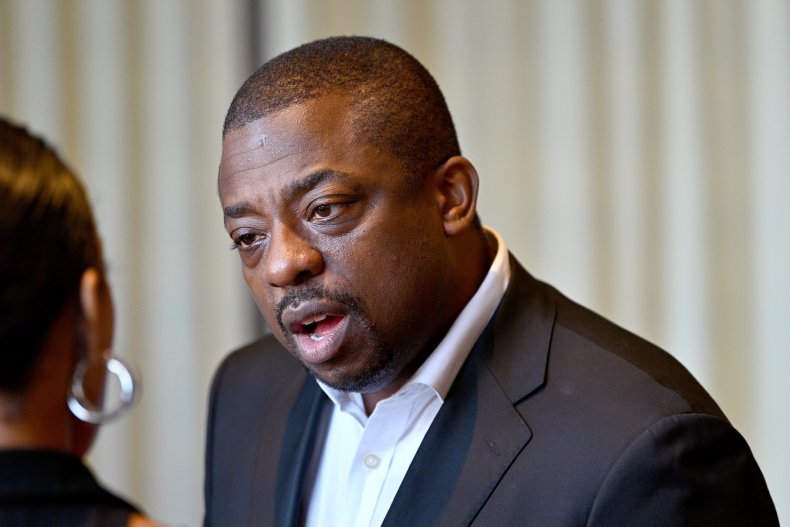 The indictment alleged that he and others working with him falsified campaign donor forms, misled regulators and provided false information in vetting forms while he was being considered for the lieutenant governor role, AP reported.
He was expected to make an initial appearance in Manhattan federal court on Tuesday.
Hochul's campaign opponents quickly seized on the arrest to criticize her administration Tuesday morning.
"Kathy Hochul forced Brian Benjamin upon our state as LG. He was such a bad pick. Running point on the defund the police movement in the legislature should have alone disqualified him. When this corruption surfaced, Hochul tripled down. She owns this...all of it! Terrible judgment!" Republican candidate Lee Zeldin tweeted.
Representative Tom Suozzi, a Democrat running against Hochul, wrote on Twitter: "Hochul has fostered a culture of continued corruption with months of fundraising from pay to play insiders and people doing business with the state, and secretive budget deals that resulted in the billion dollar Bills stadium and little else."
Ana Maria Archila, a Democrat who is challenging Benjamin in the lieutenant governor's primary, wrote in a statement that "our elected officials should be held to the highest ethical standard to preserve the public trust, and Brian Benjamin has violated that compact."
"Albany has been plagued by corruption for too long, with politicians trading favors for the money of the wealthy and powerful. This must stop now," she wrote.
The arrest comes after more than a year of turmoil in New York's governor's office. Cuomo resigned last September, facing numerous sexual harassment allegations and other scandals surrounding his book deal and COVID-19 deaths in nursing homes.
His resignation elevated Hochul to the office. She promised an era of "open, ethical governing that New Yorkers will trust" in her first speech as governor.
She faces a primary challenge from Suozzi and New York Public Advocate Jumaane Williams. Democrats are still widely considered the favorites in the general election, according to the Cook Political Report, which classifies the race as "Solid Democrat."
Newsweek reached out to the governor's office for comment Tuesday morning.
Update 4/12/22, 12:04 p.m. ET: This story was updated with additional information.