Who Is Katie Arrington? Pentagon Official Accused of Disclosing Classified Intel
A Pentagon official is being investigated in connection with the suspected unauthorized disclosure of classified information from a military intelligence agency.
Bloomberg reported that Katie Arrington, the chief information security officer (CISO) for the Office of the Under Secretary of Defense for Acquisition (OUSD A&S), was informed on May 11 that her clearance for access to classified information is being suspended.
This was due to a "reported Unauthorized Disclosure of Classified Information and subsequent removal of access by the National Security Agency (NSA)," Bloomberg said, citing an OUSD A&S memo. The NSA is involved with some of the U.S.'s most sensitive information from foreign adversaries.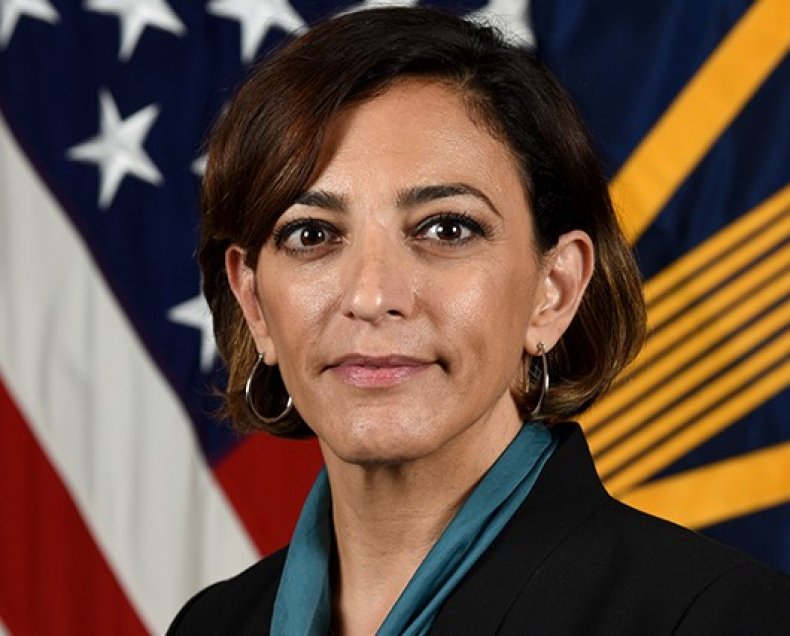 Arrington's role in the OUSD A&S included dealing with the cybersecurity requirements for the 300,000 companies that do business with the Pentagon, C4ISRNET reported, and ensuring that the weapons systems across the U.S. military are digitally secure.
The memo said that if the "preliminary" decision was finalized, she would "not be eligible for access to classified information" or "assignments to duties that have been designated national security sensitive,"
The Pentagon, which Newsweek has contacted for comment, did not specify any further.
Arrington's attorney, Mark Zaid, confirmed the contents of the memo and said that the U.S. Department of Defense (DoD) "is revealing nothing, and it's very frustrating."
"The suspension of Ms. Arrington is nothing more than a routine administrative action but she is now being victimized by delays that are unfairly causing harm to national security and her reputation," Zaid said in emailed comments to Newsweek.
"We are ready now to address any DoD concerns and she deserves timely due process which is being denied," he said.
"I continue to push DoD to handle this case properly and expeditiously, and we'll consider every option we have in order to ensure due substantive and procedural process is provided," he added.
An unnamed U.S. official told Bloomberg that the probe is not linked to Arrington's management of the Pentagon's Cybersecurity Maturity Model Certification system (CMMC) with which companies must comply before doing business with the government.
It also not connected to her status as a Republican working under a Democratic president, the official added.
According to her biography on the OUSD website, Arrington is the "central hub and integrator" in her post which requires her to "align acquisition and sustainment cyber strategy." It said she was also key to "efforts to enhance cyber security within the Defense Industrial Base."
Her biography describes her as a mother of three and a grandmother of four who had "an extensive career as a legislator and senior cyber executive in private industry." This included over 15 years of cyber experience from her positions at Booz Allen Hamilton, Centuria Corporation, and Dispersive Networks.
Arrington served two terms as a GOP Republican South Carolina state representative and unsuccessfully stood in 2018 as a candidate for the U.S. House of Representatives before being brought into the Pentagon in 2019.
Cybersecurity specialist and former U.S. Air Force officer John Gartska has reportedly taken up Arrington's post in an acting role.