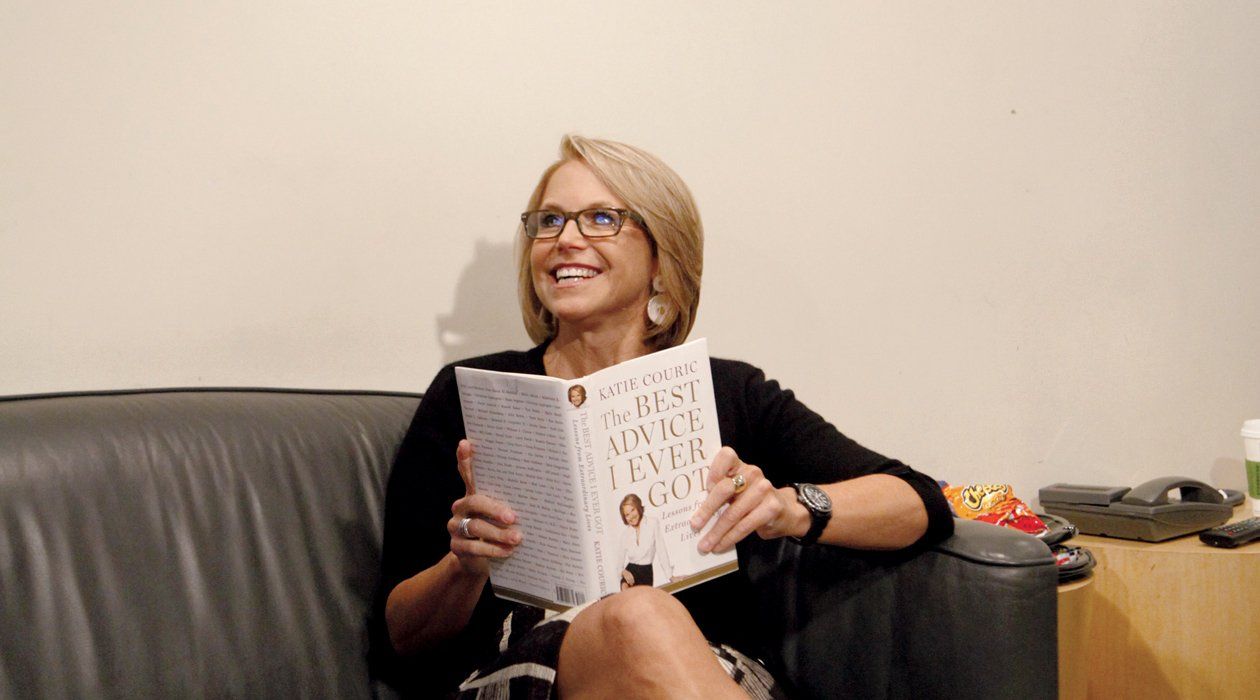 Katie Couric kept having a dark fantasy that one of the New York City buses with her face splashed along the side would run her over, completing her demise. As CBS's brand-new anchor five years ago, she was getting pummeled over everything from her wardrobe to her eye makeup to her alleged lack of gravitas, and "the very public vivisection was at times painful and hard to understand." But, she says in a new book, she finally told herself: "Put on your big-girl pants."
Couric's confessions in the The Best Advice I Ever Got come as she is about to shed her anchor pants for a plunge into the syndicated future. And that, she tells me, is daunting and a bit nerve-racking.
"Here I am at 54, and every step of the way you kind of have to evaluate things and do a gut check on your satisfaction level or recalculate it," Couric says. "Change is hard. There's always an element of fear. One thing my experience doing the Evening News taught me is that it's great to talk about getting out of your comfort zone, but you have to remember that's going to be uncomfortable at times."
Couric says she resisted writing much about herself in the hope of still penning a memoir. As she gathered contributions from dozens of big-name acquaintances, from Mario Batali to Jimmy Carter to Michael J. Fox, she says she "was struck by how intensely personal many of them were," and felt it would be unfair "not to be equally candid about my own life. I'm kind of an open book in terms of sharing things, hopefully not in a TMI way."
It wasn't pleasant to revisit the battering she took after her 2006 debut at CBS, but Couric sounds philosophical: "Listen, other people have been criticized in the press; it goes with the territory." But her emotions remain raw over the death of her husband, Jay Monahan, when she was riding high at the Today show. While he battled cancer, she resented others who were laughing and enjoying themselves.
"I'm not the kind of person who allows myself to be permanently scarred by anything," she explains, "unless it is the death of my husband, which I think about on an almost daily basis still. But life goes on, and you have to put it in a place where you can tolerate it."
Some of the life lessons in this volume are vague (Maria Shriver says don't be afraid of being afraid; Donald Trump says learn everything you can). Others are more specific (Michael Bloomberg says be the first into the office every day; Chelsea Handler cautions not to sleep with your boss). Still others are touching (Bill Cosby bombing in his first attempt at stand-up). Couric recalls a disciplinarian dad (the proper response was "Yes, sir"), crying during an interview as a young college grad, and her painful first live shot at CNN (the network's president said he never wanted to see her on the air again).
By any conventional accounting, she failed to live up to the enormous hype surrounding her leap from morning-show queen to Cronkite successor, a tsunami of publicity driven by her $15 million salary and her status as the first woman in a role previously reserved for men with stentorian tones. The job turned out to be a straitjacket.
Couric admits she alienated traditional viewers by changing the newscast too quickly, but she bounced back, most notably with her campaign interviews in which Sarah Palin stumbled badly. She tried to stretch the usual boundaries with a Web show, a Glamour magazine column, and a constant Twitter presence. But as the new CBS News chairman, Jeff Fager, started looking elsewhere, Couric began receiving suitors for a daytime talk show—including talking with her onetime mentor, former NBC chief executive Jeff Zucker.
The evening newscasts remain the country's biggest mass-media vehicle, but these days the individual is the brand. Just as Diane Sawyer was a major star before she took over ABC's World News, and just as Brian Williams is as well known for moonlighting on Saturday Night Live and The Daily Show as he is for NBC Nightly News, Couric's persona has overshadowed her 22-minute broadcast.
She is finishing up in a whirlwind, profiling Defense Secretary Robert Gates; scoring an exclusive with Gabby Giffords's husband, astronaut Mark Kelly; and landing a sit-down with British Prime Minister David Cameron while in London this week for the royal wedding. "It's not the most important story in the world," Couric says, "but it's nice to cover something happy."
Having observed her over the years, one senses that Couric feels liberated in leaving a job that utilized only part of her emotional palette. She's a bit bruised by the experience, but ready to bandage her wounds and try on a brighter wardrobe.