California Democrat Describes 'Archaic' Sexism in Congress After Colleague's 'Mr. Five Minute Man' Sexual Comment
Representative Katie Hill, one of the 102 women elected to the House of Representatives in 2018, detailed the "archaic" sexism in Congress and her own uncomfortable experience with a male lawmaker in a recent interview.
"The other day I had a member who said something that was just so dumb," Hill told The Lily's Caroline Kitchener. "He said it as a joke, but it was a sexual comment. And I was just like, 'You can't say those kinds of things anymore.'"
Hill elaborated that, at the time, House members had been discussing the standard procedure of allowing one-minute speeches on the floor at the end of legislative sessions.
"I called him 'Mr. One Minute' or 'One Minute Man,' or something," she said. "I didn't even think about it that way, but he was like, 'I can also be Mr. Five Minute Man or Mr. Whatever Minute Man You Want.' It was in front of people, and the rest of us were all looking at each other. One of my young colleagues said, 'Well, that took a turn.'"
She did not mention the lawmaker's name.
Hill added that Washington, D.C., was still very much a "man's world." "That's changing, but we're still vastly outnumbered," she said.
Hill did praise the culture of female friendship that has been cultivated by lawmakers, saying that "you can tell female members have been supporting each other in a huge way for a long time."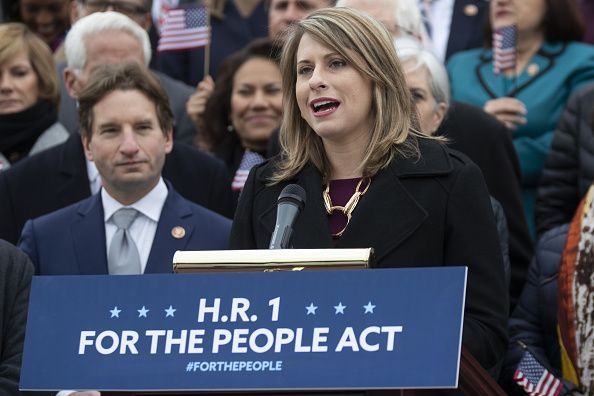 The 31-year-old California Democrat made headlines during her congressional run for being "America's most millennial candidate."
Before she was elected, Hill managed an advocacy organization for the homeless in Los Angeles. As a political outsider, she made a name for herself in the early part of her campaign by agreeing to do a Vice documentary series. She also made more than 100 Facebook videos in which she shared personal experiences, such as finding out she was pregnant at 19 and wrestling with whether to have an abortion, with voters. Hill had a miscarraige while deciding whether or not to go forward with or terminate the pregnancy.
Hill told The Lily that she decided to share those experiences publicly because "the only way you can get people who haven't been in that kind of situation to have compassion around it is to be vulnerable and share. I think [sharing personal stories] is a responsibility of someone in a position of power and influence. I recognize I have a platform."
California Democrat Describes 'Archaic' Sexism in Congress After Colleague's 'Mr. Five Minute Man' Sexual Comment | U.S.