Capitol Police have launched an investigation after a series of nude photos of Katie Hill, a freshman congresswoman from California, were published in two media outlets.
The first story came from the conservative website Red State on October 18 and was followed by another in the Daily Mail—a British tabloid—on Friday.
Red State have since removed the nude picture contained within its article, following threats of legal action by Hill, however the Daily Mail's article with numerous photos still stands.
In one, Hill can be seen naked holding a bong—a large glass pipe usually used for smoking cannabis—while another shows Hill combing her partner's hair in the nude. A third shows Hill lying naked while sunbathing on a beach.
The 32-year-old asked Capitol Police to investigate if any laws had been violated in the posting of the photos, and in a statement to Newsweek, the force confirmed an investigation has been launched.
A spokesperson for the force, however, said no further information could be provided as: "We do not comment on ongoing investigations."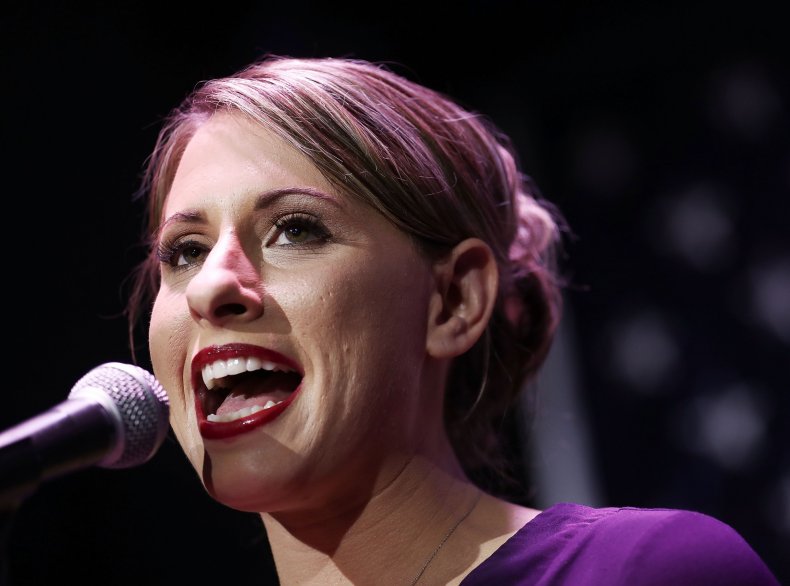 Hill's legal team—comprised of Marc Elias and Rachel Jacobs of the firm Perkins Coie—also sent a cease-and-desist letter to Candace Trunzo, executive editor of the Daily Mail, insisting that "you remove these photos from publication at once."
"You have also exposed your publication to grave legal consequences for California has some of the strongest criminal laws in the United States against the secretive generation and distribution of private, sexual images," the letter said, reported Politico.
"The California Penal Code accordingly makes it a criminal offense to 'intentionally distribute the image of the intimate body part or parts of another identifiable person.'"
The Daily Mail also claimed that Hill had a "Nazi-era tattoo"—referencing a small cross which can be seen in one of the photos near Hill's pubic area—and claimed that this was a representation of the iron cross, a symbol that was synonymous with Nazis in World War II and more recent neo-Nazis today.
"The claim that Representative Hill has Nazi imagery on her body in the form of a tattoo is false and defamatory," the letter added.
"We demand that you immediately cease and desist the publication of these abusive and spurious images. The continued publication by your outlet or others of these images will warrant legal response."
Newsweek has contacted the Daily Mail for comment.
Both publications ran the pictures alongside a report which stated Hill and a former campaign staffer had an affair before Hill won her seat in Congress.
Hill, who is currently going through a divorce, has since admitted the relationship, calling it "inappropriate", and has apologized to constituents.
"During the final tumultuous years of my abusive marriage, I became involved in a relationship with someone in my campaign," the statement said.
"Even a consensual relationship with a subordinate is inappropriate, but I still allowed it to happen despite my better judgement. For that, I apologize."
The publications also claimed that Hill had another affair with a different aide, this time a male in Capitol Hill, however this claim is not supported by any evidence and Hill denies this took place. Nonetheless, the matter falls into the jurisdiction of the House ethics committee who have now opened an investigation into Hill.