Former House Representative Katie Hill—who resigned in October amid a leak of nude photos of herself and accusations that she had had an inappropriate relationship with a campaign staffer—said that she would continue to speak publicly about issues that were important for her despite attempts from the right-wing media to "silence" her.
Hill, a Democrat who had represented California's 25th congressional district until her resignation, spoke Sunday on CNN's Reliable Sources program. She left office after leaked nude photographs published on the conservative blog RedState and then British tabloid The Daily Mail, alleging that she had had an affair with a campaign staffer. Current rules prohibit lawmakers from having sexual relationships with staff aides.
Since her resignation, Hill continues to speak publicly about the current impeachment hearing against President Donald Trump. Voting to move forward with impeachment proceedings against the president was, in fact, Hill's final act as a member of Congress.
Hill told CNN host Brian Stelter that the publication of the photos, which she said were shared without her consent, was an "attack" intended to coerce Hill and other women to keep quiet in the realm of politics.
"What the right-wing media and those who attacked me wanted was for me to be silenced," Hill said "That's something that we see on attacks against women—not just high-profile women, but women across the board—is that these kinds of attacks are meant to silence you, demean you, and show that you do not have power. So for me, it was really important to show that that's not going to work."
She admitted to her own mistake of violating House rules, but said she would continue to advocate for what she believes in.
"I have to own up to my responsibility in this, but I think coming forward and saying I'm going to continue to be a voice for people who believed in me and what this whole fight is about is something that I believe in," she continued.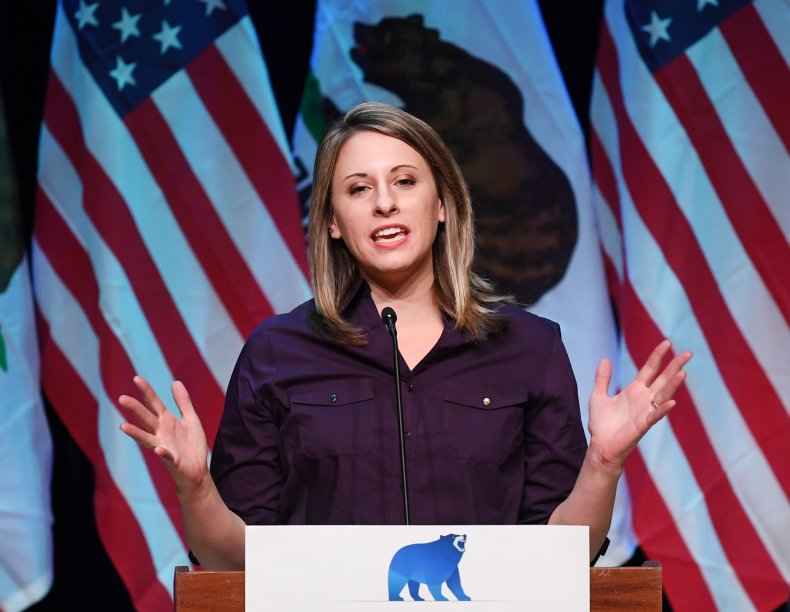 This is not the first time Hill has called out misogyny. In her resignation speech, she said it was "misogynistic culture" that ultimately forced her to resign.
"I'm leaving because of a misogynistic culture that gleefully consumed my naked pictures, capitalized on my sexuality and enabled my abusive ex to continue that abuse, this time with the entire country watching," she said in the speech.
She said at the time that it was unjust for her to be ousted from her office for having an affair, when "men who have been credibly accused of intentional acts of sexual violence and remain in boardrooms, on the Supreme Court... and, worst of all, in the Oval Office."