Katie Hill Says She Has No Regrets About Resigning From Congress, Credits Family and Young Women for Emotional Support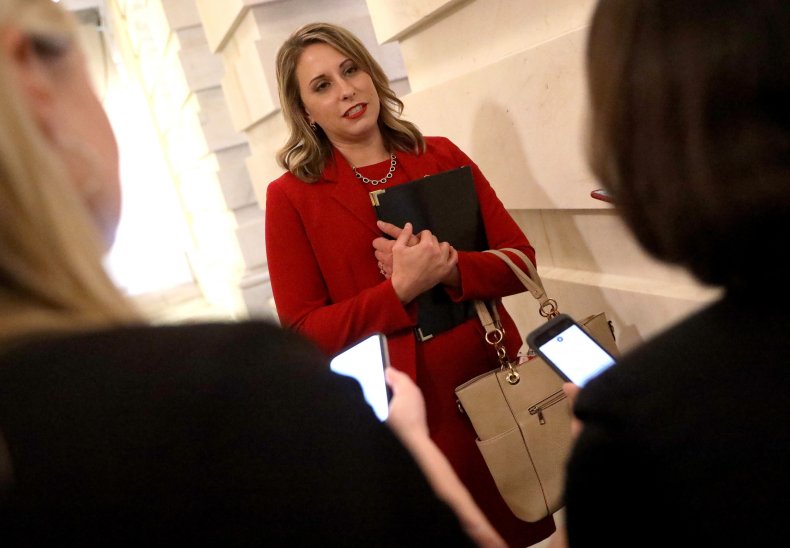 Former United States Representative Katie Hill said that she had no regrets about resigning from her office, arguing that, among other reasons, it was the best decision for members of her team.
Hill, 32, formerly represented California's 25th Congressional district as a Democrat after she unseated former Republican Representative Steve Knight in the 2018 election.
She was one of the youngest women as well as her state's first openly bisexual person to be elected to Congress. However, she resigned in November, after leaked nude photographs of her were published without her consent on the conservative website RedState and then in the British tabloid The Daily Mail. The stories alleged that she had had an affair with a campaign staffer, and current rules prohibit lawmakers from having sexual relationships with staff aides.
In an interview with ABC News' George Stephanopoulos that aired on Good Morning America Thursday, Hill said that she believed she had indeed made the right decision in resigning, because she did not want to be a liability to any of her colleagues.
"We knew from the people who had the photos…that there were hundreds more images and text messages that were out there that I had no idea what they could be, or how they could be taken out of context," she said.
In a previous interview, Hill denied allegations that House Speaker Nancy Pelosi had personally asked her to resign, and she maintained that she had given up her seat of her own volition.
Hill did not deny that she had indeed had a consensual relationship with a campaign staffer while she was running for office. In the interview with Stephanopoulos, she said that it had been a huge mistake that she made in part because of her lack of political experience.
"I did not have political experience, and so I was a complete long shot," she said. "But my team, which built over time, was—especially the people who were there in the beginning—it never felt like an employer-employee relationship in the way that I'd been an executive at a large organization before. The boundaries were completely different, because you're truly in the trenches with this very small team. Where, I think, I made the biggest mistake was not setting those boundaries from the very beginning."
In the interview, Stephanopoulos referenced Hill's December op-ed for The New York Times in which she wrote that she had seriously contemplated taking her own life in the days after her resignation. He asked what had motivated her to decide against that, and she credited her family and young women who had been inspired by her campaign.
"It was my family," Hill answered, "and it was the people who I knew it would, for lack of a better word, break.
"But I knew, of all the girls and young women who looked up to me, who saw this happen to me, if the ultimate outcome was that this destroyed me and I committed suicide, what does that tell them?" she continued. "And that couldn't be my final story."
Hill's former congressional seat is currently vacant, though a new representative will be elected to it in November.
Note: If you have thoughts of suicide, confidential help is available for free at the National Suicide Prevention Lifeline. Call 1-800-273-8255. The line is available 24 hours every day.