Katie Ledecky Addresses Eating Before You Swim: 'I Think We Can Debunk The Myth'
American swimmer Katie Ledecky is one of the greatest in the world to ever don a swimsuit and goggles and race in a pool. Wednesday night during her talk show circuit after more Olympic medals at the recent Tokyo Games, she gave her answer to a lifelong question: Can you eat before you go into the pool, or do you have to wait 30 minutes?
"Is that real? Let's get to it. I want a real fact here," asked Jimmy Fallon on The Tonight Show.
Ledecky, who won two individual gold medals, a team silver and an individual silver at the 2020 Tokyo Olympics, answered, but said she might offset opinions of some swimming parents. She also explained that eating before long races like the 1,500 meters is quite common for someone like her.
"I might have some parents coming after me for this," said Ledecky, 24, knowing that any answer she gave could be misconstrued. "I think we can debunk the myth.
"You can eat before you swim."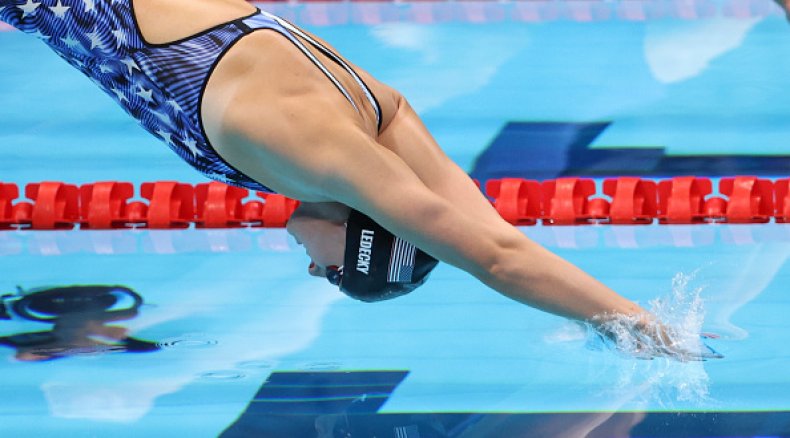 This is Ledecky, who can outswim most of the world's population, male or female. She did scale back the answer, or the dietary habits, before getting in the water, though.
"I wouldn't recommend you go out and have a huge pizza with your daughters before you swim. But, I eat granola bars before I swim, within five or 10 minutes before I race. I drink chocolate milk right after I swim."
Here's her interview on the talk show.
Sometimes she has multiple races in one session, like last month in Tokyo when she swam the 200-meter freestyle final less than an hour before she swam the 1,500-meter freestyle final. Not only do the two races call for faster and slower paces, respectively, but the longer race calls for conserving more energy.
"In Tokyo I had two races about an hour apart, and I was eating and drinking, and my second race was the 1,500 free, so I had to have something in my stomach to get me through a 15-and-a-half-minute race."
Ledecky won her first Olympic gold medal in the 800-meter freestyle during the 2012 London Games. She followed that up with four gold medals and a silver at the 2016 Rio de Janeiro Summer Olympics at the age of 19. She didn't stop there, though.
She enrolled at Stanford and won multiple national championships, she continued setting world records in distance events and sparked a new generation of younger swimmers around the world who now seek to dethrone her.
Now, she aims for the Paris 2024 Summer Olympics, which aren't too far away.