Katie Ledecky vs Ariarne Titmus Rivalry Emerges in 400m Freestyle Before Tokyo
Team points aren't counted in swimming at the Olympics like they are in high school or college swimming, or like they're counted in the newly-formed International Swimming League. However, the United States and Australia have always kept an unofficial count of which country outdid the other at the quadrennial Games.
There's a new rivalry to watch in the water next month at the Tokyo Summer Olympics, and that's the women's 400-meter freestyle race between Katie Ledecky of the United States and Ariarne Titmus of Australia.
Titmus qualified for the Tokyo games with her swim of 3:56.90 on Sunday, which is less than a half second from Ledecky's world record of 3:56.46 from the 2016 Rio de Janeiro Summer Olympics.
After the Australian Olympic Trials Sunday in Adelaide, Titmus threw a verbal jab into the budding rivalry.
"That world record is outstanding and to be close to that this close to the Olympics, I'm very excited," Titmus said. "[Ledecky] is not going to have it all her own way I guess...I can't control what she does, I can only control myself."
Ledecky swam the 400 freestyle race Monday night at the U.S. Olympic Trials in Omaha. Though she won the race by more than three seconds ahead of Paige Madden (4:04.86), Ledecky didn't crack the 4-minute barrier with her 4:01.27 touch in the race.
"It's a great feeling to be there and locked in my spot," Ledecky said of making the Olympic team.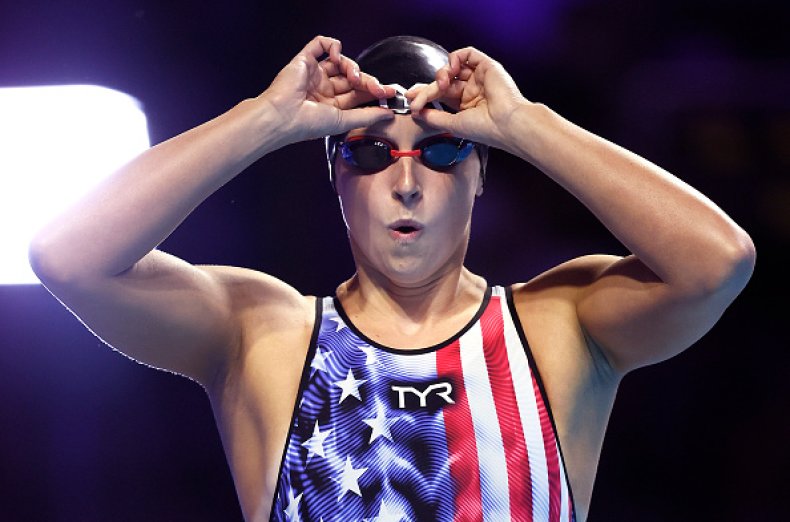 Ledecky made her third Olympic team by winning the race, and she thought she swam a better race than her time indicated.
"I thought I was a lot faster," she said during her post-race interview on NBC. "I was a little surprised by the time but, it's pretty tough for the first race here. I remember five years ago that this was not a fun race. It's good to just check the box and hopefully have some good swims the rest of the week."
Ledecky is scheduled to swim four more freestyle races—100, 200, 800 and 1,500. She's the world record holder in the 400, 800 and 1,500.
Meanwhile on Monday in Australia, Titmus won the 200-meter freestyle in that country's trials with a 1:53.09 swim, which is just .11 off the world record set by Federica Pellegrini at the 2009 world championships. Allison Schmidt is the American record holder in that race with a time of 1:53.61, which is just ahead of Ledecky's personal best in that race with 1:53.73.
Ledecky won't swim any finals on Tuesday, but she'll swim qualifying heats in both the 200m and 1,500m freestyle races.
Ledecky stated prior to the Olympic Team Trials that her first goal is to make the team and not worry about records.